Cumberland Craftsman
April 6th
Details
Date
April 6th, 2013
Time
1-4 pm
Address
14864 Rapids Road
Burton, Ohio 44021
Get directions
We've said it before, but this Cumberland Craftsman shows that we give our homeowners everything they want….even an attached in-law suite! A six-panel front door with premium sidelites invites guests into an impressive two-story foyer. Pella windows throughout the home provide plenty of natural light. 9' ceilings are featured at the first floor of this beautiful home. The kitchen has been redesigned to include Arbor Fall White cabinets with a wide refrigerator cabinet, a 60" island with eat ledge, 12" countertops and  a Pella sliding glass door to the backyard. A 36" gas fireplace with stone face and oak mantle is the focal point of the family room. The first floor master suite includes a luxury master bath with a 36" shower, double vanity and garden tub. Be sure to notice the 4' wide staircase leading to the second floor. The original loft space has been re-purposed into a large linen closet – the ultimate convenience. The spacious in-law suite is a home in itself! A large living room and rec room area features two skylights, and a 6' Pella Designer Series sliding glass door with internal shades at the rear of the home. The new Rec Room also includes a 36" gas fireplace with a stone face and oak mantle. An office area, bedroom and bathroom are also included in this suite. The bathroom has a large walk-in closet with pocket door, a private water closet, double vanity and garden tub with jets and a heater. The 3-car garage has been extended by 2' to allow for a larger laundry room and to include access to the in-law suite and the main home. The larger laundry room also includes a half bath. A 3 zone heating and cooling system has been installed in this home with Zone 1 being the basement and first floor of the main house, Zone 2 being the second floor and Zone 3 is the secondary living quarters. The basement is a full 12 course, even under the added in-law suite, and can easily be finished to provide extra living space and a future half bath.
×
Email Samples and Frequency
We hate a clogged inbox as much as anybody, so we only send out emails when we really have something good to share, such as new model previews, exclusive open houses, or invitation-only events.
You can expect to get about 1-2 emails per month, and can opt out at any time.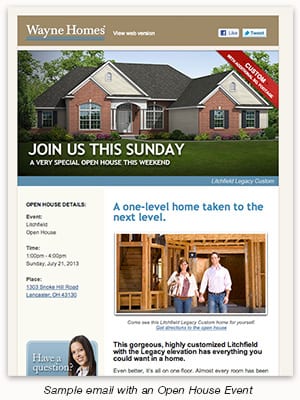 ×
We take your privacy very seriously
We don't believe in purchasing or selling personal information, so you can rest assured that the info you provide us, stays with us (and those who represent us). We will only use it to send you relevant communication.
If you'd like to read through all the fine print, feel free to check out our full Privacy Policy.