Montgomery Craftsman
October 20th
Details
Date
October 20th, 2012
Time
1-4 pm
Address
1929 Sharon Copley Road
Medina, OH 44256
Get directions
Custom, Custom, Custom! Let's start with the Montgomery Craftsman floor plan. Let's add another bedroom and bath plus a Powder Room. Add more square footage to the floor plan and this Montgomery ends up with over 2,800 square feet of living space! The kitchen has been redesigned and features Arbor Falls white cabinets. Top cabinets are all 42" and the corner cabinet features a glass door with grids. A large 5' island with an eat ledge is the focal point of the kitchen and will be a great gathering place for family and friends. A 6 x 12 walk in pantry has been added. And the pantry leads into a Butler's Pantry also showing the Arbor Falls white cabinets. Signature collection features have been added to his home so you'll see Pella windows, premium light fixtures and faucets among many other items. 16' x 38" has been added to the bedroom side of the home, allowing for another bedroom and full bath.  A Powder Room has also be included. 9' ceilings are shown in this home along with all interior doors being changed to 3'. The Living Room has been converted into a Den with French Doors. Take a peek in the Master Suite. The master bath features a whirlpool, double bowl vanity and a 4 x 6 ceramic tile shower. The vanity cabinets in the master and and kids' bath are Seneca Ridge maple with high definition countertops.  And to open up even more space in the basement you'll notice a steel beam has been added. So if you are looking for a 4 bedroom, 3 ½ bath single level floor plan with over 2,800 square feet be sure to stop in and see us!
×
Email Samples and Frequency
We hate a clogged inbox as much as anybody, so we only send out emails when we really have something good to share, such as new model previews, exclusive open houses, or invitation-only events.
You can expect to get about 1-2 emails per month, and can opt out at any time.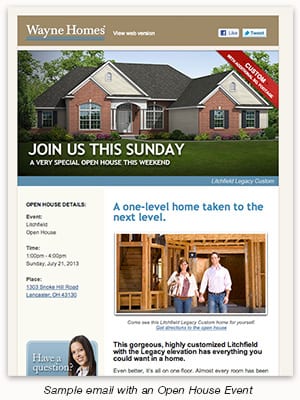 ×
We take your privacy very seriously
We don't believe in purchasing or selling personal information, so you can rest assured that the info you provide us, stays with us (and those who represent us). We will only use it to send you relevant communication.
If you'd like to read through all the fine print, feel free to check out our full Privacy Policy.