McAllister Family
September 22nd
Details
Date
September 22nd, 2013
Time
1-4 pm
Address
7879 State Route 82
Garrettsville, OH 44231
Get directions
This McAllister Family was built to sell! The developer will be present every Sunday allowing you to tour this gorgeous home with stone accents at the garage and front elevation. The porch includes maintenance free posts and spindles while a premium front door with sidelites will invite you into the home. Cathedral ceilings at the kitchen, breakfast room and great room have an amazing impact on the spaciousness of this ranch home. The kitchen has been redesigned featuring Spring Valley Maple cabinets with crown molding, premium laminate countertops, an 8" stainless steel sink and an Avalon stainless steel faucet with a matching sprayer and soap dispenser. A large, corner pantry inspired by our Gettysburg floor plan has been added, as well as an eat ledge at the raised countertop. A hinged patio door and additional window at the breakfast room bring the outdoors in. 5 ¼" painted base trim and jambed and cased windows give this home a fresh, crisp style. The private master suite offers a relaxing getaway complete with a 5' sliding glass door with a screen onto the backyard. The luxury master bath features a garden tub with a picture window above, a 36" shower with a beautiful glass door, cultured marble counters, brushed nickel faucets and bath accessories chosen from our Signature collection. The finished basement stairs are highlighted by a stained maple rail and painted spindles. The walk-out basement has poured walls, a vinyl sliding glass door and windows that make this space even more versatile. For more information about this home, please contact the developer, Dave Harrington, at 440-477-6670 or at harringtonsq@neo.rr.com.
×
Email Samples and Frequency
We hate a clogged inbox as much as anybody, so we only send out emails when we really have something good to share, such as new model previews, exclusive open houses, or invitation-only events.
You can expect to get about 1-2 emails per month, and can opt out at any time.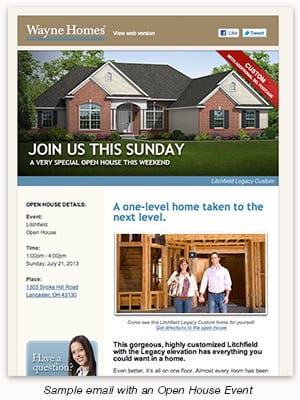 ×
We take your privacy very seriously
We don't believe in purchasing or selling personal information, so you can rest assured that the info you provide us, stays with us (and those who represent us). We will only use it to send you relevant communication.
If you'd like to read through all the fine print, feel free to check out our full Privacy Policy.