Winchester Family
March 9th
Details
Date
March 9th, 2013
Time
1-4 pm
Address
2248 East Turkeyfoot Lake Rd.
Akron, OH 44312
Get directions
This Winchester Family has a large family room, movie room, toy room, exercise room, full bath and bar…and that's just in the finished, walk-out basement! A steel beam in the basement allows for a more open lower level. Stone veneer, shake siding and a triple dormer add craftsman elements to the exterior. The front porch has been extended and wrapped around the side of the home. The 3-car garage with Craftsman style garage doors angles off the side of the home-a very popular design feature.  The added mudroom off the garage includes white cabinets, perfect for a busy family. 9' ceilings throughout the first floor open to the two-story great room.  2' has been added to the great room, as well as the dining room, living room and kitchen. The kitchen has been beautifully redesigned to include Seneca Ridge Cherry cabinetry and granite countertops. The pantry has been extended 4' along with additional square footage in the breakfast room. A butler's pantry has been added between the kitchen and dining room for added convenience. 5 ¼" painted trim is shown throughout and is paired with classic crown molding in the kitchen, dining room and master bedroom. Additionally, all windows and openings have been cased with painted trim. Solid core, French doors lead to the redesigned, first floor master suite. The master bedroom has been extended 14'x4'. The luxurious master bath includes a double vanity, a large garden tub, ceramic tile shower and Tuscan Bronze bath accessories. Seneca Ridge Cherry cabinets have been added to the new master walk-in closet and an island in the middle is the highlight of a truly customized master closet. An open staircase with iron spindles and cherry rail lead upstairs. 2' has been added to the secondary bedrooms and the second floor main bath. This home is a prime example of how nobody does customization better than Wayne.
×
Email Samples and Frequency
We hate a clogged inbox as much as anybody, so we only send out emails when we really have something good to share, such as new model previews, exclusive open houses, or invitation-only events.
You can expect to get about 1-2 emails per month, and can opt out at any time.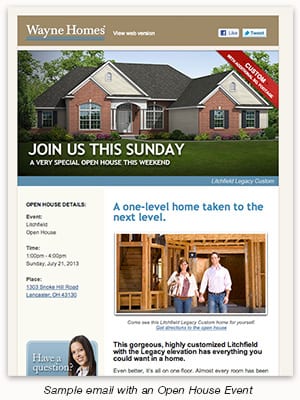 ×
We take your privacy very seriously
We don't believe in purchasing or selling personal information, so you can rest assured that the info you provide us, stays with us (and those who represent us). We will only use it to send you relevant communication.
If you'd like to read through all the fine print, feel free to check out our full Privacy Policy.
×
Wayne Homes Complimentary Wifi
Wayne Homes provides this free, public Internet access via an unsecured wireless network. It is strongly recommended that you do not use this network to transmit any personal, financial or legal data. It is not possible for us to protect you against malicious theft or the interception of any data transmitted over this network. Wayne Homes is not responsible for the quality of transmissions, interruptions in connectivity or loss of data/information as a result of using this wireless service.
This wireless network is intended for lawful purposes only. This public wireless service may not be used to violate any standards, laws or regulations of local, state or federal governments/agencies, or International treaty.
User hereby releases Wayne Homes from all liability arising from any content accessed via the wireless network. Wayne Homes shall not be held liable for any damages to user equipment (laptop, handheld, etc.) or for modifications made to hardware necessary to access this network. The Wayne Homes staff does not provide any technical support with this access. Wayne Homes shall be held harmless as a direct or indirect result of the wireless user's use of this public network.
Wayne Homes makes no guarantees for access and reserves the right to limit bandwidth per connection. By continuing with access to this free, public, wireless service, user agrees to Wayne Homes' stipulations for use.