See-ya Summer Savings
Don't put away your sunglasses quite yet, because we've got some red-hot deals for you.
From Sept 1 until September 27, Wayne homebuyers can choose between four really exciting offers:
Free 3rd bay garage
$12,000 off any of our front exteriors
A free gourmet kitchen with select construction cabinets and granite countertops (also includes luxury vinyl flooring in great room and owner suite)
9' ceilings on the first floor AND a free luxury owner's bath with a double bowl vanity and granite countertops
We can't keep the weather from getting cooler. But it's easy warming up to savings like these.
If you have any questions about See-ya Summer Savings, contact the New Home Consultant in your area to claim your Wayne Homes savings.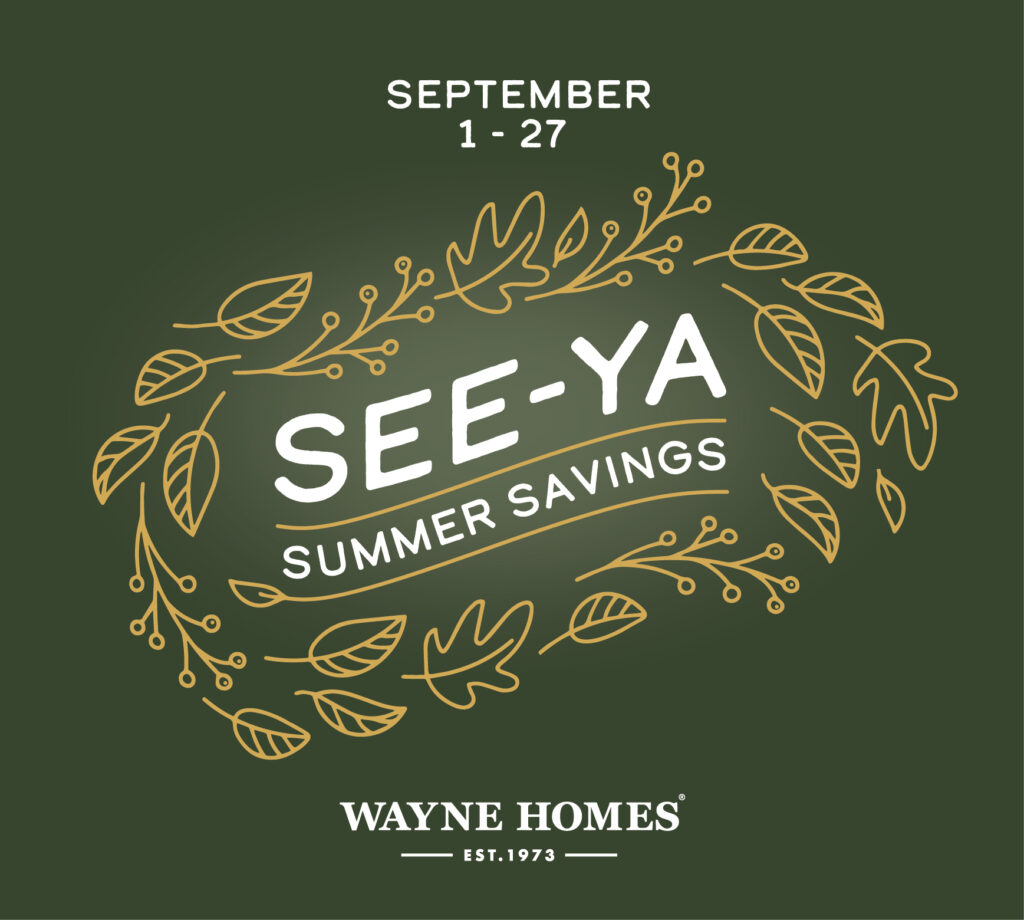 *Valid through September 27th. Not available for contingent purchases. Not available on new plans released within the last 90 days. Can't be combined with any other offers/incentives. Not available with price protection guarantee. $50K in options required.
---
Making your dream home a reality is our specialty — and it all starts with your Personal Value List.
In short, it's not us telling you what our special offer is. It's you telling us. We start with the things you simply can't live without. Then, we help make this wish list a reality.
The problem with most discounts and promotions is that they're about what a company is willing to part with rather than what you really want. At Wayne Homes, we don't work that way.
Get started by dropping by one of our Model Home Centers and, working with your New Home Consultant, completing your Personal Value List. It's basically the list of features or upgrades that you really want in your new home. The good news is that we are willing and able to make just about any customized change you can come up with. By using your Personal Value List as the guide, we can make your custom-fitted dream home more affordable than you may have dreamed possible.
Not only do you get real value, but you also get a home that suits you perfectly. To get started planning your dream home, download your complimentary Idea Book now and start putting your Personal Value List together.
---
Refer-a-Friend Offer:

Whether you've built with Wayne or you're just a fan, if you tell someone about Wayne Homes and that someone ends up building with us, we'll give you a great big thank-you and a check for $500.
Here's the deal. If you're like most of our customers, you love how many choices and how much personal attention and how much quality you got from Wayne Homes. Especially considering how much you paid. If that's the case, we'd simply like you to tell your friends and family about it. (And if that's not the case, we want you to tell us.)
Just make sure your friends register on their first visit to Wayne Homes and mention your name. So, get out there and spread the word.
If you have any questions about the referral program, give us a call at 866-253-6807 or contact us to refer a friend.