Get Organized with our Online Design Tools. The best way to get started building a custom home on your lot.
---

New Virtual Tour for the Charleston II
We're excited to announce a new virtual tour for the redesigned Charleston II. This virtual tour is unlike any other you've seen from Wayne Homes. With our new enhancements, you now have the ability on this virtual tour to turn specific options on and off. Tour the Charleston II today and see for yourself.
---
True Design Interior Design Guides
Customize your home in a way that matches both your home's architectural style and your personal style. We've created a portfolio of interior materials and colors that work beautifully together. It's a hassle-free way to help you find what you like rather than starting with a blank canvas. Choose from 4 architectural styles: Farmhouse, Craftsman, Traditional, or Transitional.
---

Kitchen Visualizer
Our Kitchen Visualizer is a new way for you to create all kinds of design possibilities for your new home. Choose cabinets, countertops, colors, backsplashes, flooring … mix or match the island (hint: trends suggest giving the island a look separate from the rest of the kitchen). Once you're done imagining the perfect kitchen, you can start imagining staging the perfect housewarming party in it.
---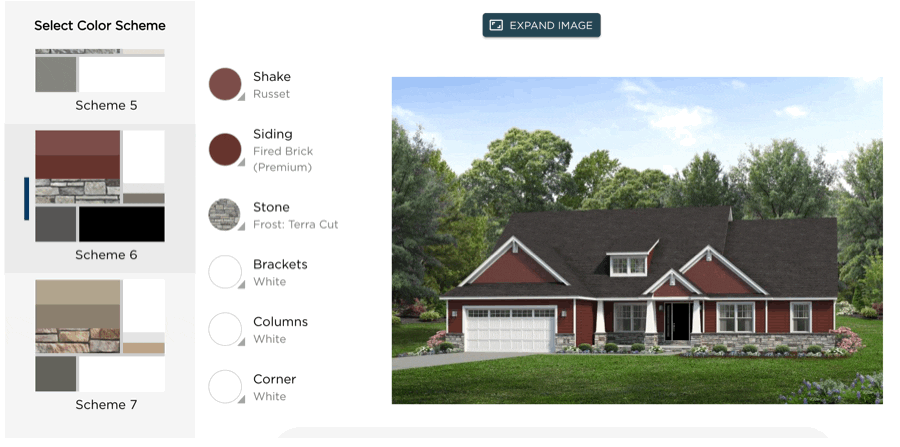 Exterior Designer
Experiment with different materials and color schemes for everything from the roof, windows, shutters, and paint on your new home's exterior. Try out options on different floor plan exteriors (craftsman, farmhouse, tradition, etc.) to hone in on your style selections. There is no better way to get inspired as you begin customizing your new, dream, custom Wayne home.
---
Interactive Floor Plans
Our interactive floor plans are an excellent way to experiment with the design options available to you without any obligation. Just click on the various customizations on the right side and see your new home take shape. Don't like how that new sunroom looks? Just unclick and move on.
---
Save Your Favorites
Why do all the work to find your favorite floor plans if you'll just have to repeat it the next time you visit our site? Our Favorite Floor Plan feature allows you to create an account where you can store all your favorite plans – even ones that you've customized – for future reference. How convenient is that?
All of these amazing features are fun to use and completely free of charge. It's never too early to start planning your new custom home. Get started by exploring our nearly 60 floor plans.