View next image in the gallery above by clicking the side of photo.
Exactly the right time to get exactly the right home
congratulations on your splendid timing.
We make it easier to buy and customize your very own Wayne home. Just drop by your nearest Wayne Homes Model Center and work with one of our New Home Consultants to complete your Personal Value List.
We call it the personal value list. You can call it the "i got exactly what i wanted" program.
At Wayne Homes, our "special offer" is something we offer every day. And that's only part of what makes it so special. Here's how it works …
The Personal Value List is the tool that lets you tell us precisely what you want in a new home. Then we figure out a way for you to have it. The list could include things like an island kitchen, a covered patio, hardwood floors or solid cherry cabinets. How about a high-efficiency gas fireplace? Then again, maybe you need us to customize one of our floorplans — to make the great room even greater or the master bedroom more masterful.
Not only are we willing and able to make just about any customized change you can come up with, with our Personal Value List we can make your custom-fitted dream home more affordable than you may have dreamed possible.
In short, it's not us telling you what our special offer is. It's you telling us.
Start your Personal Value List >>
×
Email Samples and Frequency
We hate a clogged inbox as much as anybody, so we only send out emails when we really have something good to share, such as new model previews, exclusive open houses, or invitation-only events.
You can expect to get about 1-2 emails per month, and can opt out at any time.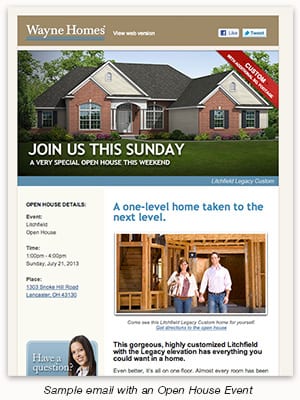 ×
We take your privacy very seriously
We don't believe in purchasing or selling personal information, so you can rest assured that the info you provide us, stays with us (and those who represent us). We will only use it to send you relevant communication.
If you'd like to read through all the fine print, feel free to check out our full Privacy Policy.
×
Wayne Homes Complimentary Wifi
Wayne Homes provides this free, public Internet access via an unsecured wireless network. It is strongly recommended that you do not use this network to transmit any personal, financial or legal data. It is not possible for us to protect you against malicious theft or the interception of any data transmitted over this network. Wayne Homes is not responsible for the quality of transmissions, interruptions in connectivity or loss of data/information as a result of using this wireless service.
This wireless network is intended for lawful purposes only. This public wireless service may not be used to violate any standards, laws or regulations of local, state or federal governments/agencies, or International treaty.
User hereby releases Wayne Homes from all liability arising from any content accessed via the wireless network. Wayne Homes shall not be held liable for any damages to user equipment (laptop, handheld, etc.) or for modifications made to hardware necessary to access this network. The Wayne Homes staff does not provide any technical support with this access. Wayne Homes shall be held harmless as a direct or indirect result of the wireless user's use of this public network.
Wayne Homes makes no guarantees for access and reserves the right to limit bandwidth per connection. By continuing with access to this free, public, wireless service, user agrees to Wayne Homes' stipulations for use.
Better Business Bureau Accredited Business
Builder Top 100
Proudly Building Homes Since 1973