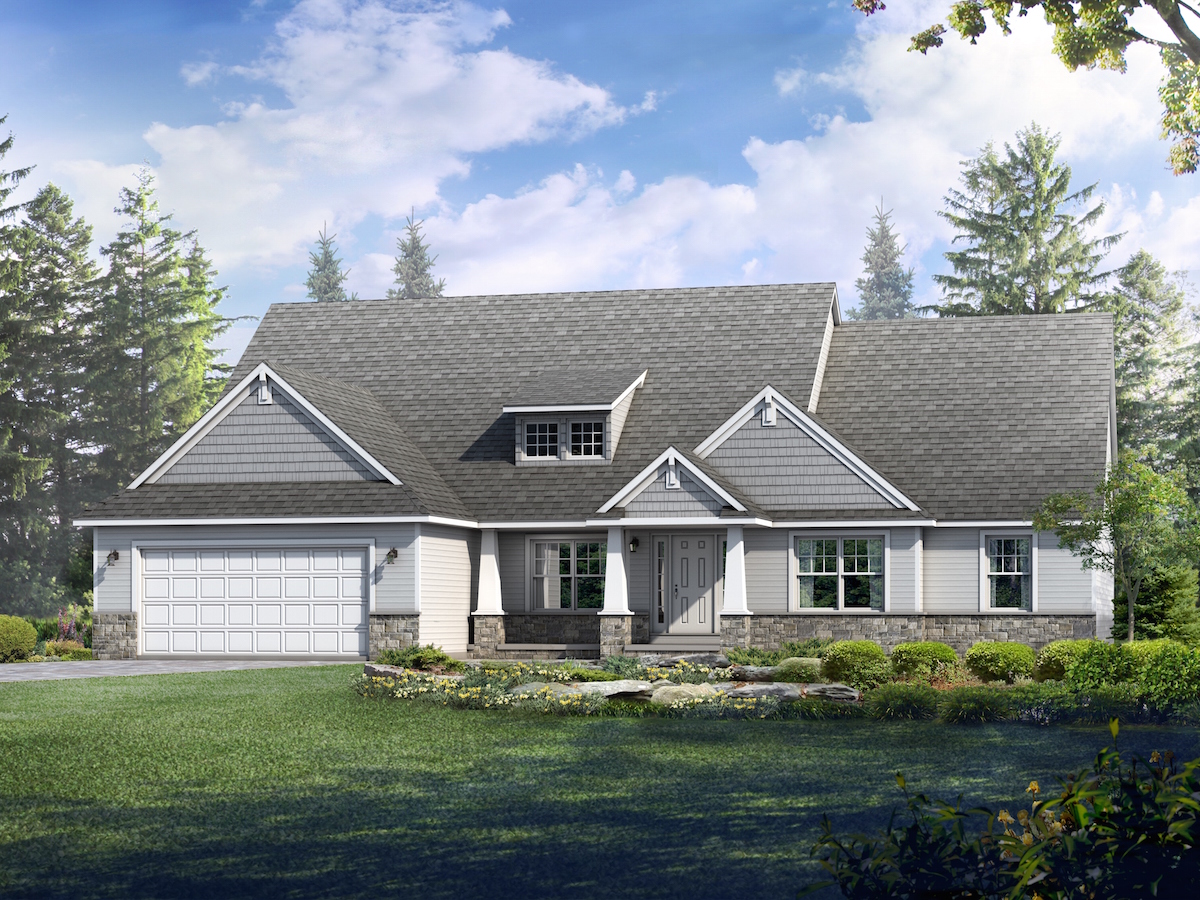 Behind the Scenes: Creating a Model Home
Model center homes are one of the most valuable stops in a prospective buyer's journey. They let potential homeowners see what their future home could not only look like, but what it feels like to walk through it, stand at the kitchen counter, peer into the foyer, and relax in the great room.
Building a model home center isn't quite the same as creating an actual home, though, so we wanted to give you a behind the scenes peek at what the model home center creation process entails!
First, we chose a plan based on what our prospects are interested in. For example, we know the Montgomery floor plan is popular but we didn't have a model of it, so we set about building one recently.
Next, our marketing department creates the profile of a family that might live in the home. We base this off the demographics of our prospective home owners, and the demographics of individuals in the area where we're building the model.
Designers use their talents to put together art boards of each room, featuring furniture, paint colors, accessories and much more, designed to appeal to our theoretical family. Then, our team continues iterating on this until we land on a picture we all agree on. All of this happens about six months prior to starting any construction on the home.
Once selections are finalized, our designers start ordering products and set a Grand Opening date based on product shipping dates. Construction begins, and our team moves quickly to bring the vision to life.
At about a week prior to our grand opening, our designers arrive at the model, where they meet with delivery professionals, who bring all the furniture for the model to the site. It usually takes a full day for all the furniture to be unloaded, unboxed, and placed in the home! It's a hectic time, with a couple designers running around the home as capable movers shuttle heavy furniture throughout the center.
Soon, artwork and accessories arrive, along with drapery and window treatment professionals… which is always fun because our painters are usually doing final touch-ups or repainting walls entirely at this time! It's quite the tetris puzzle of moving parts.
The idea that everything could go perfectly is a fantasy, and it's usually around this time that designers realize some items are missing, lost in transit or never shipped to begin with. Sometimes, they don't make it in time, so our designers head to the local stores for replacements.
Once the movers, installers and painters have left, our designers get to work putting the finishing touches on the home, installing some local charm by using art, accessories and other decor from local shops. It's at this time that the house really becomes a home for our "virtual family!" For example, since the new Montgomery model home was in OSU Buckeye country, we picked up some scarlet and gray accessories to add personality to the previously boring basement. (Go Buckeyes!)
Finally, we conduct a last walk through to make sure nothing is missing or out of place. Phew! Quite the process, right?
We'd love for you to experience the thought and effort that goes into our model home centers, so stop by one as the spring building season ramps up to discover what your very own home could look like!
About Wayne Homes
Wayne Homes is a custom homebuilder in Ohio, Pennsylvania, Indiana, Michigan, and West Virginia (see all Model Home Centers). We offer more than 40 fully customizable floorplans and a team dedicated to providing the best experience in the home building industry. For more information, Ask Julie by Live Chat or call us at (866) 253-6807.