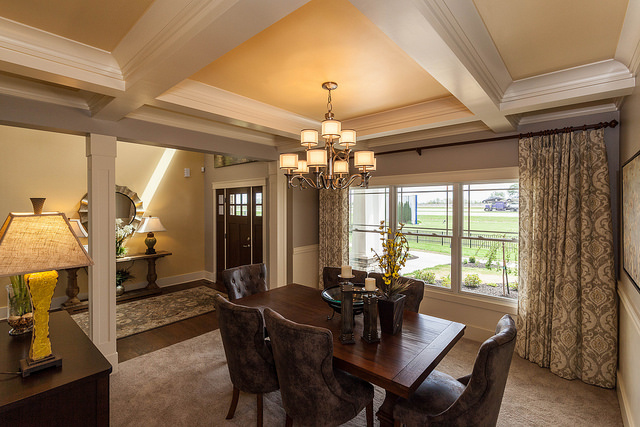 Crafting Your Dream Dining Room Space
The families we work with at Wayne Homes are often the type of people who value spending quality time with their loved ones, especially when it comes to having meals together. It doesn't really seem to matter what their family looks like: small or large, close by or across the country. Creating happy memories together is a common theme almost everyone wants to foster. That isn't even limited to family; a lot of our customers enjoy hosting friends for fun get togethers, just because!
One of the most important spaces for creating special memories is the dining room, and as a result, we spend a lot of time with our customers discussing exactly what they hope to create when it comes to their ideal dining space.
Modern to traditional, grand to simplistic, the options for designing and creating a dining room of your dreams are virtually endless. We've provided some inspiration in our Flickr gallery for you to peruse. Here are some ideas for theming your dining room, especially as the holidays approach.
Fun with patterns
If you're trying to create a more cozy, low-key atmosphere in your dining room, as opposed to a more formal space, consider using patterned, textured fabrics to bring warmth to the space. Don't go too overboard though; choose one area, like the curtains or the centerpiece or the napkins, and stick to one, so as not to overwhelm the space.
High contrast
Providing a stark contrast between colors in your dining space can create a dramatic, elegant look. Being smart about your paint color choice is an inexpensive way to achieve this look, but you can accentuate it with contrasting wainscoting or elegant ceiling beams.
Rustic
Stick to natural woods and earth tones to create a rustic, comfortable space. By using a farmhouse style table, natural wood and flower centerpieces, and simple chairs with minimal upholstery, you can create an unpretentious and comforting space. An iron wrought lighting fixture can brighten the space while also remaining true to the theme.
Rich jewels
Choose a rich jewel color such as ruby, emerald or sapphire for an accent wall in your dining space. With such a dramatic hue on the walls, the accompanying furniture should be simple, light-toned to offset the darkness of the color.
Whether you're into more elegant, formal styles or want to create a lived-in, cozy atmosphere, the possibilities are endless, as are the customization options, when working with the Wayne Homes team. We will work closely with you to craft the space of your dreams so you can move through the holidays and beyond making happy memories with your loved ones.
Feeling inspired? Get started planning your dream dining space today. We'd love to talk about it!
About Wayne Homes
Wayne Homes is a custom homebuilder in Ohio, Pennsylvania, Indiana, Michigan, and West Virginia (see all Model Home Centers). We offer more than 40 fully customizable floorplans and a team dedicated to providing the best experience in the home building industry. For more information, Ask Julie by Live Chat or call us at (866) 253-6807.