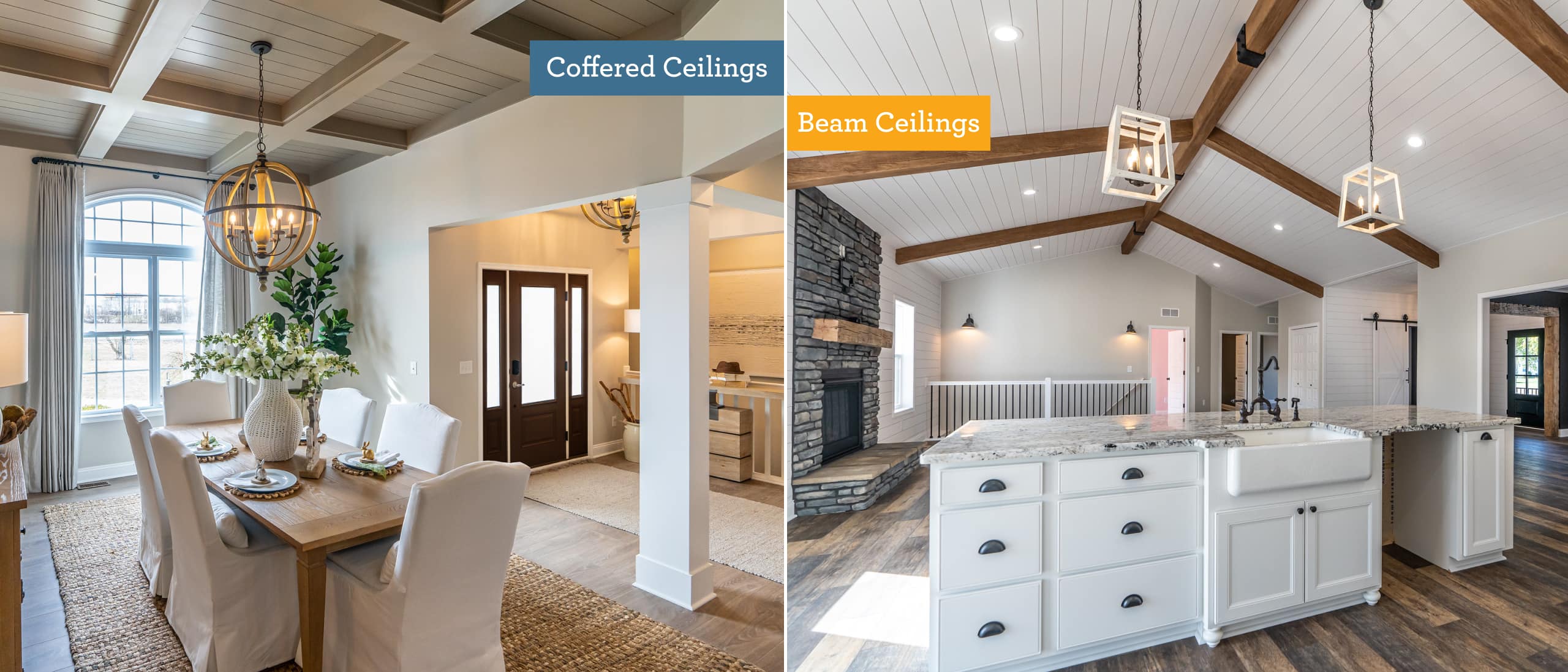 Great Debate: Coffered or Beam Ceilings
Ceiling accents are hot right now. And for good reason! All you have to do is look up to get some major design inspiration. The fifth wall of your home offers numerous options for customization. Beams and coffered ceilings both add architectural interest to your home, but which one should you choose? That is the topic for this Great Debate!
Coffered Ceilings
Inspired by a Baroque and early Renaissance architectural style in which a roof's framework exposed overhead beams crossing at different angles, coffered ceilings bring a lot of visual drama to a home. In architectural terms, the word "coffer" means "indentation." The design is created by upward indentations in a ceiling framed by beams arranged in a grid pattern of rectangles, squares, octagons, or other polygonal shapes. These are often seen in more traditional styled homes.
Looks aside, coffered ceilings have other benefits as well:
They give the illusion of spaciousness
Absorb excess sound,
Potentially add to a home's resale value
But, there are also a few drawbacks:
Can take away from headspace, so be sure your ceilings are at least 9′ tall
Could be expensive to install
May require extra ceiling support, depending on weight
Beam Ceilings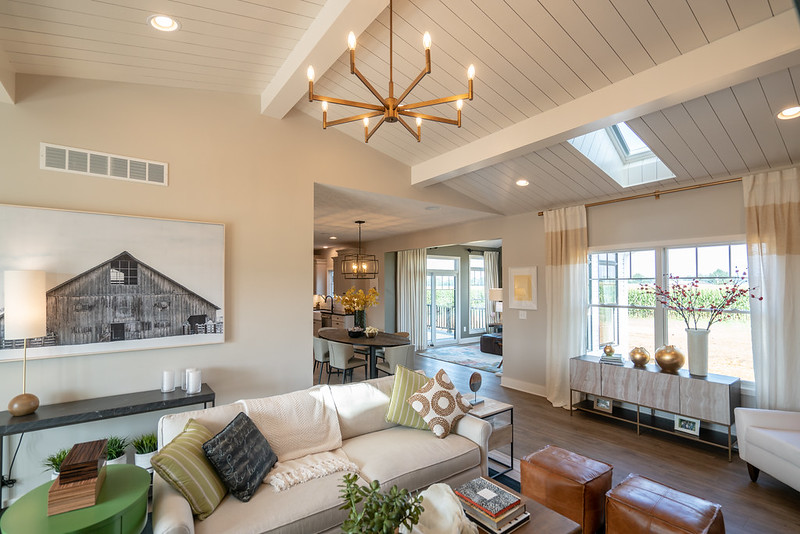 Adding beam treatments to your ceiling is a simpler way to add visual interest than designing a coffered ceiling. Known as the fifth wall – your ceiling – sets the tone for your home, and adding beams can add character and warmth to a space. Exposed ceiling beams can give you depth and texture. They can take an ordinary room and make it something special. Beams can add coziness to more contemporary homes or add a touch of rustic charm to create a modern farmhouse feel.
Here are all the pros to beam ceilings:
They draw the eye up
Can make the space feel larger
Make a big design splash without taking up any square footage and, depending on the design, minimal headspace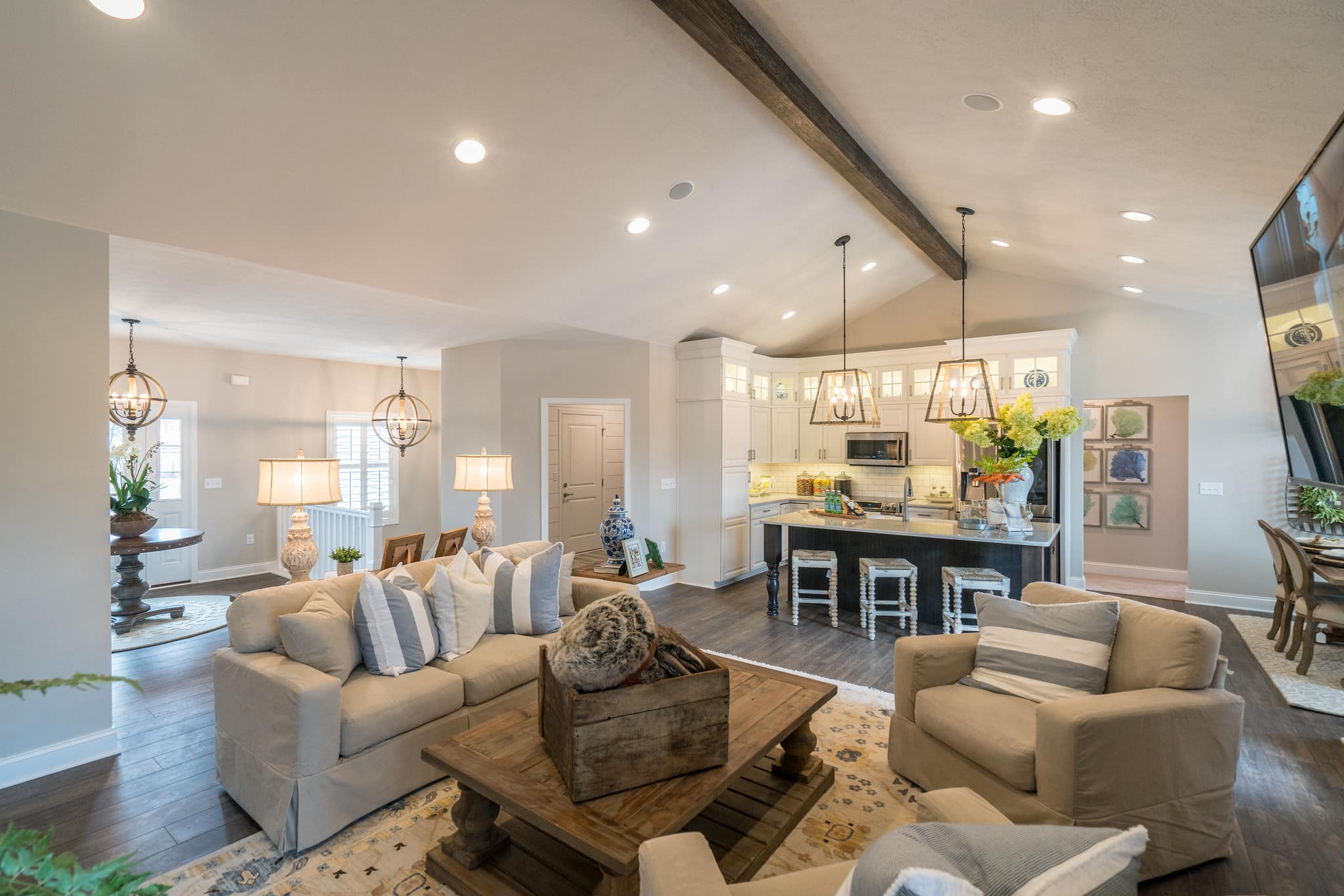 And the cons:
Taller ceilings are typically better when adding beams, but lower ceilings can tolerate them if the beams have a low profile
Can define a space, so be aware of open floor plans and the visual effect beams have
Which one is your favorite? If you're unsure, give us a call. Our team works closely with our customers to create the ceiling look that fits their aesthetic best; below are some of the possibilities, and be sure to check out our ceiling gallery for even more visual inspiration!
Do you have a question about the ceiling treatments we offer? Drop us a line –we have the answers you need!
---
About Wayne Homes
Wayne Homes is a custom homebuilder in Ohio, Pennsylvania, Indiana, Michigan, and West Virginia (see all Model Home Centers). We offer nearly 50 fully customizable floorplans and a team dedicated to providing the best experience in the home building industry. For more information, Ask Julie by Live Chat or call us at (866) 253-6807.
The details of this blog are accurate as of the publish date, but are subject to change.