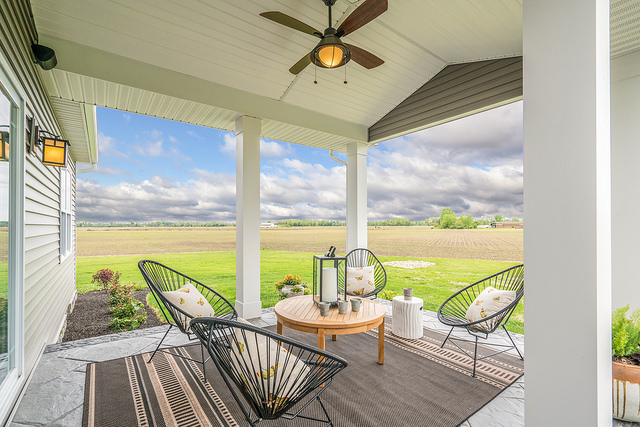 Home Feature Series: The Perfect Outdoor Deck
What's better than designing the custom home of your dreams, and then moving into it, enjoying each perfectly appointed space as you and your family intended?
Not much…! That much is something we know better than most here at Wayne Homes. One way to take such a perfect scenario and improve upon it, though, is to add a beautiful outdoor deck space to your dream home fantasy. Now you're covered inside and out!
When you design your dream home with our team, keep in mind how much you might enjoy spending time outside as a family – or, perhaps how much you would enjoy spending time outdoors, if you had the perfect space!
Outdoor living
Whether you love to grill – maybe you're what some would even call a grill master! – or would rather order in some pizza and enjoy it outside, a well-designed deck that acts as a smart addition to your existing space is the perfect place for it. Perhaps you love sipping your morning coffee watching the sun come up and listening to the birds chirp. Or maybe you just like a space to do some bills and odd jobs while keeping an eye on the kids in the backyard. Whatever your fancy, an outdoor space like the decks we design here at Wayne Homes will complement your existing indoor living area nicely, because it will be created to seamlessly blend inside and out.
Growing your green thumb
Do you enjoy the ability to toss some fresh, homegrown herbs in your meals, like parsley on some grilled fish, rosemary on some steaks, or perhaps mint in your mojito? An outdoor deck is the perfect spot to give your green thumb room to grow. More delicate herbs have a bit more protection on your deck, and you have the added luxury of being able to work on your garden from the comfort of your home. Plus, it makes for a beautiful, green and lively addition to your outdoor space.
Stunning landscaping
Maybe you aren't into gardening, but do love the look of a blooming box of flowers out your window. Complement the colors and design of your home with smartly arranged flower pots, and add a sense of beauty to your home. Depending on the blooms you choose, your time investment could be as little as a few minutes of watering every few days, but the yield you'll experience in terms of beauty and enjoyment will know no bounds!
You don't have to be "outdoorsy" to enjoy an outdoor living space. The options are endless, and you can take a look at one such option at our Delaware Alexandria, with its durable and classic Trex deck. View our Pinterest board and Flickr gallery for more inspiration ideas!
As we move into the warmest months of the year, give some thought to how you'd like to spend your outside time. Then, give us a call so we can make it reality.
About Wayne Homes
Wayne Homes is a custom homebuilder in Ohio, Pennsylvania, Indiana, Michigan, and West Virginia (see all Model Home Centers). We offer more than 40 fully customizable floorplans and a team dedicated to providing the best experience in the home building industry. For more information, Ask Julie by Live Chat or call us at (866) 253-6807.