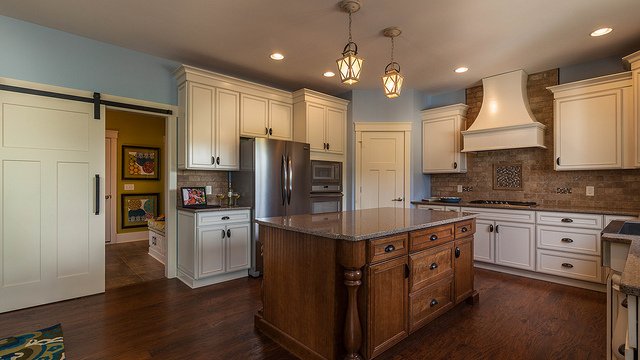 Introducing the hottest kitchen trends this year
A lot of what goes into being a reliable, trusted home builder has to do with consistency. Consistency in the products we use, consistency in the quality of our team, and consistency within our process.
You might think that could get boring after a while, right? Thankfully, even though a large portion of the home building industry relies on reliable, repeatable processes, there's also a lot of creativity and customization that takes place too. Being a custom home builder means we treat each home as an individual with its own character, and one place where that character can really shine is the kitchen.
Just as with any industry, trends in homebuilding and design come and go. Some families we work with prefer to stick to more traditional styles, but we also have a lot of customers who love exploring the latest trends and modern touches. So today, we're taking a look at the hottest trends in kitchen styling, and how you can use these trends to add some character and personality to your home.
Trend 1: Open concept is here to stay. Open concept homes have been quite popular for a while now, and that particular trend isn't going anywhere. Buyers today want open, seamless kitchens that flow into the rest of the living space, and don't feel separate in terms of look and feel.
Trend 2: Natural, wood finishes. Wood paneling in particular, and materials like shiplap, are growing in popularity. These features add a warmth and naturalness to the kitchen, one that is often missing when designers use more "cold" materials like metal and granite.
Trend 3: Tuxedo and two-toned cabinetry. Say goodbye to cabinetry that matches perfectly. Homebuyers are injecting some personality into their kitchens by incorporating multiple cabinet styles and colors, and are going a step further by using mix-and-match hardware to create a more eclectic style.
Trend 4: Hidden appliances. Yes, some appliances are absolutely stunning, but more and more, homebuyers are looking to hide their appliances, or at least camouflage them, for a more seamless look in their kitchen.
The great thing about working with Wayne Homes (among lots of perks) is that you have an opportunity to explore what your kitchen could look like without stepping foot outside your current home. With our Interactive Kitchen Designer, discover the possibilities for your future home. We think you'll be inspired, to say the least!
Eager to start exploring home building trends that could shape your future home? Give us a call soon and let's get started!
About Wayne Homes
Wayne Homes is a custom homebuilder in Ohio, Pennsylvania, Indiana, Michigan, and West Virginia (see all Model Home Centers). We offer more than 40 fully customizable floorplans and a team dedicated to providing the best experience in the home building industry. For more information, Ask Julie by Live Chat or call us at (866) 253-6807.