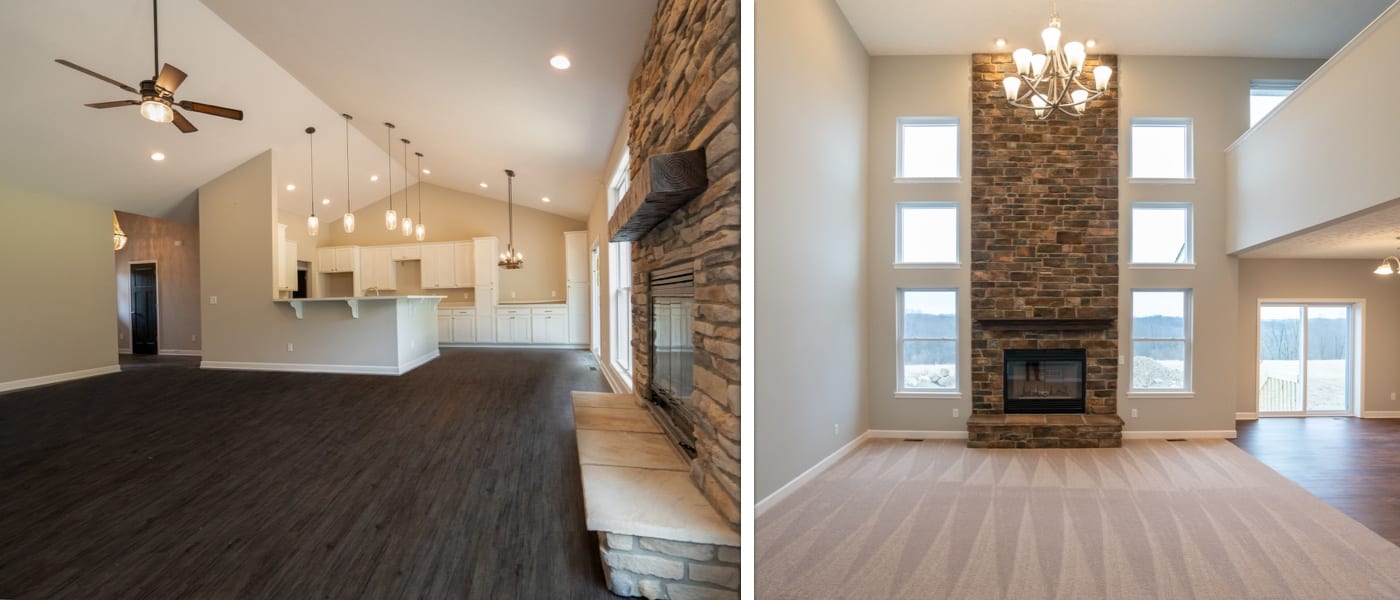 Laminate/LVT/Hardwood floors or carpet
When choosing flooring for your home, the options these days are endless. So, which do you prefer: laminate/luxury vinyl tiles/hardwood or carpet? We'll break down the pros and cons, so you can decide.
Hard Materials
Choosing whether you want hard flooring or carpet may be the first decision you need to make when narrowing down the choices. Hard materials are best in areas where there is heavy traffic, food consumed or spills are more likely to happen. Good examples are kitchens, foyers and dining rooms. However, hard materials can be used anywhere! With a wide range of colors, textures, and sizes, hard materials such as hardwood, luxury vinyl tiles, and laminate flooring offer looks that can fit almost any room. Let's take a closer look at each offering.
Hardwood
A choice coveted by homeowners, hardwood brings beauty and durability to your home. While you do have to be careful with spills and scratches with hardwood floors, if you take good care of your hardwood flooring, it can be a beautiful, energy-efficient asset to your home for years to come. Staining, sanding and re-finishing will likely be required to maintain a good looking floor over time. This is one of the most expensive types of flooring.
Luxury Vinyl Tiles
At Wayne Homes, one of our Included Features is luxury vinyl tiles by Mannington. With classic shapes, bold accents and authentic wood looks, today's vinyl flooring has unique designs and styles that never go out of fashion. Luxury vinyl flooring is waterproof, making it kid and pet friendly and easy to maintain, not to mention affordable.
Laminate
Laminate offers beautiful looks that emulate the elegance of porcelain tile and the warmth of hardwood, but with the easy maintenance and super durability of a laminate. With impressive resistance to scratching and everyday wear-and-tear, laminate floors look like the real deal with none of the routine maintenance. Mid-range in pricing, laminate can offer the best of both worlds.
Carpet
The fluffy, cozy alternative to hard material flooring, carpet has come a long way from the high-maintenance flooring of the past. In the 70s and 80s, carpet was king, being installed everywhere from bathrooms to basements, but these days carpet is most likely found in great rooms, dens, and bedrooms only. The main reason to choose carpet over hard materials is that it has that warm and cozy feel that cold, hard floors just can't compete with. And, it is very friendly to the wallet. Many people love stepping out of bed onto a plush carpet rather than cold floors, and the same goes for areas where kids might be lounging on the floor. Carpet feels infinitely better than hard flooring, and can really make the most of your budget. And the good news is today's carpeting offers superior durability and stain resistance. Wayne Homes offers Mohawk SmartStrand® Forever Clean carpet, which provides unbeatable spill protection, permanent stain resistance and long-lasting durability.
Still can't decide? Most people choose a mix of different flooring choices for the rooms in their homes. Reserving hard flooring options for high-traffic areas and using carpet everywhere else can make a lot of sense for your home's budget and functionality. Here's an at-a-glance view at the benefits of each type:
| | | |
| --- | --- | --- |
| | Laminate/LVT/Hardwood | Carpet |
| Cost | Much more expensive | Budget-conscious |
| Appearance | Classic; more luxurious looking | Still good option; many options with color |
| Cleanliness and care | Easier to see dirt but easier to clean | Dirt can hide; harder to clean |
| Durability | Susceptible to spills and dings, but lasts much longer | Can clean spills, but needs to be replaced much sooner |
| Comfort | Harder material; not as comfortable | Softer material; more comfortable |
| Safety | Possible tripping hazard; no cushion | Safer because it's soft and has cushion |
| Colder and noisier | Colder and nosier | Warmer and quieter |
If you still have more questions about flooring, contact us! We'd be happy to answer any of your questions or concerns, so you can make the right choice for your new home.
About Wayne Homes
Wayne Homes is a custom homebuilder in Ohio, Pennsylvania, Indiana, Michigan, and West Virginia (see all Model Home Centers). We offer nearly 50 fully customizable floor plans and a team dedicated to providing the best experience in the home building industry. For more information, Ask Julie by Live Chat or call us at (866) 253-6807.