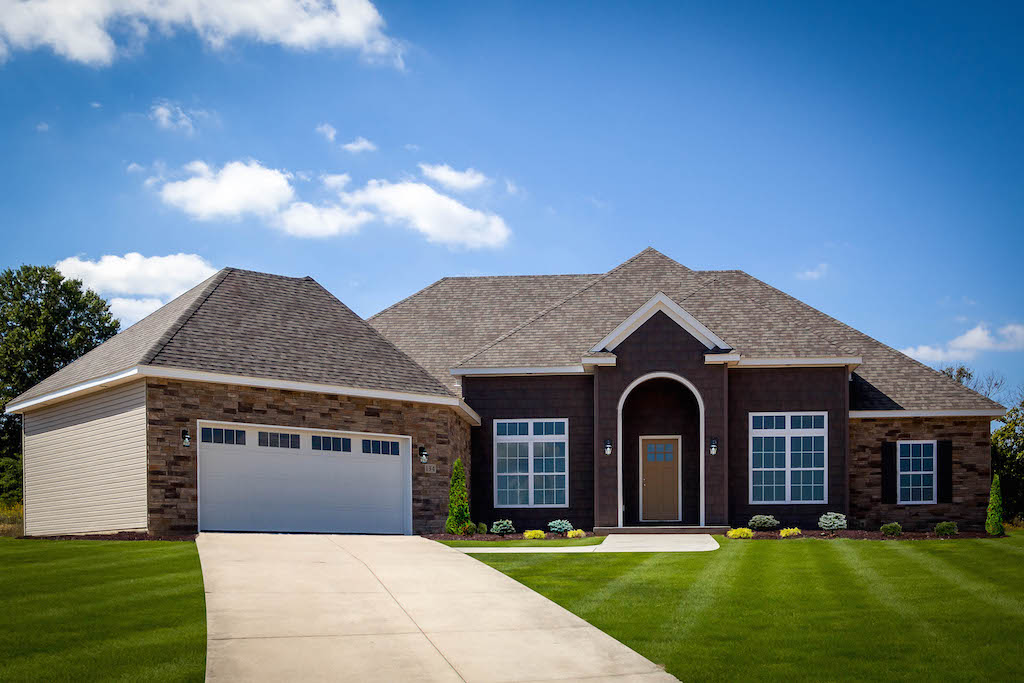 New Homeowners Agree: Wayne Homes Is the Area's Preferred Homebuilder
At Wayne Homes, there's nothing more satisfying than a job well done. For us, happy homeowners are a testament that our team is doing excellent work. We'd like to introduce you to Nick and Abby Kritikos from Newark, Ohio. The Kritikos moved into their custom Montgomery Legacy home in October 2014, and six months later, they're still as excited about it as the day they chose to partner with Wayne Homes.
The Kritikos recalled the beginnings of their homebuilding process, noting "When we were looking to build, we were contracted with another builder and weren't having a good experience." After going through the initial sales process, they were shocked at the price they were quoted for lot prep. Unsatisfied with their choice, the Kritikos decided that Wayne Homes was a better option. Abby reminisces about their first visit to the model home center, saying, "From the moment we walked in, we were treated like royalty." Within just a few short days, Newark Model Center sales team member Sandee had provided them with a breakdown of the total cost, and Wayne Homes was able to save the Kritikos nearly $40,000 in lot fees.
The Kritikos had a profound appreciation for the way our team functioned like a well oiled machine. And they also appreciated how they felt like a part of the homebuilding process. For many of the families that choose Wayne Homes, building a custom home is the opportunity of a lifetime, and we know communication at all levels is essential. Abby still speaks fondly of her experience: "they made us feel like family, the team at the office truly acts like family. They always were in sync with each other and came together at all the right moments. From holiday cards to quick calls just to check on us, they have truly made our homebuilding process one of the best things we have ever done."
Wayne Homes understands how quality, value and affordability also play large roles in choosing a custom homebuilder, and when we asked Kritikos just how much, "[it] was HUGE in our decision" they exclaim. Like many, they had a set amount of money they wanted to spend on a new home, so when their initial choice came back with a high number, they looked elsewhere.
The Kritikos had an idea of the type of home they wanted to build, so when they visited the Newark Model Home Center, they brought along a rough sketch and a list of ideas they wanted to incorporate into the design. Sandee created a new sketch based on the answers the Kritikos gave in their Personal Value List—and the Montgomery turned out to be the perfect fit. The Kritikos note how they "had many customizations, some included a completely upgraded front/elevation, turned garage, columns, high ceilings, additional bathroom and hallway and updated floor plan with a kitchen island." They were delighted to learn that Wayne Homes could build them a home that included all the features they wanted—and then some.
When it came time to start building the Kritikos' home, Wayne Homes' team member Jeremy became their dedicated Field Manager. Abby recalls how Jeremy "was just excited as we were when we broke ground and throughout the entire process." He communicated with the Kritikos every day by sending the couple photos every day to see the progress. Moreover, Jeremy and his crew did better than finish on schedule—they completed the Kritikos home early. Additionally, Jeremy knew they eventually wanted to finish their basement, so he prepped it to make it easier to do in the future.
Wayne Homes is thrilled that the Kritikos are in love with their new home. We invite you to follow in their footsteps and discover how affordable it can be to build your dream home when you let Wayne Homes be your preferred custom homebuilder. To us, you're more than a customer–you're part of the Wayne Homes family. Stop by our Model Home Center nearest you to get started, just like the Kritikos did.
About Wayne Homes
Wayne Homes is a custom homebuilder in Ohio, Pennsylvania, Indiana, Michigan, and West Virginia (see all Model Home Centers). We offer more than 40 fully customizable floorplans and a team dedicated to providing the best experience in the home building industry. For more information, Ask Julie by Live Chat or call us at (866) 253-6807.