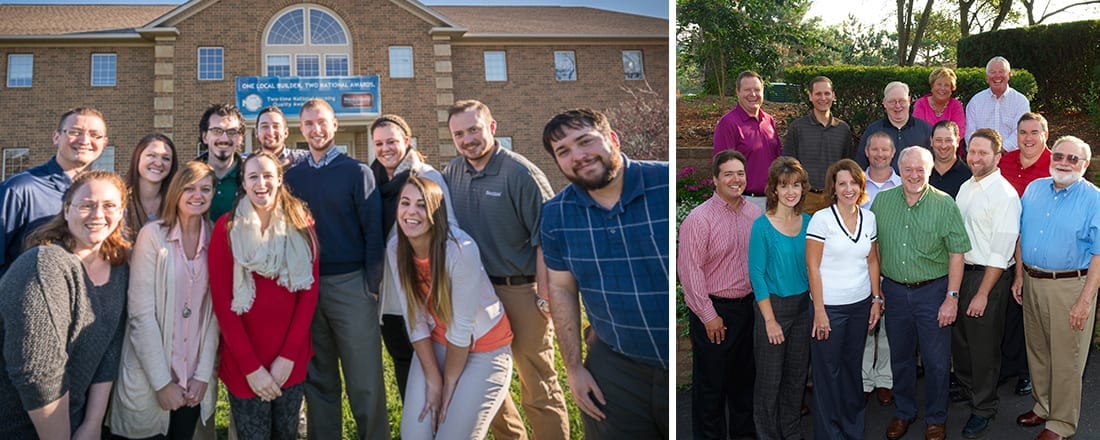 Our new team members answer, "Why Wayne?"
While much of the work we do at Wayne involves working with individual families, a bigger picture look at our entire operation shows that our entire company is a lot like a family, too. And that family is always growing! In the past year, we've welcomed several new members to the Wayne Homes family, and to get a better feel for their motivations for joining our team, we asked them, "Why Wayne?"
Here are a few of the answers we received. We think you'll understand "Why Wayne?" once you take a look at these responses!
"Knowing that I am working for a great, supportive company that builds quality homes." – Rachel Eastwood, new home consultant at Akron-Medina
"I am most proud to be associated with all the knowledge around me. Wayne Homes have mastered the building process from walking into the model home for the first time, to moving into your beautiful custom built home!" – Julie Hurtt, new home consultant at Delaware
"I am proud to work for Wayne because we have the ability to bring someone's dream home to life, and a reputation for being the best quality builder around." – Rhonda Cooper, Sales Manager at Pittsburgh
"Being on the list of North Coast 99 list of best places to work. The guarantee that is offered to our customers on every house. The dedication to meeting customers' needs." – Josh Kaluzne, new home consultant at Akron-Medina
"I am proud to work for Wayne Homes because of how they treat their employees. Wayne Homes really shows me how a business should treat their employees and I am really grateful to work for a business like that." – Morgan Keener, Draftsperson in CAD
"The thing that makes me most proud about Wayne Homes is knowing I have an impact, and what I do really matter to others. It is very easy to have a sense of accomplishment when you know you're helping to build someone's home." – Brad Mowery, Draftsperson in CAD
"I am proud to work for Wayne Homes because of the commitment and extra lengths the employees go to for our clients. Wayne Homes is a superior home builder that truly stands behind the homes we create." – Sara Judge, Design Consultant at Portage
"I think that knowing all employees are trying to deliver a great customer experience and quality home makes me proud to say I work here." – Rich Flickner, Field Manager at Pittsburgh
"I have worked for several companies over my lifetime and after only three months, I realized why Wayne Homes won so many awards. It's hands down the best company I have ever been a part of. From the way they value customer service and the best ratio of work life balance possible." – Jay Spitale, Estimator
Our team members sure seem to know the answer to the question, "Why Wayne?" If you'd like to come up with your own answer, get in touch with us soon to start exploring how we can make your dream home a reality!
About Wayne Homes
Wayne Homes is a custom homebuilder in Ohio, Pennsylvania, Indiana, Michigan, and West Virginia (see all Model Home Centers). We offer more than 40 fully customizable floorplans and a team dedicated to providing the best experience in the home building industry. For more information, Ask Julie by Live Chat or call us at (866) 253-6807.