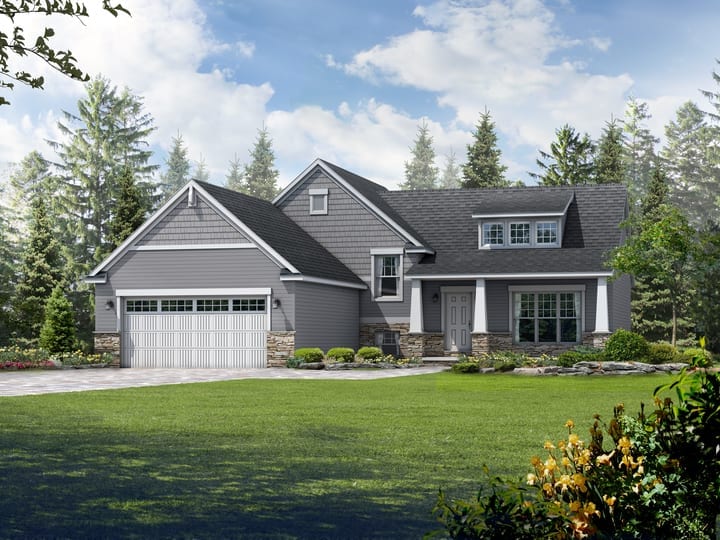 Same Great Princeton, Two Stunning New Looks!
It's always exciting when we have a new floorplan to share with you. Our team is constantly working to come up with new, unique and exciting ways to arrange a home to better fit your family's specific needs.
A close second to that excitement is the excitement we feel when we're able to share a brand new elevation for an existing floorplan. If you're unfamiliar with the lingo, an elevation is the outer facade of a home. Each individual elevation has a unique look and feel, and can drastically alter the appearance of a home based on which elevation a homeowner chooses.
That said, we're thrilled to be sharing with you two updated elevations for the Princeton floorplan!
First, a bit about the Princeton. This split-level plan includes a large living room and dining room area that opens to a spacious kitchen, while the lower level features a family room and utility room plus basement for all your storage needs. Upstairs you'll find the master suite with private bath, 2 additional bedrooms and a full bath.You can tour the beautiful Princeton model at the Delaware and Bowling Green offices.
The first of the newly refreshed elevations is the Family elevation, which removes the small lay-on gable from the porch roof and alters the porch posts to be more prominent and stately. It's a clean, simple and straightforward look.
The second elevation is the Tradition, which shifts the half-brick front to a stone front, and implements a side courtyard load garage rather than a simple front garage. Two new windows appear on the front of this elevation where the garage door used to be, and we've replaced the sunburst decoration on the garage with a half round louver vent.
These updated elevations are in addition to the Classic and Craftsman, meaning your choices in terms of this much-loved floorplan just got even wider!
Interested in learning how the Princeton could fit your family? Contact us soon!
About Wayne Homes
Wayne Homes is a custom homebuilder in Ohio, Pennsylvania, Indiana, Michigan, and West Virginia (see all Model Home Centers). We offer more than 40 fully customizable floorplans and a team dedicated to providing the best experience in the home building industry. For more information, Ask Julie by Live Chat or call us at (866) 253-6807.