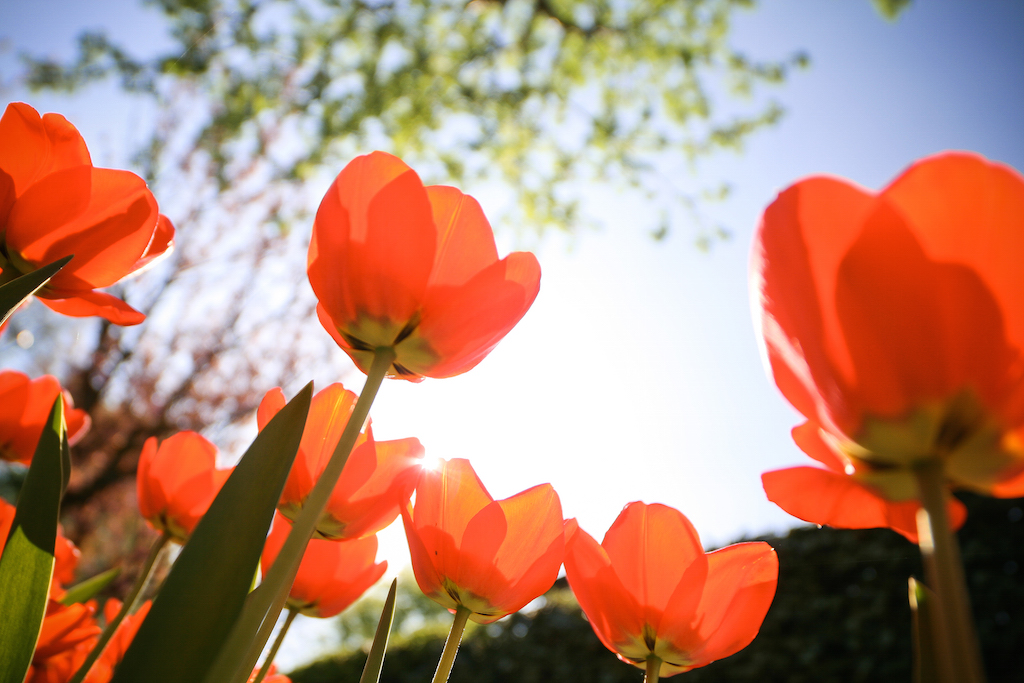 Winter weather is coming to an end, and after several months of frosty temperatures and icy roads, you're probably starting to go a little stir crazy. The days are finally starting to grow longer, and spring break is your light at the end of this tunnel. Spring break is the perfect opportunity to knock the snow off your proverbial winter boots. It's time to thaw out the family and get them out of the house. Check out how the Wayne Homes team will be spending spring break with their families this year.
Enjoying the outdoors 
Even if there's still a nip in the air, there are still plenty of ways to play outside. It could be as simple as taking a family walk/jog in the morning around the neighborhood, and if you happen to live near hiking trails, go for a nature walk. Bring along a field guide to identify the plants and animals you see. If your family is into sports, spend time together shooting hoops or playing catch. Time outdoors is time well spent.
Volunteering in the community
Some of the most valuable life lessons are taught outside the classroom, and what better way to teach children the importance of community than by having them volunteer. At Wayne Homes, we give back through our Random Acts of Kindness program. Our team has made meals at Ronald McDonald House, volunteered at Project Homeless Connect and lent a hand to neighbors by doing their yard cleanup as part of the program. The possibilities for making your town a better place are endless. Soup kitchens and food banks are a great place to start. Find out if the local garden club needs help planting herbs, flowers or vegetables. No matter where your family volunteers, your children will learn the value of helping others.
Trying out a local attraction
Have you ever wanted to visit the local aquarium or check out a new exhibit? Now is a great time to expose your kids to new things and make learning fun. Finding ways to stay engaged and busy while there's still a chill in the air can be challenging, but indoor activities like art classes or checking out an indoor water park can provide hours of creative fun for you and the kids.
Visiting a museum
If the weather isn't cooperating for your spring break, you still have indoor options to stay warm and dry. A trip to the nearest museum is a great opportunity to expand your child's mind and imagination. Spend the day at the children's museum; this hands-on learning environment provides the perfect opportunity to pique your child's curiosity, run around and just be a kid.
Starting a new hobby
Perhaps venturing outdoors during spring break just isn't in the cards. And that's ok. As long as you're in your custom built home from Wayne Homes, you have the living space to have the ultimate indoor spring break. Take this opportunity to teach your children a new hobby. Perhaps they're interested in baking or arts and crafts. Learn a new card game together or how to make origami.
Though your custom built home has been the perfect place to wait out the winter, Wayne Homes encourages you to make the most of your family's spring break. You don't have to take an expensive getaway to a warm, tropical place either. There are plenty of local activities and places to keep everyone busy and having fun. Regardless of where you go during spring break, it's always comforting to know your day ends at your custom built Wayne Home.
About Wayne Homes 
Wayne Homes is a custom homebuilder in Ohio, Pennsylvania, Indiana, Michigan, and West Virginia (see all Model Home Centers). We offer more than 40 fully customizable floorplans and a team dedicated to providing the best experience in the home building industry. For more information, Ask Julie by Live Chat or call us at (866) 253-6807.