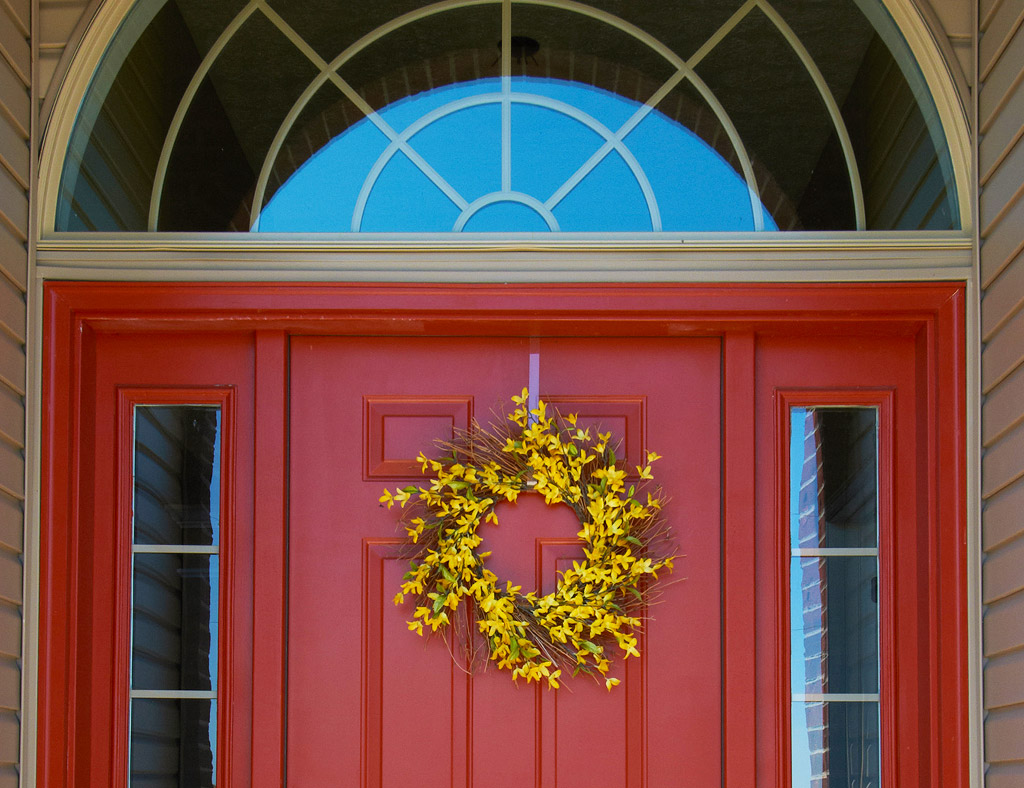 Winter door decorating inspiration for your home
When you think about preparing your home for winter, chances are you consider all the ways to "button up," and keep the outdoors from coming in as the temperature drops. There are other ways to welcome winter, though, that don't involve weatherization, stocking up on shovels, and snuggling up by the fire.
Decorating your front door to reflect a fun, wintery theme is a great way to put your home's best foot forward, and make a warm, welcoming impression on visitors and passers by. Whether you want to go all out or strike a simple, easy note, here are our ideas for decorating your front door this winter.
Traditional. You really can't go wrong with a wreath made of boughs, decorated with a traditional red ribbon and pine cones. It's festive, straightforward, and classic, and portrays a mature sense of style. You can dress it up and add a splash of color by using fruits, like oranges and berries, as well as bird feathers.
Natural. Keep things simple with a garland of evergreen boughs around the frame of your door. Just this is enough to add a natural pop of color to your home, and to get into the winter, holiday spirit. Accent it with a hanging star, a "welcome" sign, even a colorful floor mat. All of this takes just a few minutes to put together, and creates a casual, festive atmosphere.
Glamorous. Love the shinier things in life? Accent your door with a more stylish touch to share your love of glam. White is the perfect color for this look, with accessories like tiny LED lights, glitter-dusted pine cones, gold-tipped feathers, winter-appropriate flowers, holly boughs, and much more. It's a whimsical look that adds a touch of class.
Family-friendly. Nothing says, "A happy family lives here!" than a DIY, hand-made door decoration created by the whole family. It might not be the most glam or put-together look, but decorations (including pine cone wreaths, handprint turkeys, and kid-made artwork) like this add a fun, family-friendly vibe to your home's face.
Cultural. Tap into your family's cultural roots and go for a look that reflects the unique traits, celebrations and beliefs that matter to you. From religious touches to Celtic artwork, Native American sculptures to Turkish patterns in bright colors, share your family's history and beliefs on your door for all to admire.
We pulled together a Pinterest board to inspire you — we can't wait to see what you create!
Everything about your future Wayne Homes home — including the front door! — is custom when you work with us. Get in touch soon to start creating your dream home!
About Wayne Homes
Wayne Homes is a custom homebuilder in Ohio, Pennsylvania, Indiana, Michigan, and West Virginia (see all Model Home Centers). We offer more than 40 fully customizable floorplans and a team dedicated to providing the best experience in the home building industry. For more information, Ask Julie by Live Chat or call us at (866) 253-6807.