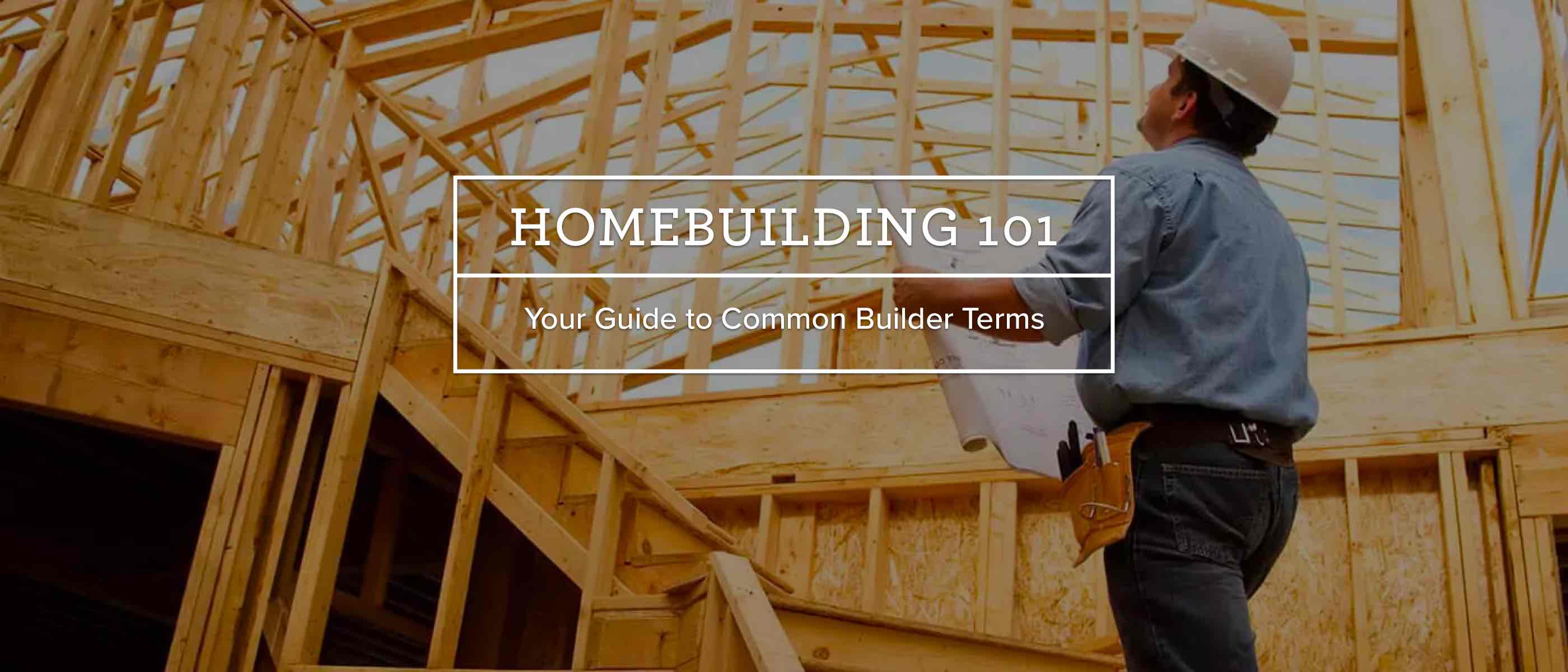 Your Guide to Common Builder Terms
While we think Wayne Homes is anything but common, we also think it's important to arm yourself with knowledge, so we put together this Guide to Common Builder Terms.
The building journey is very exciting, and there is a lot to learn as you navigate the construction process. To give you a leg up, we are giving you this primer to all the terms you'll hear during this process, so you're informed and ready to take every step on the path to your new Wayne home.
Appraisal
An expert valuation of the property. In new construction, this is done before closing to confirm the loan amount.
Backfill
The replacement of excavated earth into a trench around and against a basement foundation.
Bearing Wall
A wall that supports any vertical load in addition to its own weight.
Construction Loan
A short-term loan taken for the expressed purpose of the building. Installment payments are made and when the building is complete, the loan is usually replaced by a longer-term mortgage. The experts at Premier Bank are standing by, ready to get you pre-approved.
Dormer
An opening in a sloping roof, the framing of which projects out to form a vertical wall suitable for windows or other openings.
Egress
A means of exiting the home. An egress window is required in every bedroom.
Elevations – The exterior view of a home design that shows the position of the house relative to the grade of the land.
Floor plan
A floor plan is a drawing to scale, showing a view from above, of the relationships between rooms, spaces, traffic patterns, and other physical features at one level of a structure. Dimensions are usually drawn between the walls to specify room sizes and wall lengths. Wayne Homes has more than 50 floor plans to choose from!
Gable
The portion of the roof above the eave line of a double-sloped roof.
Gable Vent
A louver mounted in the top of the gable
Header
A beam placed perpendicular to joists and to which joists are nailed in framing for a chimney, stairway, or other openings.
Homesite Allowance
A sum of money set aside in the construction contract for excavating, driveway, well, septic, etc.
Jamb and Casings
Molding of various widths and thickness used to trim door and window openings.
Load-Bearing Wall
Includes all exterior walls and any interior wall that is aligned above a support beam or girder. Normally, any wall has a double horizontal top plate.
Pitch
The slope of a roof usually expressed as a ratio.
Setback
A zoning restriction, which applies to the location of the home on a lot.
Setback Lines
Lines that indicate the required distances for the location of a structure in relation to the boundaries of the property.
Sheathing
The structural covering, usually wood boards or plywood, used over studs or rafters of a structure. Structural building board is normally used only as wall sheathing.
Square Footage, Living
The square footage in a home that is heated and/or cooled. The space occupied by two-story rooms and stairwells is counted once in the lower floor's square footage. Living square footage does not include garages, basements, or porches unless otherwise noted.
Truss
Structural members arranged and fastened in triangular units to form a rigid framework for support of loads over a long span.
Truss Framing
A method of roof framing by which carefully designed framing members (trusses) are composed of multiple triangles and connected to metal fastener plates. Pre-engineered trusses are designed and assembled by the truss manufacturer and shipped to the building site.
At any point in the construction process, we are always here to answer any questions you may have about terms, what they mean, and how they apply to your home. But, if you're curious now and would like to read more, check out this full glossary of builder terms.
Do you feel armed with the knowledge to get started, or do you have more questions? Either way, we're here for you. Contact us anytime, and we will be happy to answer any questions…or test your builder lingo! We're looking forward to hearing from you.
---
About Wayne Homes
Wayne Homes is a custom homebuilder in Ohio, Pennsylvania, Michigan, and West Virginia (see all Model Home Centers). We offer over 50 fully customizable floor plans and a team dedicated to providing the best experience in the home building industry. For more information, Ask Julie by Live Chat or call us at (866) 253-6807.