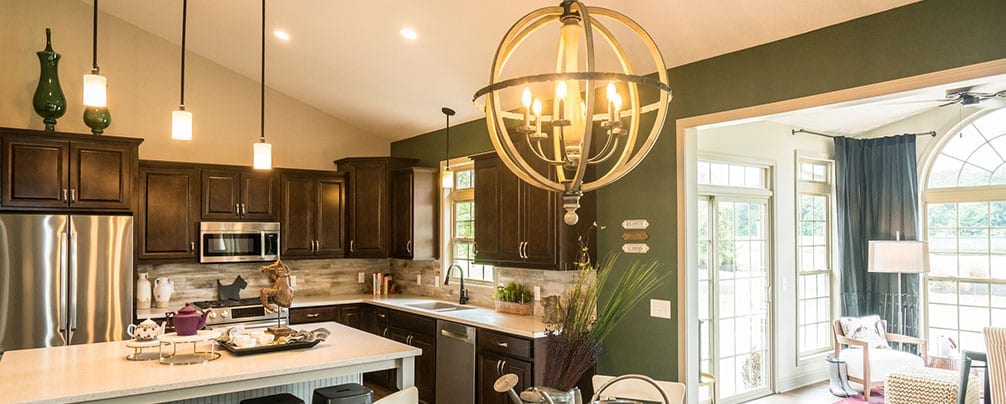 Lighting trends shining bright in 2018
Anyone who's taken a picture of themselves under harsh fluorescent lighting (or soft, warm lighting) knows firsthand the importance of light when it comes to make a scene look and feel cozy and comfortable!
Light can have an incredible impact on a space, and not just in the way it brightens things up. The hue and brightness of your lights has a role to play, as do the unique fixtures you choose to house those lights. Some spaces require more light while others might benefit from a softer ambiance. It all just depends on what you're going for! Add in the options for various fixtures and "lighting" is a pretty major part of any home creation process.
In 2018, we're adding some new lighting offerings for our homes here at Wayne; we've pulled together a Flickr Album highlighting some of those exciting new options. Let's run through what some of those possibilities look like, to hopefully get your wheels turning about the options available for your future home!
Rustic kitchen lighting — Love the rustic, homey look? We've got you, with new options from the Kichler Kearn Collection, which you can see in the dining room of our Alexandria model at Bowling Green. We've also rolled out the Kichler Evan Collection, which you can also see in the Alexandria model at Bowling Green, in the breakfast room space.
Industrial—Prefer a clean, uncluttered look with some utilitarian overtones? Industrial might be your style, if you like sleek lines and an austere aesthetic. The Kichler Brinley Collection is right up your alley for this style, as is the Braelyn and Hatteras Bay collections, both of which are also from Kichler. (You'll notice a trend here; we love Kichler, for their selection as well as their quality!)
Brass—So you love brass, but you're not sure if you're into the antique look or the natural look. No worries, we've got both! Brass is a wonderful option for adding a bit of shine without the potential over-the-top look of gold. Our team can hook your home up with the Kichler Dover collection, available in antique hues, or the Silberne collection, also from Kichler, available in natural colors.
Lastly, almost all of our lighting is now LED, with a few select exceptions. That means long-lasting, energy efficient lighting in virtually any style you like. What's not to love about that?
Have some thoughts about how to create a look and feel all your own? We can help! Let's build your future home together—get in touch today!
About Wayne Homes
Wayne Homes is a custom homebuilder in Ohio, Pennsylvania, Indiana, Michigan, and West Virginia (see all Model Home Centers). We offer more than 50 fully customizable floorplans and a team dedicated to providing the best experience in the home building industry. For more information, Ask Julie by Live Chat or call us at (866) 253-6807.