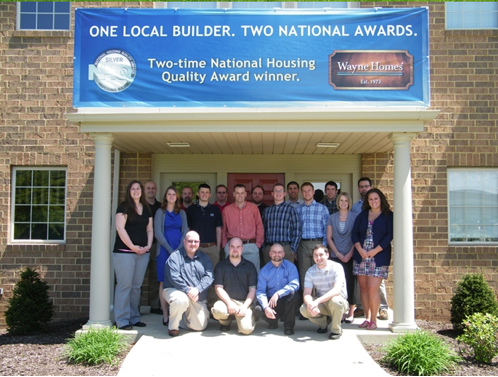 Behind the Scenes: Meet the CAD/Estimating Team
Whenever you walk into a Wayne Homes Model Home Center or Open House event, you'll meet plenty of friendly, helpful team members who are serious about delivering a quality home and an exceptional experience for your family.
What you may not know, however, is that every New Home Consultant has an entire team of people behind them that are equally committed to understanding what's most important to you in your new home.
Two of the most important teams you may never meet are CAD and Estimating. Here's just a few ways that these unsung heroes of the custom home building process work behind the scenes to make your dream home happen.
CAD
At Wayne Homes there's almost nothing we won't build, thanks to our hard-working CAD department. Our CAD (or Computer Aided Design) team is responsible for translating your vision into a dream home that is as structurally sound as it is beautiful. Led by 12-year Wayne Homes veteran Dave Whipkey, the CAD team works closely with the New Home Consultant to get to know what's most important to you in your new home.
"Even though we're behind the scenes, we still take time to understand the wants and needs of every customer. There's a lot of internal communication with the New Home Consultant. Each home feels very personal to us; it's not just another number."

– Dave Whipkey, CAD Manager
Whether your vision includes doubling the size of the Great Room, expanding an upstairs loft area to create a Game Room, or designing a luxury Master Suite, Dave and his team are the ones who work behind the scenes to draw up the plans and find a way to make it happen.
Fun fact: Dave's favorite floor plan is the popular Alexandria plan. "It's a clean, defined, true plan. It's just a beautiful home," says Dave.
Estimating
Just before construction begins on your home, the Estimating team is responsible for ordering all labor and materials to complete your home on time and on budget. The Estimating Department, which is run by 10-year Wayne Homes veteran Ben Vogel, creates a checks and balances system with the CAD team to make sure that your home is built exactly the way you envision it – on time and on budget.
Collaboration and teambuilding are essential for the departments, which have doubled in size over the last year.
"Each home is unique, and everyday is a new challenge. We put our heads together and figure out how we can build each home just as the customer envisions it."

Ben Vogel, Estimating Manager
Fun Fact: Ben's favorite floor plans are the Stafford and the Camden. "These are great mid-size homes that offer a lot of space without a lot of maintenance," says Ben.
Find out more about how the Wayne Homes team makes building a custom home easy, affordable, and fun. Visit one of our Model Home Centers, or Ask Julie by Live Chat on our website.
About Wayne Homes
Wayne Homes is a custom home builder in Ohio, Pennsylvania, Indiana, Michigan, and West Virginia (see all Model Home Centers). We offer more than 40 fully customizable floor plans and a team dedicated to providing the best experience in the home building industry. For more information, Ask Julie by Live Chat or call us at (866) 253-6807.