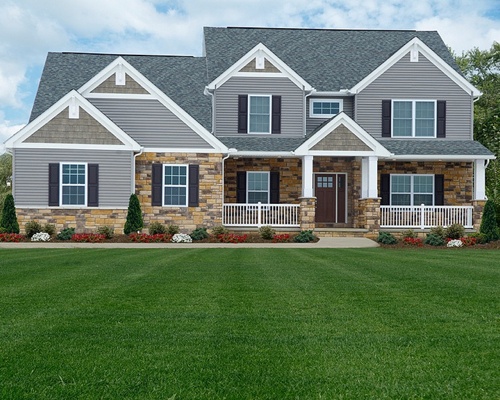 Don't Be Fooled. Now is the Time to Buy a Custom Home.
The calendar may say it's April Fools' Day, but it could be your smartest day of the year. Perhaps you have been saying that someday you will build your dream home, a home that is customized to meet the needs and lifestyle of you and your family, a home that you will want to live in for a long, long time.  That someday may very well be today.
Here are just a few ways that Wayne Homes helps you build smart:
Smart Design
Let Wayne Homes build a home that is designed for you, by you.  Building a custom home is really a reflection of what is important to you.  At Wayne Homes, we start the process by making sure we understand you and your needs by helping you develop a Personal Value List.  With your Personal Value List and our experience and skill, we team up to create the home that you will love for years to come.
Simply visit any one of our Model Home Centers to speak with a New Home Consultant about creating your own Personal Value List. It's easy, it's fun, and it's free.
[Find a Model Home Center Near You]
Smart Money
According to recent data, home prices have started to increase and interest rates have started to rise.  We can't say for sure that these trends will continue, but if they do now could be the best time to buy your next home.
Buying a home is a major financial decision, and increases in price and interest rates could reduce how much home you can afford – and where. Talk to a mortgage specialist from our preferred lender, Home Savings, to help you decide if now is the time to make that dream home a reality.
Smart Location
Once you decide to build a custom home, the first step is deciding where to build it.  At Wayne Homes, you are not restricted to building within a specific community.  In fact, we build custom homes where homeowners want them to be.  Buying land for your custom home may seem complicated, and it often is, but we can help you determine if the location you've chosen is just right for your favorite Wayne Homes floor plan.
Take advantage of our Complimentary Homesite Evaluation service, allowing you to buy with confidence. We can help you take the guess work out of the process. Before long, you will be sleeping soundly in a beautiful custom home built on just the right home site that works for your family.
[Learn more about the free home site evaluation]
Don't be fooled into thinking you have to wait to afford your dream home. At Wayne Homes, we make building the perfect home for your family easy, affordable, and fun. Simply Ask Julie by Live Chat to find out how easy it is to get started.
About Wayne Homes
Wayne Homes is a custom home builder in Ohio, Pennsylvania, Indiana, Michigan, and West Virginia (see all Model Home Centers). We offer nearly 40 fully customizable floor plans and a team dedicated to providing the best experience in the home building industry. For more information, Ask Julie by Live Chat or call us at (866) 253-6807.