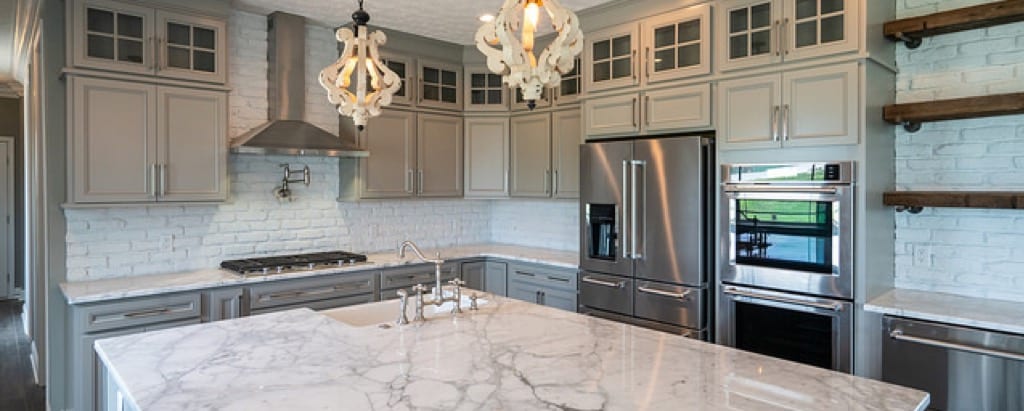 Countertop and backsplash inspiration for your home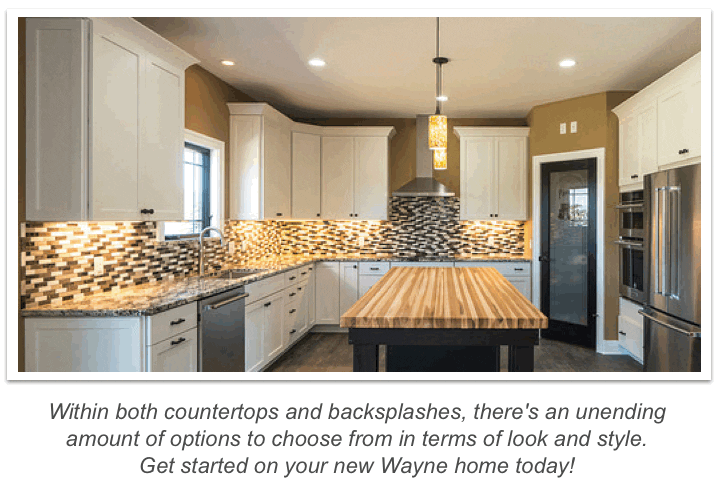 Each room in your home has different features that you can manipulate to create your own look, style, and aesthetic. Paint, ceiling designs, wallpaper, and crown molding are just some ways to add style to a living space; the stair style and spindle you choose will define the look of your staircase, if you have one; and the tiles, flooring, and fixtures in your bathroom will come together to create the look you want to build.
In the kitchen, there are countless ways to inject style and substance into the space, but one really important way is through your choice of countertops and backsplash. They work together to create much of what makes up the "look" of your kitchen. Today, we're exploring some things to consider as you choose your countertops and backsplash for your future dream kitchen.
Materials
Each possible material for your countertops will have a different look as well as functionality, so it's important to consider each from both perspectives. The same goes for a backsplash; while most opt for tile, there are literally thousands and thousands of options within the tile world to choose from.
For your countertops, it's worth thinking about if you want quartz, granite, laminate, tile, butcher block, or another option because each will have its pros and cons. Quartz is heat and cold resistant and practically impervious to staining, cracking, or damage. Polished granite, though, while being one of the top choices, isn't as durable and you need to be more vigilant about stains and clean-up.
Laminate is the most affordable option, and thanks to recent advances in technology, many would be hard pressed to tell the difference between a really great laminate and polished granite or quartz. And wood countertops in a butcherblock style are both affordable and heat resistant, plus they're great for having an endless amount of prep space!
Layout and usage
When choosing your countertops, you should take into consideration how you'll use your kitchen. For example, do you want butcherblock near the sink or stove for quick and easy meal prep? Or perhaps you like to do all your prep for meals at the island in your kitchen, in which case a more durable material may be a better fit.
Color and style
Within both countertops and backsplashes, there's an unending amount of options to choose from in terms of look and style. White or light grey with flecks of color for visual interest create a clean, contemporary look, but can also work well in a more traditional style kitchen with Shaker cabinets or a more rustic look. Any backsplash placed against it will pop, and will also send your eye to your cabinets, where you may choose to do a more vibrant color.
Dark on dark with your countertops and backsplash is a sophisticated look that works best in kitchens with a lot of natural light to brighten the space. Dark colors also work best if you're trying to bring out the bright and colorful hue in your cabinets, or conversely if you have dark cabinets and want everything to blend seamlessly. Lastly, dramatic countertops and backsplashes are wonderful for those looking to make a serious statement in their kitchen. They work best with a large kitchen, as dramatic looks tend to overwhelm a smaller space.
Take a look at our Flickr albums of some countertop and backsplash inspiration for even more ideas around what you could create.
Our design team is ready to help you create the look of your dreams; get in touch with us today to start making it happen!
About Wayne Homes
Wayne Homes is a custom homebuilder in Ohio, Pennsylvania, Indiana, Michigan, and West Virginia (see all Model Home Centers). We offer nearly 50 fully customizable floorplans and a team dedicated to providing the best experience in the home building industry. For more information, Ask Julie by Live Chat or call us at (866) 253-6807.