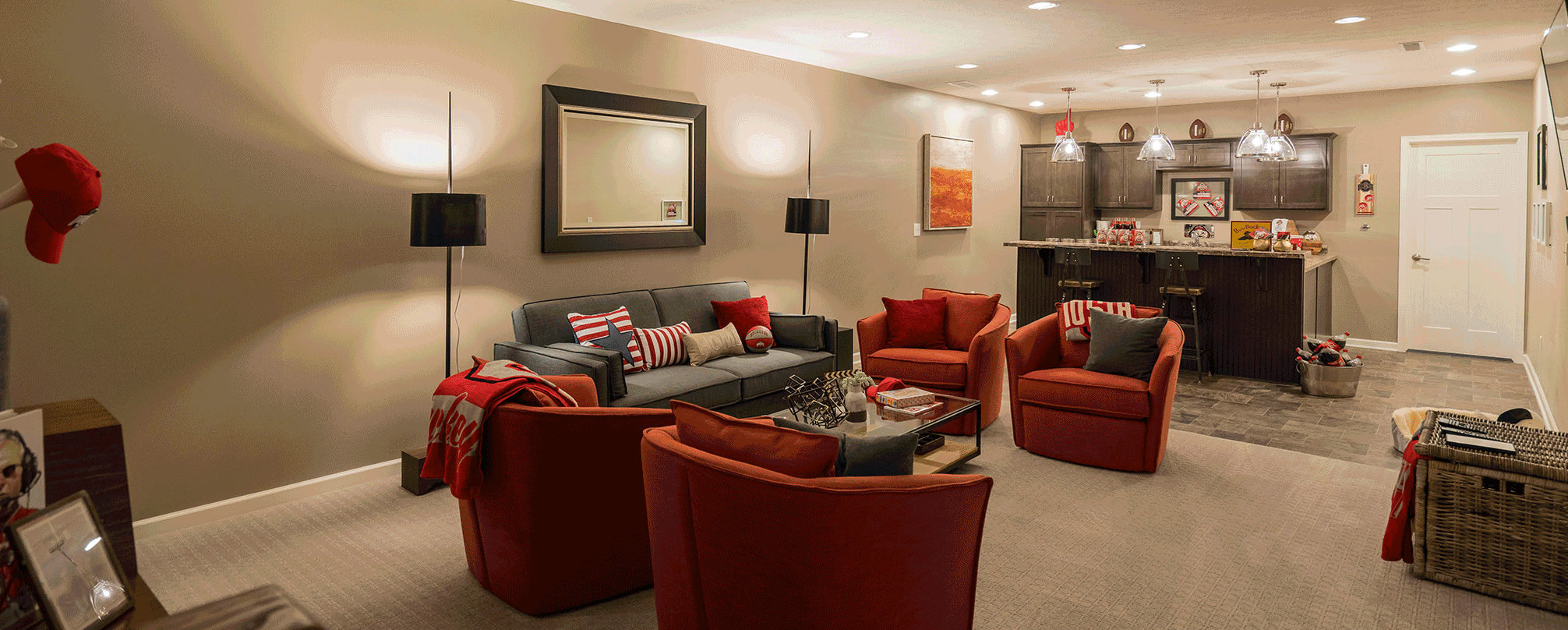 Crafts, movies, and games, oh my! Bonus room ideas for your home
What kind of activities do you and your family enjoy? Are you a competitive lot, always challenging one another to a game or contest? Maybe you're a huge arts and crafts fan, and are trying to get your family in on the fun. Perhaps movies and music make your heart sing, or staying active and fit is what drives you.
Every family is unique, which is why homes and floorplans with bonus rooms are so useful; you can adapt the bonus space to fit your family's needs, then adjust as your needs change!
Here are some ideas to get your wheels turning; the possibilities are virtually endless!
Toy room: Got little ones running around? What better way to keep them occupied, and cut down on clutter throughout your home, than a toy room? With a toy room, all the dolls, trucks, legos, and building blocks your kids love are kept in one specialized place, meaning you won't be tripping over them in the living room; and, your kids have their own cozy retreat to go to, where you can join them… or hang out next to the fireplace with a good book!
Craft room: Feel like creating something? A craft room is the perfect place; it keeps your arts and crafts supplies in one central location for easy organizing, and creates a dedicated space for making whatever your heart desires. Create a chalkboard paint wall for on the fly drawing, install some smart storage to keep things tidy, and get building!
Theater and music room: Pop some popcorn, crack open a soda, and plop down on some plush recliners to enjoy your favorite movies in the comfort of your own home. With a dedicated bonus theater room, you can install surround sound too, to make the experience even more authentic. Or, set up your favorite instruments and get jamming!
Workout room: Ready to break a sweat and not a fan of the gym? Turn your bonus space into a get fit space. Whether you want to feel zen with some easy yoga, love dancing and jamming to workout videos, or want to hit the iron, a dedicated workout space will make it easy to squeeze a workout in whenever you have a bit of free time!
With the Wayne Homes team, you can customize your floorplan to accommodate your family's needs, but some floorplans are better suited to bonus rooms than others. Our ever popular Covington floorplan is ideal for a bonus room space, as are the Kinston and Winchester floorplans. Each boasts bonus spaces well over 100 square feet in size, so whatever you fancy, you can make it happen!
Whatever you want to do with your bonus room, our team is on hand and ready to make it happen. Get in touch to bring your ideas to life!
About Wayne Homes
Wayne Homes is a custom homebuilder in Ohio, Pennsylvania, Indiana, Michigan, and West Virginia (see all Model Home Centers). We offer more than 50 fully customizable floorplans and a team dedicated to providing the best experience in the home building industry. For more information, Ask Julie by Live Chat or call us at (866) 253-6807.