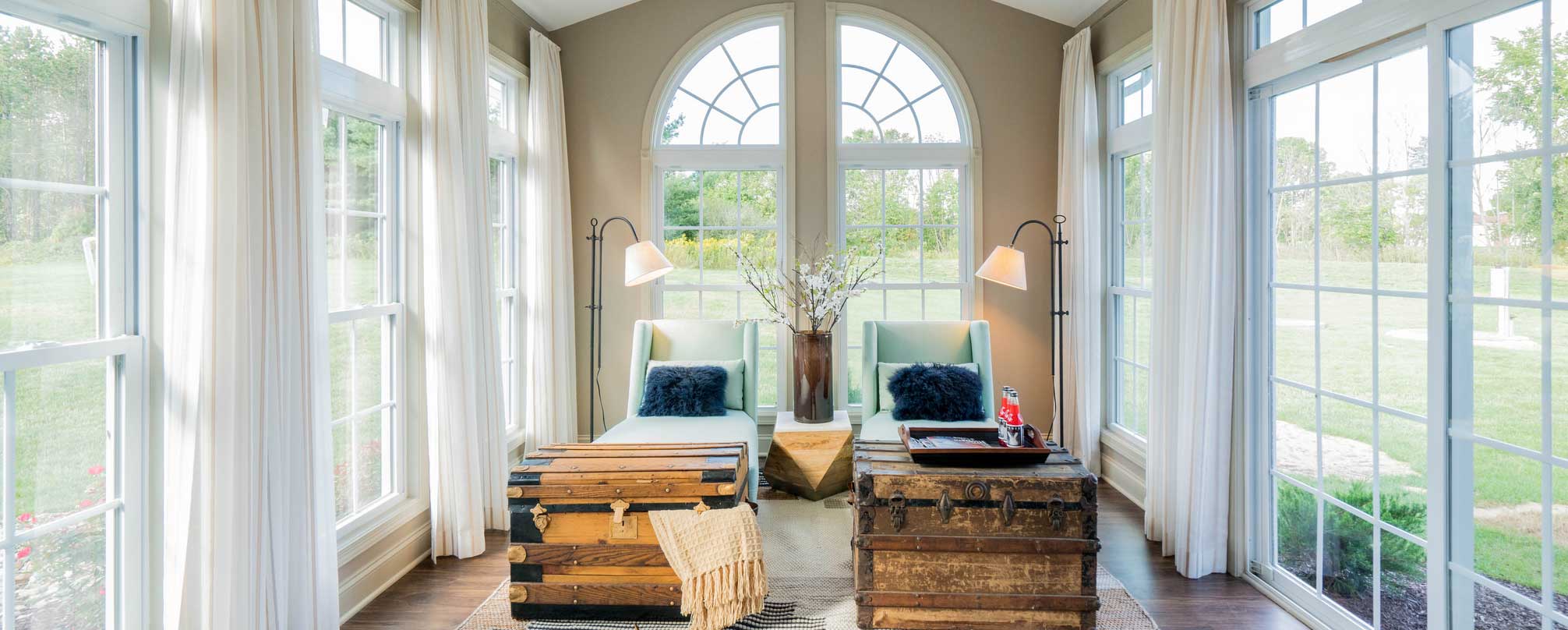 Creating your perfect sunroom
A major and popular trend in homebuilding that shows no signs of departing is the concept of bringing the outdoors, in. There are many ways to do this, but at Wayne, we have one much-loved method that our homeowners seem to really appreciate: the creation of a sunroom!
Like pretty much everything else we do at Wayne, our sunrooms are customizable to your personal specifications and needs. Let's take an opportunity to look closer at the possibilities, and see what might make the most sense for your home!
Our sunroom options come in the traditional and the designer variety, and both are 12 x 14 feet, providing plenty of space for seating and lots more. Imagine yourself sipping your morning coffee, enjoying the sun and summer breeze while protected from the elements, and bugs — pretty delightful, isn't it?
Within the traditional style, the left side of the room has 3 3'x5' windows, while the right has one, and the rear has a 7'8"x5' triple window with a 3' half round window over it. That's in contrast with the designer style, which has 3 3'x'6' windows with 12" transoms on the left, a single window with the same transom on the right, along with a 6' patio slider, and 2 3'x6' windows in the rear with 36" quarter round windows above each. No matter what direction you go in, you're sure to enjoy generous light from all angles!
In addition to your window style options, you have many more choices to make, including a Silverline or Pella window/slider, what size baseboard you'd like, window sills or jamb and case for the Silverline windows or picture frame casing for the Pella ones, and much more.
We pulled together a Flickr album to help you get an idea of what your future sunroom might look like. As you can see, there are lots of options available to you and your family, enabling you to create a space that feels truly your own! And we haven't even gotten into color choices, detailing, and decor. Picture yourself in a sunny, open space, enjoying the outdoors while sheltered from wind, rain, and the rest of Mother Nature's elements. Could it get any better?
Curious what other customization options there are to explore? The sunroom is just the beginning! Get in touch ASAP to talk through all the ways we can make your future home perfectly yours.
About Wayne Homes
Wayne Homes is a custom homebuilder in Ohio, Pennsylvania, Indiana, Michigan, and West Virginia (see all Model Home Centers). We offer more than 40 fully customizable floorplans and a team dedicated to providing the best experience in the home building industry. For more information, Ask Julie by Live Chat or call us at (866) 253-6807.