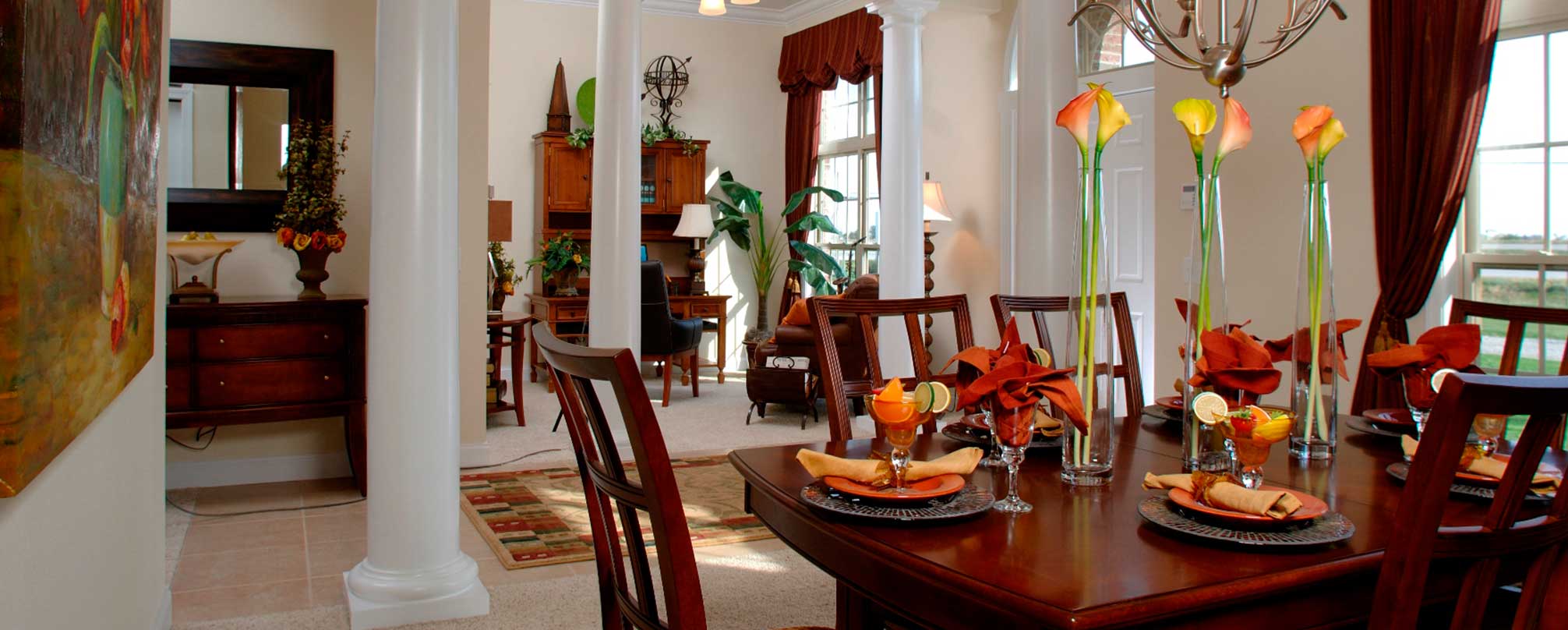 Custom creations for mom this Mother's Day
Often times you hear folks talk about the 'heart' of a home, and usually they're referring to the kitchen, or perhaps the living space, where most of the family activity takes place. Here at Wayne Homes, though, we contend that for a lot of families, Mom is actually the heart of the home!
In honor of Mother's Day coming up, we wanted to pay homage to the heart of the home with some ideas for how to make your custom home perfect for the most loved woman in all our lives.
For the gourmet chef or talented baker: What would a chef or baker love more than a stunning, open concept chef's kitchen with enough counter space to whip up a delicious meal for an entire party? If your mom absolutely loves to cook or bake, Wayne has a whole host of options for customizing your kitchen to make it perfect for her, from stunning Aristokraft cabinets to store her wares, oversized stainless steel appliances for baking multiple concoctions, sparkling granite countertops for prep, and much more.
For the fashionista: What style maven doesn't love a space dedicated to housing and presenting all her favorite pieces? With Wayne, walk-in closets are the norm in many of our custom floorplans, and with the power of built-ins and further customization, mom can turn the walk-in closet into her own private style retreat, with her favorite articles uncrowded and presented beautifully.
For the mom who needs to relax: Well, what mom doesn't? But for the mom who never takes enough time for herself, spa relaxation at home is a great way to bring the relaxation to her. The options are endless in terms of what you can do to customize your bathroom space, so whether mom loves the clean, minimalist style, a more ornate and classic look, or something different entirely, we have the tools and experience to create something perfect for her. All you have to add is the bubble bath and candles!
For the mom with lots of hobbies: Does your mom love to crochet? Knit? Craft? Scrapbook? Whatever her hobbies are, she'll love a dedicated space to pursue it. Many of our floorplans have a dedicated flex space (you can read more about them here!) that is perfect for providing mom with a special space all to herself. Add some shelving and smart storage options, a comfy table and chairs, and bingo: a great gift for mom, all year round.
For the mom who loves the outdoors: Light is a priority in all of our floorplans, because we know the power light brings to the openness of a home. But if mom is really keen on bringing the outdoors inside, there are several options to provide a sunroom area into your custom floorplan. These spaces are absolutely ideal for a morning coffee, a small get together, or simply relaxing with a book and a cup of tea. Give mom the best of both worlds — fresh air and bright light without the bugs and clutter — with a stunning sunroom.
Moms do more than we can ever know to make our lives happy, so it only seems fitting that this year, you and your family consider how to make her happy not just one day out of the year, but every day! Check out our Pinterest Board for even more ideas, and be sure not to forget May 14!
Ready to discover, as a family, what spaces make most sense for you and your future? Get in touch with us today!
About Wayne Homes
Wayne Homes is a custom homebuilder in Ohio, Pennsylvania, Indiana, Michigan, and West Virginia (see all Model Home Centers). We offer more than 40 fully customizable floorplans and a team dedicated to providing the best experience in the home building industry. For more information, Ask Julie by Live Chat or call us at (866) 253-6807.