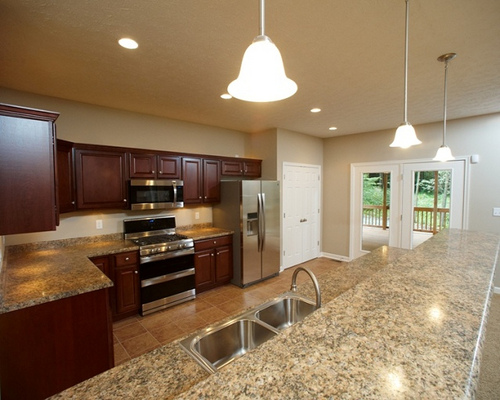 What's Your Kitchen Design Personality?
Did you know that you have a kitchen design personality?
At Wayne Homes we build hundreds of homes per year, and no two kitchens are exactly the same. That's because every family is unique, and at Wayne Homes we think that's a good thing. That's why we offer a nearly unlimited number of ways to customize your kitchen (and every room of your house) based on what matters most to you.
To show you what we mean when we say, "There's almost nothing we won't build," here are five different kitchen design interpretations of our popular Montgomery ranch house floor plan:
The Modernist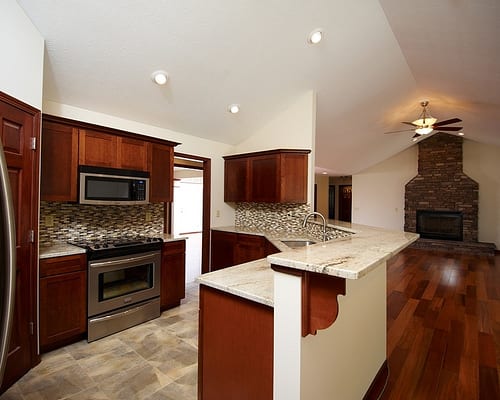 Do you love clean lines, mixed patterns, and a bold look? Then you might be a Modernist. The Modernist's kitchen is a design showplace that uses colorful backsplashes, classic counters, and rich wood tones to create a space to welcome (and wow) family and friends.
The Traditionalist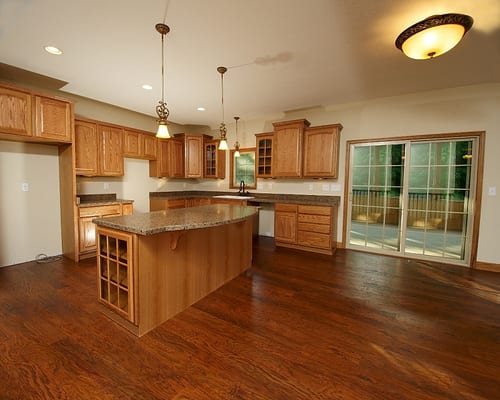 Do you love a kitchen that feels like the one you grew up in? Then you might be a Traditionalist. Functional, open, and easy to maintain, the Traditionalist kitchen creates a sense of calm in an otherwise hectic day.
The Entertainer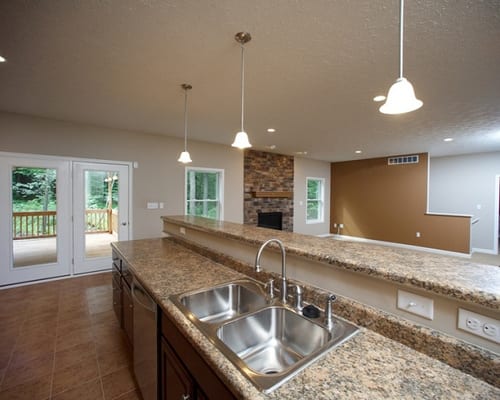 Do you love playing hostess any time of year? Then your kitchen design style might be Entertainer. Whether it's a summer barbeque on the deck or a Superbowl party in winter, your kitchen design needs to provide a perfect vantage point to all entertaining areas. A serving bar is potluck-perfect.
The Multi-Tasker
Are you someone who always seems to be doing seven things at once? You're probably a Multi-Tasker. An average evening might include cooking dinner, helping with homework, scheduling practices and recitals, and researching birthday party ideas online – all at once. Multi-taskers need kitchens that are highly functional with an eat ledge, technology center, double ovens, and more.
The Romantic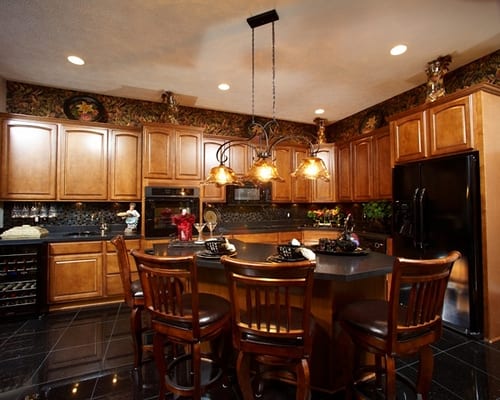 Do you love deep, rich colors that feel like an old-world Italian kitchen? Then you might be a Romantic. Romantics create kitchen spaces that invite conversation with warm, deep tones combined with a smaller footprint and a more intimate feel. Decorative light fixtures create a space that makes every day feel like a special occasion.
What's your kitchen design style? To find out, start designing your own custom home kitchen with our free, online kitchen design tool and interactive floor plans.
Then, visit one of our Model Home Centers or Open House events to find out more about how to create the perfect kitchen for your dream home. Have a question? Simply Ask Julie by Live Chat or call (866) 253-6807.
About Wayne Homes
Wayne Homes is a custom home builder in Ohio, Pennsylvania, Indiana, Michigan, and West Virginia (see all Model Home Centers). We offer more than 40 fully customizable floor plans and a team dedicated to providing the best experience in the home building industry. For more information, Ask Julie by Live Chat or call us at (866) 253-6807.