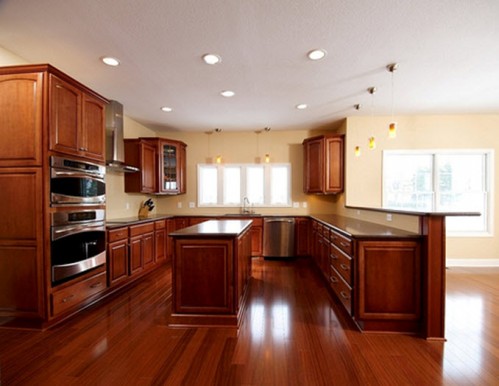 Design and Build Your Dream Kitchen in 6 Simple Steps
When you build a new home with Wayne Homes, almost anything is possible for your dream kitchen. Seriously. A-n-y-t-h-i-n-g. In fact, as CAD Manager Dave Whipkey says, "We never build the same kitchen twice."
At Wayne Homes, we don't think that you should need a champagne budget to create the kitchen of your dreams. That's why we make customizing your kitchen any way you want easy, fun, and affordable with custom home costs for almost any budget.
Here's 6 easy steps to your dream kitchen:
1. Envision It!
When it comes to building a custom home, even a small one, think big! Need some help? Try our 40 kitchen customization ideas or browse more than 80 photos of custom kitchens designed by actual Wayne Homes customers. Are you more of a hands-on type? Create your own customized kitchen with our interactive floor plans: simply customize, print, or save for future reference.
2. Personalize It!
Once you've gathered your ideas, come on in to one of our Model Home Centers. Whether you're super organized with all of your ideas in a binder (tabbed and color coded), tossed in a shoebox, or stored in your Smartphone, we can help you translate your ideas into your new home using our Personal Value List. It's a free service that is available only from Wayne Homes, and only at a Model Home Center.
3. Customize It!
What drives you crazy about your current kitchen? Odd layout, limited storage, not enough counter space, too dark, the dishwasher is across the kitchen from the sink? We don't think you should have to make those kinds of compromises. At Wayne Homes, we take a common sense approach to design: it's your home, and we build it your way. We'll help you create solutions that are customized for your lifestyle and your wallet.
4. Design It!
We start with an impressive list of premium, included features in every home, but that's just the beginning. When you visit our Design Center, you'll have the opportunity to mix and match colors, textures, and styles. From glazed cabinets to granite countertops and a seemingly endless amount of flooring options, this is the part of your kitchen design that truly reflects you.
5. Build It!
Sure, designing your kitchen online or in the Design Center is fun, but just wait until you see it take shape! Your dedicated Field Manager will make sure that each and every customization is installed just as you envision it. From foundation to frame, sheetrock to shingles, you'll be amazed at how quickly move-in day approaches.
6. Invite Us Over for the Move-In Potluck
Ok, well maybe that part is optional, but chances are that you'll have so much fun building your custom home with our friendly, knowledgeable team that they will feel like friends and family by the time you move-in. (Plus, we make a mean casserole.)
With land inventory down and construction costs on the rise, now may just be the time to turn your dream home into a reality. For more information about how to get started, visit a Model Home Center, tour an Open House event, or simply Ask Julie via Live Chat.
About Wayne Homes
Wayne Homes is a custom home builder in Ohio, Pennsylvania, Indiana, Michigan, and West Virginia (see all Model Home Centers). We offer more than 40 fully customizable floor plans and a team dedicated to providing the best experience in the home building industry. For more information, Ask Julie by Live Chat or call us at (866) 253-6807.