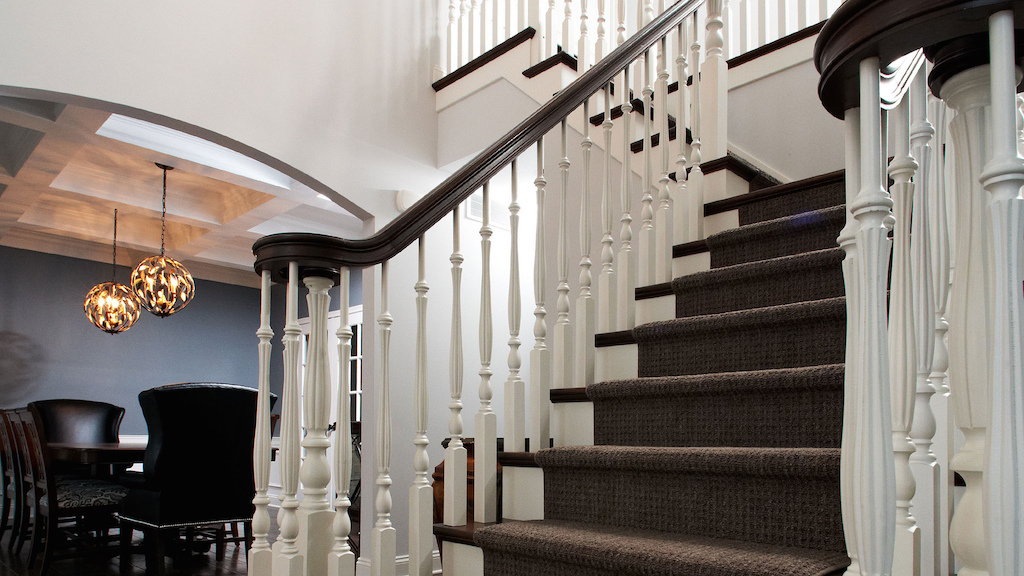 Design the Perfect Staircase
When it comes to creating a custom home design with Wayne Homes, you have an array of options for personalizing the look of your staircase. We've partnered with the staircase experts, L.J. Smith, to ensure yours is as beautiful as it is functional. Before you start feeling overwhelmed with all the choices for styles and materials, learn the basics of staircase terminology and we'll walk you through everything else, so you can make a well-informed decision.
Pick a Stair System
One of the first decisions you'll make when selecting your staircase is where your handrails fit together. A post to post system has the handrail positioned between the newel posts and creates more of a classic look. Your other option is the over the post system, where the handrail is situated over the newel posts for a sleek, contemporary appearance.
Select Baluster, Rail Styles and Newel Posts
The balusters, often called spindles, refer to closely spaced wooden or iron supports that fit between the railing and the stairs. New homeowners can opt for wooden square top, wooden taper top or iron balusters to give their staircase a truly unique look.
You'll also have several handrail styles and newel posts to choose from when personalizing your staircase. Whether you're trying to achieve a clean, contemporary look that will last for years or are looking for a more sophisticated design, Wayne Homes gives you a variety of options to turn your staircase into a stunning home feature.
Opt for Open Treads or Knee Wall
Next, you'll want to consider how the balusters connect to the floor. The open stair option has the balusters attached to treads. With knee wall stairs, the balusters are attached to a wall. Your choice here will depend more on aesthetics than functionality, so if you're having trouble deciding between the two, we would be happy to help you determine what fits the overall feel of your new home.
Choose Your Materials
The materials used to build your staircase will have a significant effect on how it looks in the end. A majority of staircases use predominantly wood, but new homeowners may prefer the look of iron balusters coupled with wooden rails and newels.
Wayne Homes gives you several options for wood, each with its own particular look and ability to hold stains:
Poplar—a dense, hard wood is recognized by its dark brown, purple or green hues, though most homeowners won't see it, because it's typically painted over.
Maple—a beautiful hardwood identified by its light, or almost white coloring. Particularly resistant to wear and tear—making it the perfect option for high traffic households.
Cherry—prized for its red to reddish brown coloring and fine closed grain, use this wood when building your staircase to add a touch of elegance and sophistication to your home.
By learning the ins and outs of creating a perfect staircase, you're now more prepared than ever to make decisions about the style and functionality of the one that goes in your custom home. For additional inspiration, check out the Wayne Homes Flickr page with some of our favorite custom staircases we've built over the years.
No matter if you choose iron balusters over wood, or prefer a post to post system to the over the post look, all of our staircases are built using only quality materials by superior craftsmen. When you're ready to talk about your staircase and other exciting features for your new custom home, stop by the Model Home Center nearest you. When you are there, be sure to complete a Personal Value List, so we can make sure you get all the things you really want in your home.
About Wayne Homes
Wayne Homes is a custom homebuilder in Ohio, Pennsylvania, Indiana, Michigan, and West Virginia (see all Model Home Centers). We offer more than 40 fully customizable floorplans and a team dedicated to providing the best experience in the home building industry. For more information, Ask Julie by Live Chat or call us at (866) 253-6807.