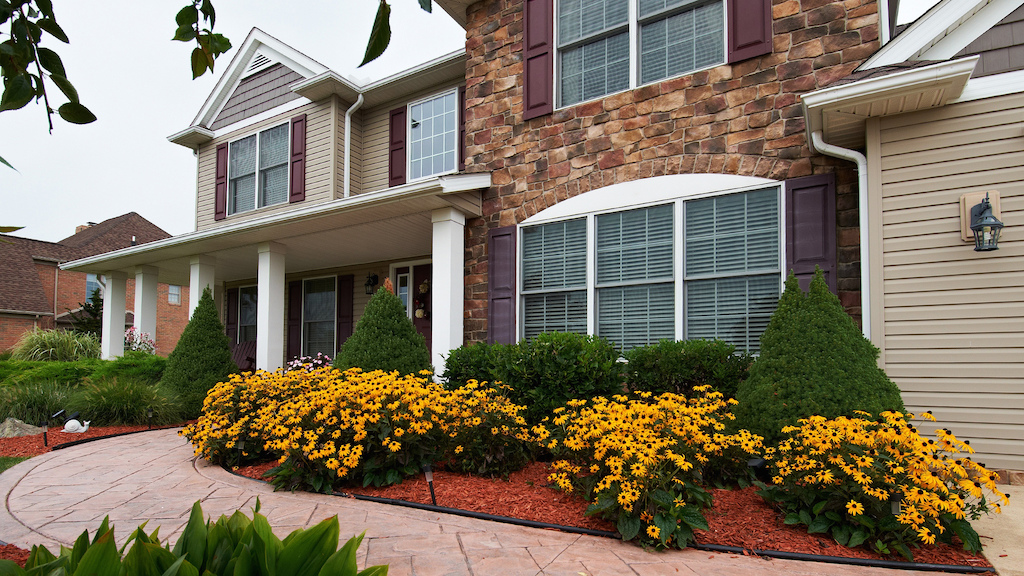 Enter the 6th Annual Wayne Homes Landscape Contest
The azaleas are in full bloom and roses are beginning to open their petals. All the hard work you're putting into landscaping is coming to fruition. Unfortunately, yard maintenance is not simply a one-and-done type of chore. It's ongoing maintenance that must be kept up with regularly. If you're looking for ways to improve the look of your landscaping, Wayne Homes has some helpful hints below. When you do have it looking its best, we encourage you to participate in the 6th Annual Wayne Homes Landscaping Contest for a chance to win big! Details are below.
Make Your Landscape Lush
Your landscaping requires special care during this transition from spring to summer. From watering to weeding, you need to have everything covered to make your yard look topnotch:
If you haven't planted or transplanted new rose bushes, fruit trees and flowering shrubs, now is the time. April and May are the best time to add these plants to your yard. It's important to let them adjust to their new settings before the summer heat cranks into high gear.
Before hot summer days arrive, make sure you've fertilized your lawn and plants. Determine which fertilizers are right for your yard before you head out to pick it up. Whether you choose to use quick- or slow-release fertilizers, timing is everything when it comes to feeding your grass, shrubs, flowers and fruit trees.
Weeding can be tedious, hard work. But the payoff is a beautiful yard. When it comes to getting rid of pesky, unwanted plants, it's crucial to know your options. You can get out there every few weeks, and weed by hand, but that can be backbreaking for some. There are a variety of weed-killer products on the market that you can use, but you definitely want to read the labels and reviews to ensure you're purchasing safe chemicals—especially if you have pets.
By now, you should have already pruned most of your trees and shrubs, unless you have spring-flowering shrubs like azaleas—in which case you want to wait until they're done flowering before pruning. But roses, non-flowering shrubs and ornamental grasses should be trimmed by mid-spring.
Don't wait for rainfall to water your lawn. When it comes to keeping your grass green, you need to take matters into your own hands. Irrigation is vital during hot summer months if you want to maintain healthy, happy plants. The type of grass you have influences how often you should water it—it could be days, every week, or even longer.
Enter our Contest to Win Big
Once you have your landscaping looking picture-perfect, it's time to snap some photos and enter to win the 6th Annual Wayne Homes Landscaping Contest. Get inspiration from last year's winners. From May 15th through July 15th, you can enter for a chance to win by emailing us at LusciousLawns@WayneHomes.com (Subject line: "Landscape Contest Entry") or send us the best photos of your yard by private message on Facebook. You could win a gift card from Lowe's. Prizes are as follows:
First place $1000
Second place $500
Third place $250
People's Choice $500
Winners will be announced by July 17th. Check out our official Wayne Homes Landscaping Contest page for more information about submission guidelines, rules and regulations. Good luck, and happy landscaping!
Wayne Homes is a custom homebuilder in Ohio, Pennsylvania, Indiana, Michigan, and West Virginia (see all Model Home Centers). We offer more than 40 fully customizable floorplans and a team dedicated to providing the best experience in the home building industry. For more information, Ask Julie by Live Chat or call us at (866) 253-6807.