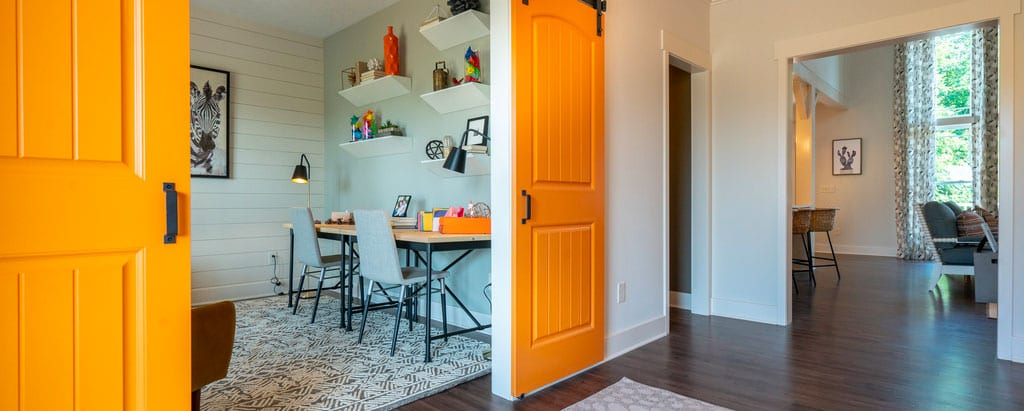 Exploring your flex room options
Picture a home, and the rooms within it, and chances are you'll name things like the living room, the kitchen, the family room, the dining room, and bedrooms. Today, though, home builders like Wayne offer floor plans that are both custom and flexible, and many of them come with flex rooms designed to do exactly that: flex to your specific needs and desires.
Today, we're exploring what a flex room is, what you could do with yours, and why you should consider a floorplan that includes this extra functional space in its blueprint!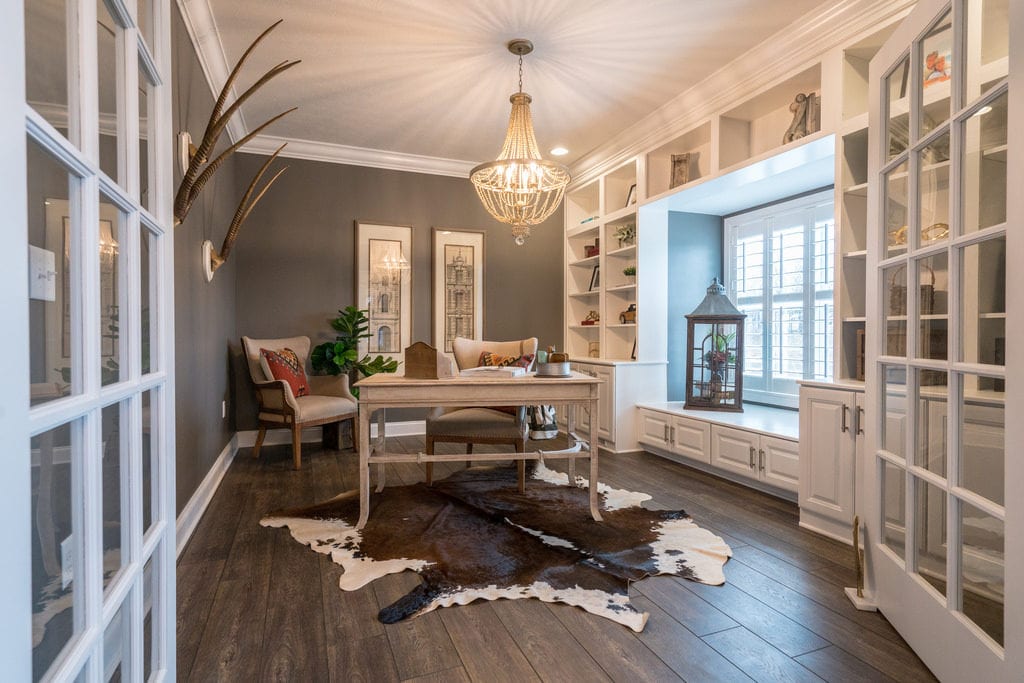 Most of our floorplans include a flex space, also sometimes labeled a den or office, that can be turned into a variety of rooms. Some floor plans also have loft spaces that double as a flex room, and several of our floor plans have an option to add a bonus room over the garage as a flex space.
Our Pittsburgh Franklin model home, for example, features beautiful built-in bookshelves and a window seat to create a grand and especially stunning home office. Or, hop over to our Newark Montgomery model, where we've taken the front room flex space and turned it into a beautiful library. Our Delaware Cedar Hill has a particularly innovative approach: it turns the sunroom into a flex space and features an arts and crafts space/playroom for the kids.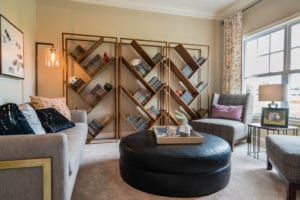 The options really are endless
Take a stunning and classic floorplan like our Jamestown layout and turn the living room into a private office or playroom for the kids. Want a bigger space for your living area in exchange? Remove the wall between the living room and family room to create one large great room!
Here are a few other ideas for how to use your future flex space. When choosing how to use a space, you should consider a few things; it's location in the house (craft rooms are great close to a kitchen or laundry area); it's size (maybe don't aim to fit a pool table in a tiny flex room!); it's layout (are you working with a conventional square space or do you have nooks and corners to consider?); as well as, of course, what you'd LIKE to use it for!
Playroom – your kids will love it, and you'll love the fact that the house isn't cluttered with toys in every room!
Home Office – need a quiet place to get some work done? A home office would be the perfect spot.
Entertaining/Bar Room – love having guests and friends over? They'll envy your perfectly appointed bar and entertainment space!
Additional Bedroom – love having overnight guests over? Make them feel welcome with their own room!
Home Theater – pop some popcorn and cozy in for a warm evening at home!
Music Room – put your favorite pieces, bands, and instruments on display, and enjoy a refuge to listen to or play your favorite tunes.
The options for how you use your flex room are as varied as you can probably imagine, and our homeowners often find unique, thoughtful ways to utilize their flex space based on their specific needs at the time.
It doesn't matter how you use your flex space so long as it flexes to fit your life. Get in touch with us today to figure out what your future flex room could look like!
About Wayne Homes
Wayne Homes is a custom home builder in Ohio, Pennsylvania, Indiana, Michigan, and West Virginia (see all Model Home Centers). We offer nearly 50 fully customizable floor plans and a team dedicated to providing the best experience in the home building industry. For more information, Ask Julie by Live Chat or call us at (866) 253-6807.