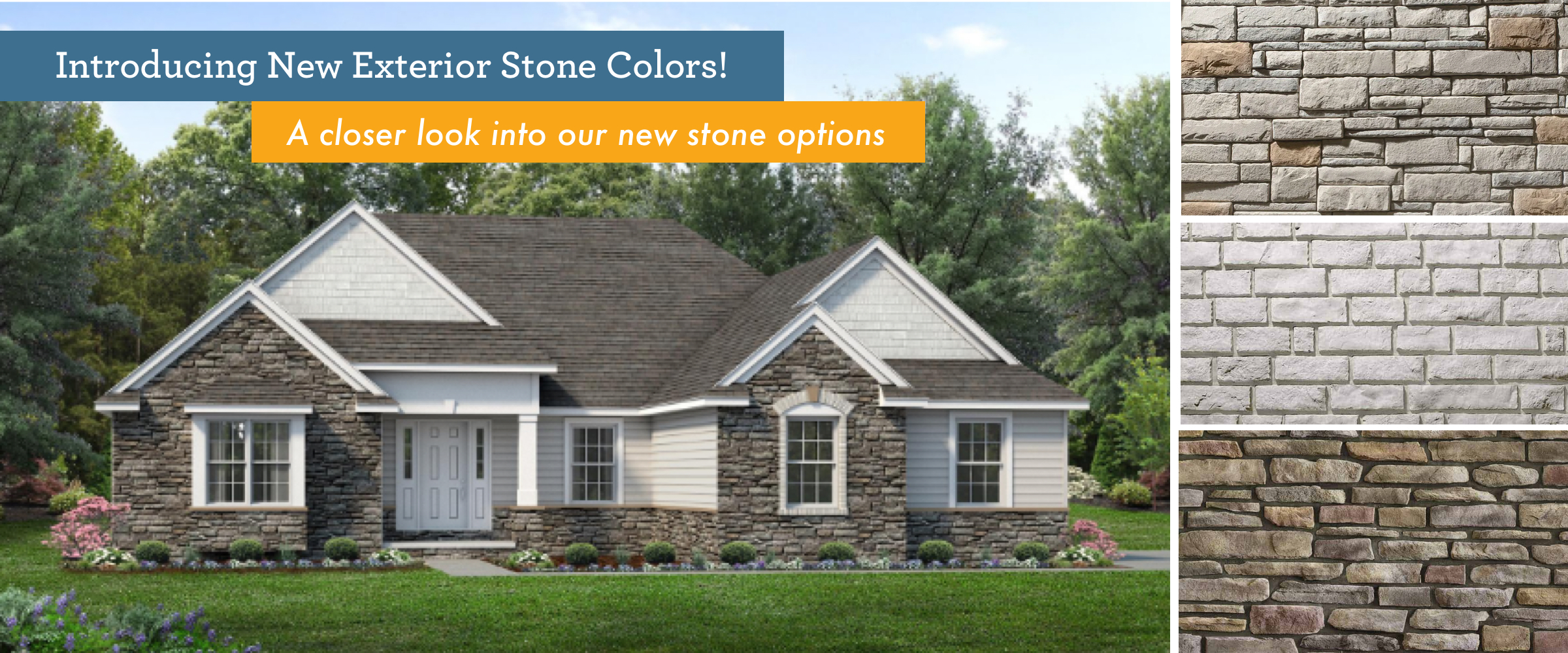 Introducing New Wayne Homes Exterior Stone Choices
We are proud to announce that we are offering new Wayne Homes exterior stone colors for our homes! We love that these new lighter colors are becoming more and more popular-both on the exterior and interior. That's part of what we do here at Wayne Homes–we watch trends but we also listen to our customers to see what they want more of. That's exactly why we added these stone colors to our lineup.
Let's take a closer look at each of the Wayne Homes exterior stone colors:
Ledgestone Profiles: Prescot Ledgestone and Southbriar Ledgestone
Jagged, rough, and random in size and shape, the Ledgestone profile's imperfect surfaces and earthy brown and gray hues are so authentic looking. Dramatic shadows between the individual stones of Ledgestone veneer change with the sun's position, giving this style a fluid and striking curb appeal.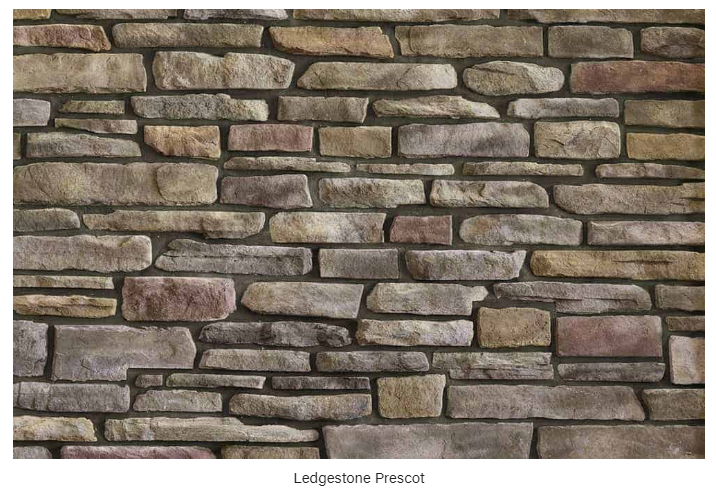 Limestone Profiles: Buff Limestone and Ohio Vintage Limestone
These Limestone offerings have a classic shape and texture. They feature chiseled square and rectangular stone profiles, replicated from stones that originated in the Midwest, for a simple, classic, and natural look.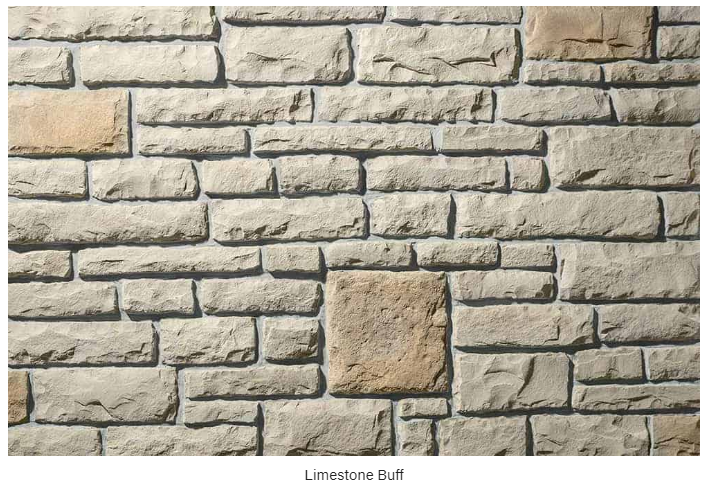 Edge Cut Profile: Polar Edge Cut
Definition and structure are the hallmarks of the Edge Cut manufactured stone profile. Consistent, clean-cut edges and uniform sizes result in a harmonious and coordinated appearance, yet each stone features unique textures and shadow lines for individual character and endless curb appeal.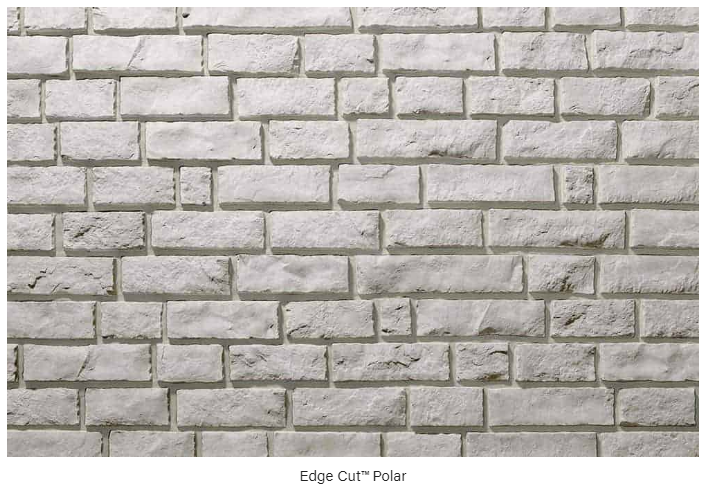 Ridge Cut Profile: Silverton Ridge Cut
Inspired by the rugged beauty of the landscape and infused with craggy contours for a distinct profile. Square, rectangular, and asymmetrical slabs of various sizes reside together as in nature with deep cuts, rough surfaces, and varied proportions reminiscent of mountain ranges.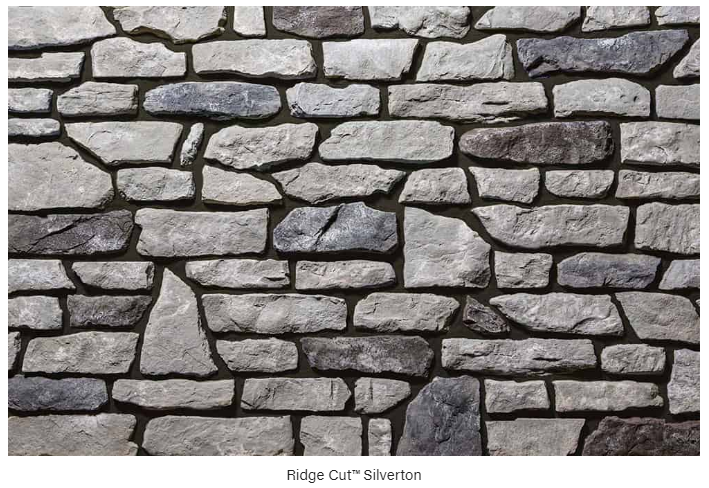 Chisel Cut Profiles: Brindle Chisel Cut and Silverlake Chisel Cut
Variety is the characteristic of our Chisel Cut stone – this profile combines the structure of predominantly rectangular shapes with irregular depths, diverse sizes, and varied textures, creating a balanced, complementary look with great visual impact.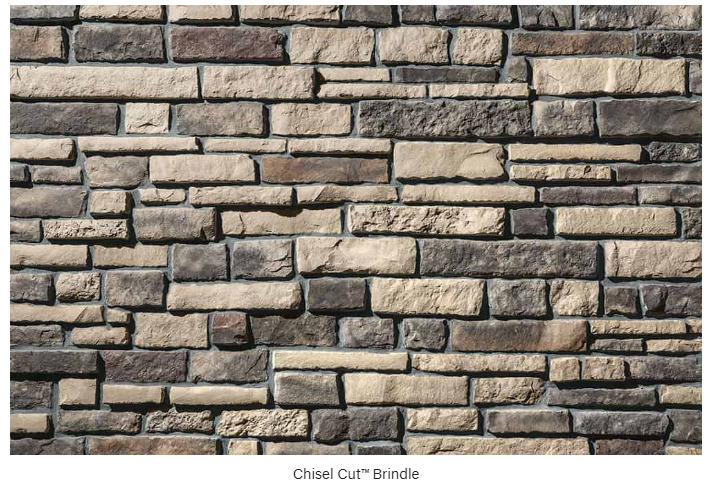 Dry Stack Profiles (interior use only): Ottawa Dry Stack
The compact, tightly layered profile and sandblasted visage exude timeless sophistication. This stacked style fits easily together for a compact appearance.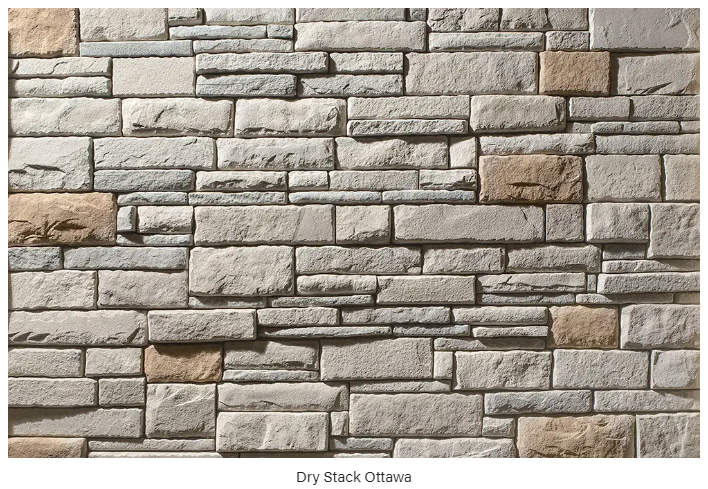 PrecisionFit (interior use only): Arctic Precision Fit
Contemporary yet classic, the PrecisionFit style features tightly-fit rectangular pieces. Rugged textures, varied depths and sizes, and defined shapes create a meticulous stone facing with character and symmetry.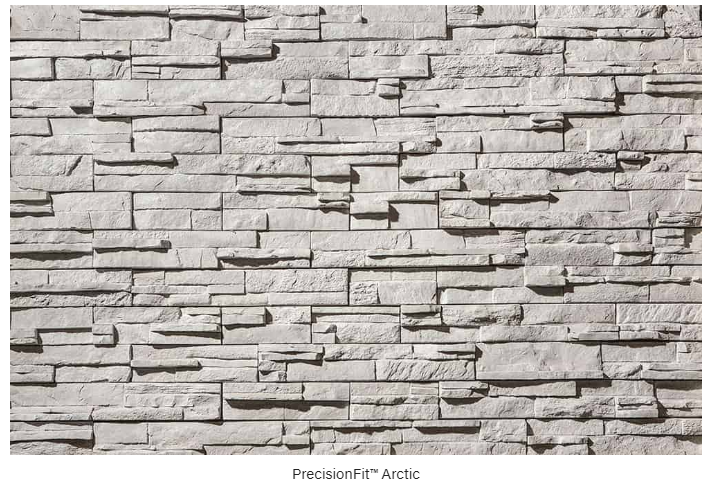 We know more choices can often make for harder decisions so here are some Wayne Homes exteriors that feature a selection of these new stone colors.
This will give you a better idea of what the Wayne Homes exterior selections look like once on the home.
Montgomery Craftsman – This beautiful home features Silverlake Chisel Cut stone wainscoting with gray accessory stone, Cast Iron siding, Smoke Grey shake siding, and Moire Black shingles.
Franklin Legacy – This great family home is accented with Silverton Ridge Cut stone and Platinum Gray siding, Snow shake siding, Sandcastle Brick accents, and Georgetown Gray shingles.
Brentwood Legacy – This home features a varied mix of exterior choices with Polar Edge Cut stone and Cast Iron siding, Smoke Grey shake siding, Status Bronze front door, Dual colored windows with black on the exterior and white on the interior, Brown Garage Door, Black shutters, and Moire Black shingles.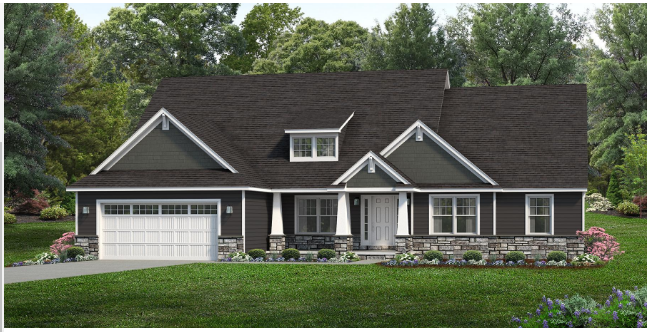 These new lighter stone options can be used on the exterior of the home with the exception of Ottawa Dry Stack and Arctic Precision Fit, which are for interior use only. This means these stone options can be used on interior features like fireplaces, columns, islands, accents, etc. According to the Wayne Homes design team, the lighter stone options, particularly Polar Edge Cut and Arctic PrecisionFit, are becoming increasingly popular choices for fireplace faces on the interior of our customers' homes.
Need help narrowing down the choices? The Wayne Homes Exterior Visualizer tool is a great way to see what each of our new stone selections look like on a home. However, if you need assistance making choices on which stone selection would look best for your new home's exterior or an interior feature, such as a fireplace, don't hesitate to reach out and ask for some help. That's what our team is here for!
Do you need help deciding which stone selection works best for your home? Contact us today and we can help!
---
About Wayne Homes
Wayne Homes is a custom homebuilder in Ohio, Pennsylvania, Michigan, and West Virginia (see all Model Home Centers). We offer more than 50 fully customizable floorplans and a team dedicated to providing the best experience in the home building industry. For more information, Ask Julie by Live Chat or call us at (866) 253-6807.
Disclaimer: The details of this blog are accurate as of the publish date, but are subject to change.