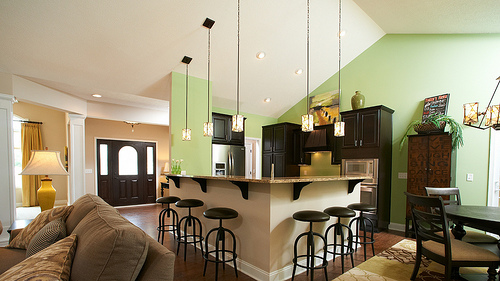 Why Are Wayne Homes Employees Seeing Blue?
As premier Ohio custom home builders, we encourage our employees to go above and beyond to give customers an easy, fun and stress-free custom home building experience.
The Blue House Awards program gives our employees and partners a chance to recognize one another for internally and externally exceeding expectations. Employees are given an Award Appreciation plaque when they join our team. Every time that employee receives a Blue House award, a new blue house shaped emblem is added.
Enjoy these recent Blue House nominations for the team at the Sandusky Model Home Center. They are truly on a roll!
Check out this nomination from our Vice President of Sales, who received the following comments from one of Jennifer Neese's first customers:
"We could not have asked for a more caring person to work with through the following weeks. Jennifer was very concerned about making our home purchase a pleasant experience. Jennifer always had a very knowledgeable as well as positive attitude towards helping us select the best home for our mother's needs. Her knowledge and enthusiasm helped make our experience with Wayne Homes enjoyable. We just want to express to you what an asset Jennifer is to Wayne Homes."
This nomination from Sales Manager Lisa Sidoti goes to show that even the smallest of gestures goes a long way between co-workers.
Jill Murphy thanked Jen Neese and Nicole Peters for taking special care of her customers when they stopped by the Sandusky office. Not only did the ladies take the time to answer questions and make the buyers feel at home, but they even make sure they had a great meal later that evening!
"When Nicole learned they were staying the night in the area, she was able to call a friend and get them a discount at a hotel room just down the street! Not only did the customers get an OCE on that day……….they came back the following morning. They did a bit more measuring and things like that and then they headed to the Bowling Green Office and met with me. They mentioned many times while visiting with me that they had the most amazing dinner at the hotel that Nicole hooked them up with and how nice and helpful the ladies at the Sandusky Office were!!"
Jennifer Neese took the time to recognize Sales Manager Lisa Sidoti for stepping in on her day off to take care of her customer.
"This particular customer was having a hard time fitting a color meeting into his work schedule, but wanted to get his process going as quickly as he could. Lisa never hesitated, and immediately offered to come in and do the color meeting at his earliest convenience. This particular meeting ended up taking every bit of 5 hours to complete, and was quite detailed and very custom. I truly couldn't be as successful at my job without a Sales Manager who is so willing to jump in where needed, and go above and beyond her call of duty on a daily basis. Thank you Lisa!"
Visit our Model Home Center today and see for yourself why the outstanding Sandusky team is seeing blue.  Have a question?  Ask Julie by Live Chat or call us at (866) 253-6807.
About Wayne Homes
Wayne Homes is a custom home builder in Ohio, Pennsylvania, Indiana, Michigan, and West Virginia (see all Model Home Centers). We offer over 40 fully customizable floor plans and a team dedicated to providing the best experience in the home building industry. For more information, Ask Julie by Live Chat or call us at (866) 253-6807.