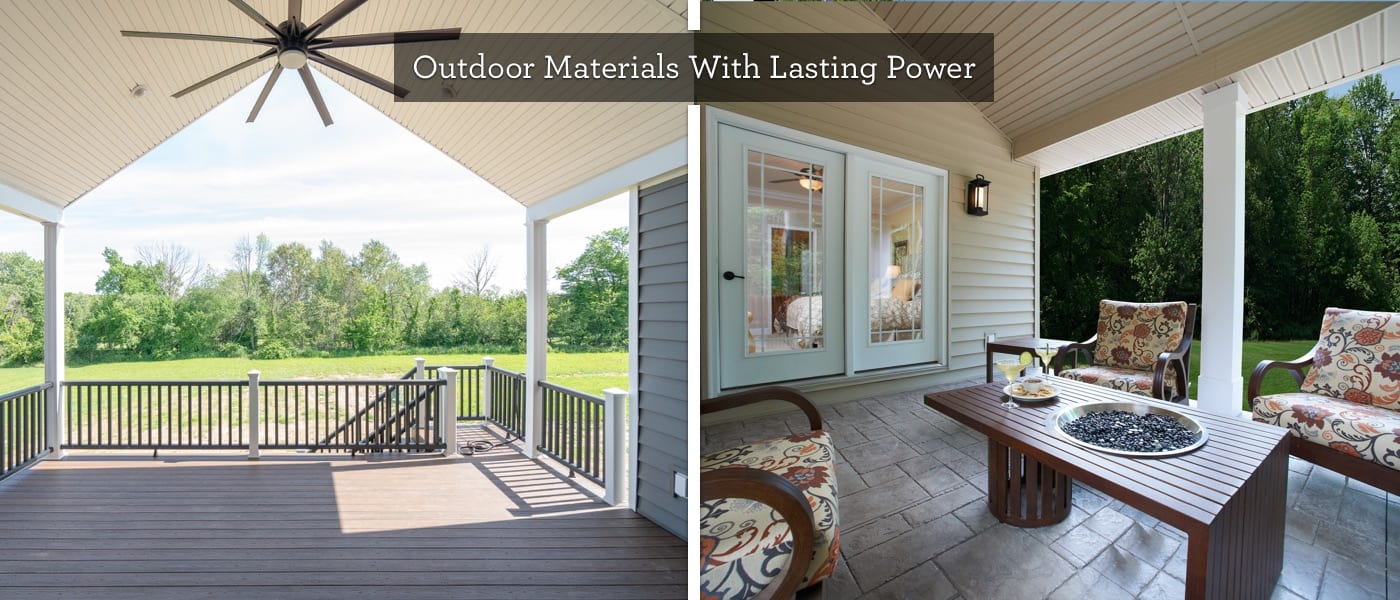 Outdoor Materials With Lasting Power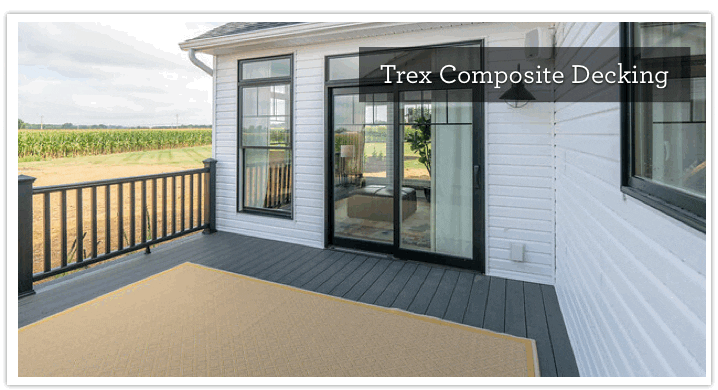 During summertime, we tend to pay closer attention to our outdoor living spaces. This may be the time you think about re-staining the deck, washing and painting the siding and troubleshooting areas of your exterior that needs some love. We know that, while we may spend more time outdoors during the summer, we really need to take care of the exterior of our home year-round. After all, the elements take their toll 365 days of the year. You may be thinking that sounds like a lot of work. Well, you're probably right…unless you use durable materials in the construction of your home that stands the test of time.
At Wayne Homes, we pride ourselves on using materials that leverage the latest technologies to provide superior durability, which translates to less maintenance for you to deal with.
We offer:
Trex Composite Decking–Known for its premium quality and durability, this composite decking is engendered to look like stained wood but made to last longer.
ProVia Manufactured Stone–Our choice for exterior stone. You'd have to turn the stone over to know that it is manufactured. Colors permeate throughout the entire stone, giving each and every manufactured stone a realistic look with hues that last for years.
Alside Siding–Made for durability and easy upkeep, this vinyl siding is a premium choice. We offer Charter Oak, Coventry Premium, Cypress Creek, and Board and Batten options.
In addition to starting with the most durable, long-lasting building materials, there are also ways you can take the best care of your home's exterior.
Decks–While Trex composite decks are virtually maintenance-free, it does pay to keep your deck clear of leaves and give it a power wash every spring.
Pavers/patios–Just as you would with your deck, washing winter debris away on your paver stones or patio is equally important.
Fire pits/outdoor fireplaces–Natural fire pits do not need maintenance, but if you have a gas fire pit, remove the ceramic logs and store away in the winter. It's also recommended to replace the battery in the electronic ignition every spring.
Grills–The best way to keep your outdoor grill looking good is by covering it when it's not in use. Clean the grates by turning the burners up to 500-600 degrees, then after the remaining food has turned to char, use a wire brush to clean it away. You should also regularly check the drip tray and empty as needed.
Furniture–Wrought iron or aluminum furniture should be covered or brought inside for the winter. Composite furniture can stay outside year-round. All chair and chaise lounge cushions should ideally be stored after each use to prevent fading and outdoor damage.
Are you ready for a home that's built to last? Contact us with any questions about the materials we use or to get started building your ideal home.
About Wayne Homes
Wayne Homes is a custom homebuilder in Ohio, Pennsylvania, Indiana, Michigan, and West Virginia (see all Model Home Centers). We offer 50 fully customizable floor plans and a team dedicated to providing the best experience in the home building industry. For more information, Ask Julie by Live Chat or call us at (866) 253-6807.