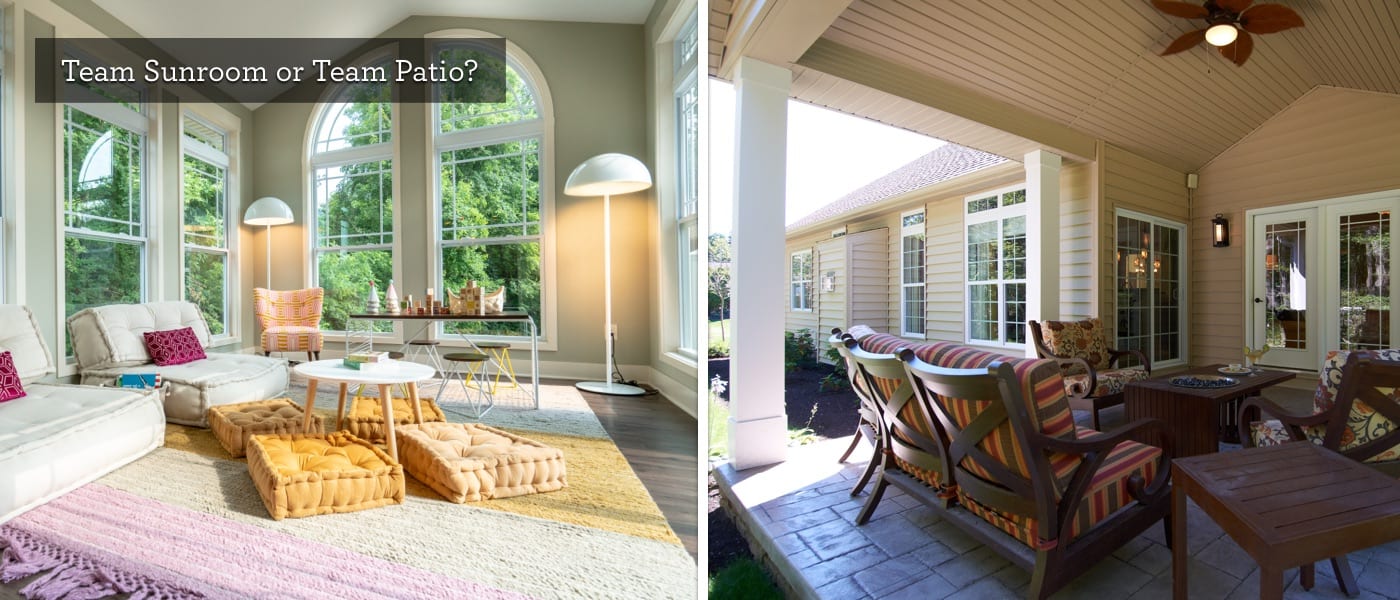 Outdoor Space Face Off: Sunroom vs. Patio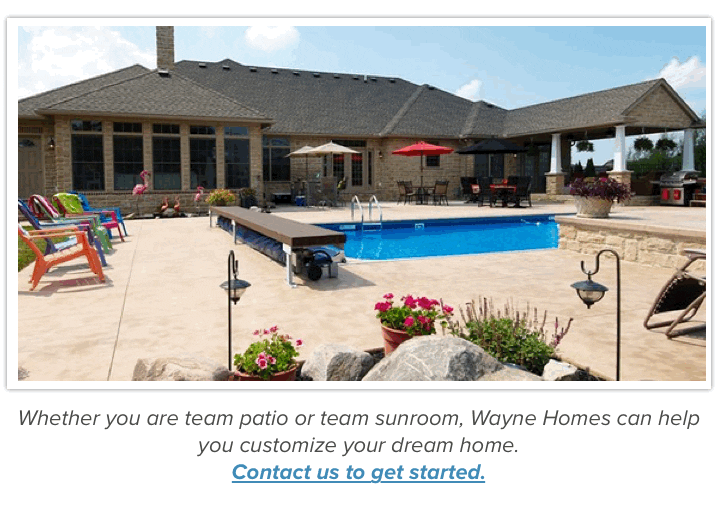 Are you Team Sunroom or Team Porch/Patio? If you've taken our Facebook poll, you'll discover whether you are in the majority or minority, but let's take a closer look at the pros and cons of each.
Sunroom
Year-round use – since the space is indoors, it's warm in the winter and cool in the summer
No bugs
Can be used as a flex space – kids playroom, breakfast room, reading room, home office, music room, craft room…the possibilities are endless!
Plenty of natural light
Can be costly to add on to an existing home – it's best to build a sunroom during initial construction
Concrete Porch/Patio
Perfect for summer and warm weather – grilling, entertaining, fire pits
A fresh air space that helps you connect with the outdoors
Non-covered patios can easily be added after construction
Year-round use isn't possible in cold or temperate climates
Benefits of Either
Sitting and enjoying views – sunrooms have lots of windows and patios are open to the outdoors
Relaxing and quiet spaces for reflection and contemplation
Perfect for enjoying afternoon tea or a good book
So, which would you choose? Having a space for you and your family to connect with the outdoors is a wonderful perk, and it also increases your home's value. If you are thinking of building a new home, be sure to include your ideas for outdoor spaces before construction. Need some inspiration? Check out our photo galleries or Pinterest board.
Contact us to schedule a meeting, so we can discuss your dream outdoor space. Don't forget to bring pictures and any inspiration you have. We can't wait to see it!
About Wayne Homes
Wayne Homes is a custom homebuilder in Ohio, Pennsylvania, Indiana, Michigan, and West Virginia (see all Model Home Centers). We offer nearly 50 fully customizable floor plans and a team dedicated to providing the best experience in the home building industry. For more information, Ask Julie by Live Chat or call us at (866) 253-6807.