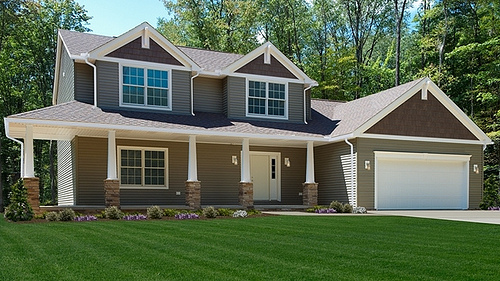 Step-by-Step Guide to Building a Custom Home: Part 3
At Wayne Homes, we're committed to making the process of building a custom home easy, affordable, and fun. From the first step of completing your Personal Value List to the next step of selecting your floor plan and home site, planning your custom home can be an incredibly exciting time for your family.
In fact, if there's one thing even more exciting than planning your custom home, it's the day that you finally say, "Yes, we're ready. I can clearly see our dream home. Now let's make it a reality."
Truly, this is where the fun really begins.
Step 3: Finalize Your Selections
Step three is about making that commitment and what comes next. First, you'll work with one of our experienced lending partners and together you'll choose the right financing options for your budget. Then they will create an entire package, including land, into one easy to understand loan program that makes sense for your budget and your family.
Next, it's time to create your own custom home design. Together with our knowledgeable team members, you'll select everything from faucets to flooring, countertops to cabinetry. These are the items that will begin to make your home feel personal and unique. Overwhelmed by choices? Our team has worked with thousands of families just like yours to make the process as stress-free as possible.
Watch Sales Manager Greg Brown talk about how easy the process can be:
Of course, building a home with Wayne Homes means that you have a nearly unlimited number of customization options available as well. Need a bigger master suite, or a game room big enough to accommodate a pool table? In most cases, we can make it happen for you, and for a lot less than you may think. Sales Manager Mike Noble explains:
Find out just how easy and affordable it is to build a custom home in Ohio, Pennsylvania, West Virginia, Indiana or Michigan. Visit one of our Model Home Centers today. You can even start from the comfort of your own home. Simply Ask Julie via Live Chat or call (866) 253-6807.
Wayne Homes is a custom home builder in Ohio, Pennsylvania, Indiana, Michigan, and West Virginia (see all Model Home Centers). We offer 40 fully customizable floor plans and a team dedicated to providing the best experience in the home building industry. For more information, Ask Julie by Live Chat or call us at (866) 253-6807.