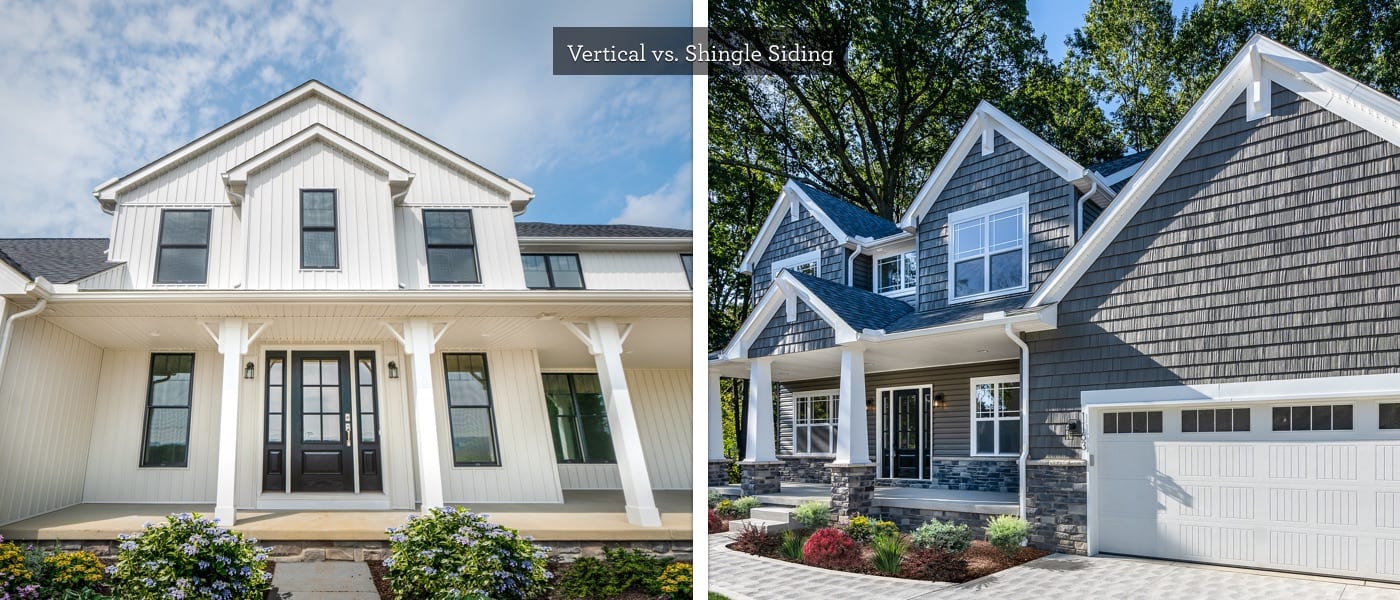 The Great Debate: Vertical vs. Shingle Siding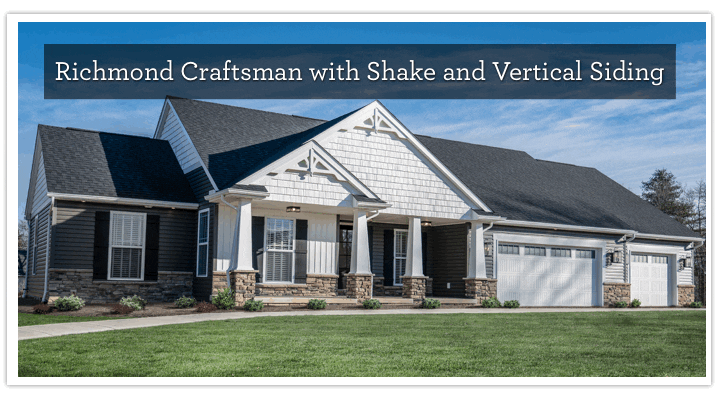 There are so many choices when building a new home in today's market. In fact, when you build a custom home with Wayne Homes, the possibilities are endless…and that may be a little overwhelming. That's why we like to highlight some of the most popular trends and put one against the other in our Great Debate series, so you can see the pros and cons of each and decide for yourself.
This month, we are tackling two types of siding that our clients love–vertical siding and shake shingle-style siding. Both have unique characteristics that can really transform the way your home looks. Let's dive right into our latest Great Debate: Vertical vs. shingle siding.
Vertical board and batten siding:
Vertical siding is becoming more popular with the farmhouse trend, however, that isn't the only style of elevation that benefits from this classic look. Our Richmond II Craftsman model also features vertical siding, as well as our Cedar Hill Homestead model. Regardless of your selected elevation, vertical siding is just another way to add an accent to the exterior of your home and help increase the curb appeal.
Get the look: Vertical siding makes a home look taller. It draws your eye to the roof. Whether you want to make your home stand out among others on your block, or you want to compliment a horizontal siding installation, vertical siding stands above the rest.
Maintenance: It's easier to clean a vertical siding installation than it is to clean a horizontal siding style. Less maintenance saves time and money through the years.
Where to use it: Add vertical siding to your entire home or at key architectural areas, such as gables, for accents.
Split shake siding:
Shingle, or split shake, siding has that Cape Cod look that homeowners really love. It creates an instant character that can make your brand new build look like a home from 100 years ago. That kind of charm is exactly the reason why shingle siding is so popular. It gives you that old home look with all the perks of a brand new build.
Get the look: Shingle style siding creates a distinctive appearance for your home that oozes old-world charm. It provides your home depth that horizontal and vertical siding styles simply can't. Split shakes lend three-dimensional texture to your exterior that creates a captivating contrast between light and shadow.
Maintenance: Vinyl shake siding replicates cedar shingles very well and is as easy to clean and take care of as today's vinyl siding.
Where to use it: Split shake siding is most commonly used at gables as an accent, but can be used all over.
So, are you team vertical siding or team shingle siding? Both looks are beautiful and distinctive. The best way to decide may be to see it for yourself.
Contact us to schedule an appointment to see all the exterior options available for your custom Wayne home.
About Wayne Homes
Wayne Homes is a custom homebuilder in Ohio, Pennsylvania, Michigan, and West Virginia (see all Model Home Centers). We offer over 50 fully customizable floor plans and a team dedicated to providing the best experience in the home building industry. For more information, Ask Julie by Live Chat or call us at (866) 253-6807.
Disclaimer: The details of this blog are accurate as of the publish date, but are subject to change.