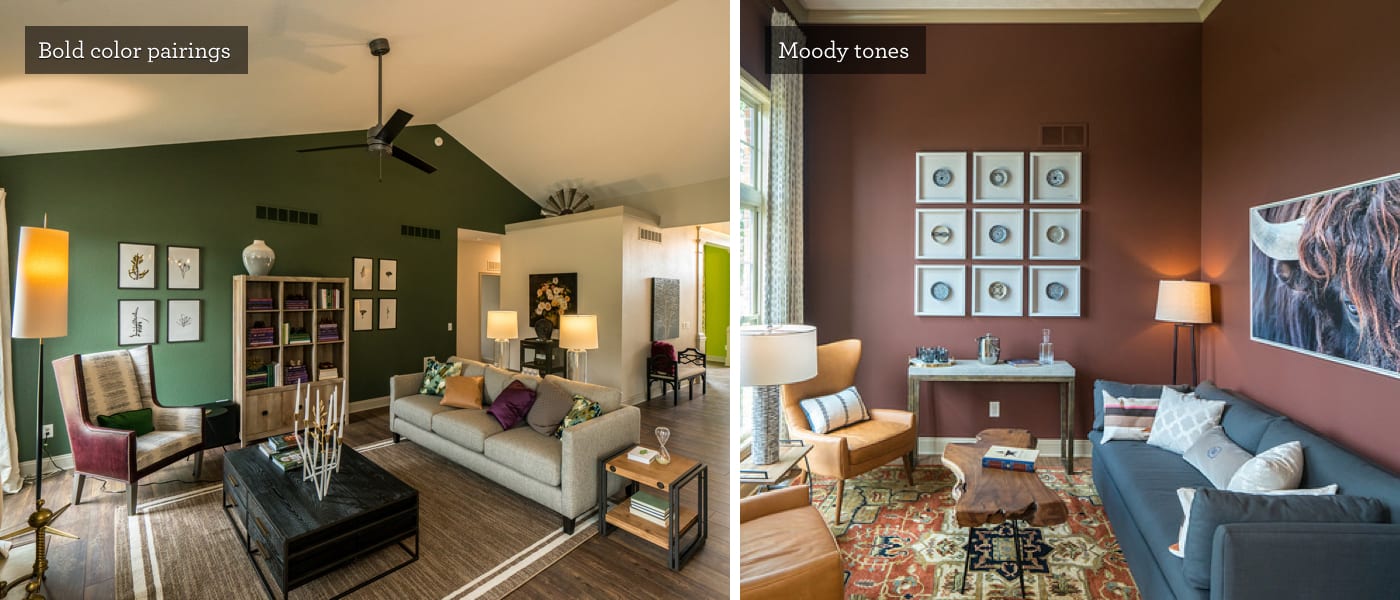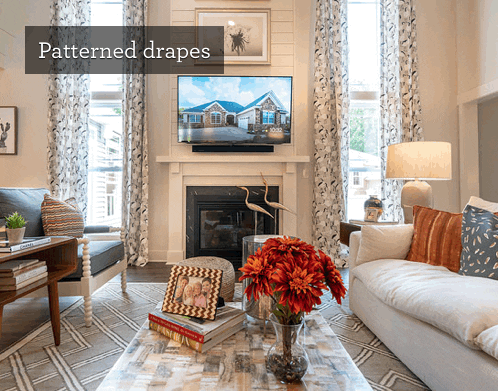 It's a new year, and it's time to review the newest trends in colors for the home. Gone are the days of gray and beige walls. While gray has been the go-to neutral for years, now homeowners prefer the freshness of cream or warm white for neutral walls. Think, "What would Joanna Gaines do?" In most cases, the answer is: Paint it white!
Moody Tones
While whites are the favorite for the walls of many homeowners, there is a range of bold shades that are predicted to be big in 2019. According to Houzz, many of these colors are deep, moody tones. From dark peacock green to deep clay. And these tones don't necessarily have to be used on walls. Interior designers are using these for ceilings, furniture, and fabric finishes.
Bold Color Pairings
According to Jennifer Pruett, Senior Interior Designer and Project Manager at Mandil, Inc., "We're in a much more anything-goes time frame today. We're seeing a resurgence of colors that were typically shunned for the family room. Think pink. A little scary, but when used in subtle tones and tempered with masculine colors like black or charcoal, it can be very chic and grown up." Not into pink? Try pairing pale coral with a deep blue. You'll be surprised at how much drama is created from these unexpected pairings.
Materials and Finishes
There has been a movement towards items in the home that have a handmade, worn-in, well-loved feel. This extends to tile, countertops, and flooring. Pruett adds, "Countertops are popular in a honed finish, creating a softer feel. Lighter, matte finishes are popular in wood flooring and cabinetry as well." Leaning into that personalized, custom look, small details like cabinet hardware are becoming more special. "Choose a geode or jewel-like knob versus the standard metal for cabinets," Pruett says.
Palettes and Patterns
Overall, a global-inspired palette is being seen across the country. This lends itself to the patterns that are becoming popular in rugs and drapes. "We are seeing a lot of organic patterns. Rugs that feel like a watercolor painting, or textiles that feel like they've been dyed and worn over time," Pruett says. One big statement can go a long way, whether that's in the pattern, color or texture. "Heavy texture changes are also on trend. A super chunky throw on a silky lightweight fabric can create drama in texture."
If you're ready to change things up in your home, try some of these color suggestions on your walls or in your fabric and furniture choices.
If you're ready for a whole new home, contact us to get started on building a custom home with Wayne. We'll walk you through everything, from floor plans to paint colors.
About Wayne Homes
Wayne Homes is a custom homebuilder in Ohio, Pennsylvania, Indiana, Michigan, and West Virginia (see all Model Home Centers). We offer nearly 50 fully customizable floor plans and a team dedicated to providing the best experience in the home building industry. For more information, Ask Julie by Live Chat or call us at (866) 253-6807.