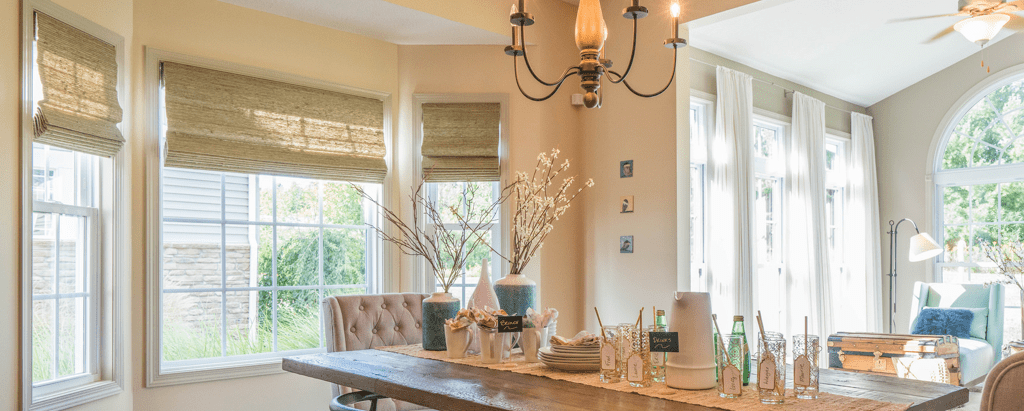 Trends to inspire you this spring
Who doesn't love a good spring refresh? Today on the blog, we're exploring ways to make your home shine like the spring season, by tapping into local design firm Mandil, Inc., and their expert senior interior designer, Jennifer Pruett.
Trends are great to follow, but also keep in mind that there's something powerful about creating a classic look and feel, and augmenting it with one or two fresh, timely ideas. A home full of trends and only trends will become outdated pretty quickly! With that said, here are some thoughts and suggestions from Jennifer about how to make your home shine this spring.
Think light and bright: Spring brings feelings of lightness, brightness, and an airy quality that helps flush out the stale winter air. Tap into that inspiration by creating a light palette accented by pops of bright color; think like a garden for your home interior! By simply replacing your curtains and bedding with whites or linens and accenting with bright colored pillows or blankets, you can create an entirely new look.
Replace your soft goods: Speaking of, consider packing up your heavier, winter fabrics and replacing them with a fresh spring wardrobe. Heavy wools and jersey fabrics are wonderful for when all you want to do is cozy up, but for spring, crisp white linens are much more appropriate. As mentioned, they create a fresh and blank palette for color to really stand out and reflect the atmosphere of the season much better. Check out our Portage Gettysburg Model, and specifically the guest room, for some inspiration: we decked it out with springy sea glass, bright persimmon, vibrant greens and fresh white soft goods.
Bring the outdoors in: For most of us (allergy sufferers are probably the exception), the smell of fresh flowers and blooming plants is a welcome scent come spring. The bright colors and lively greens that accompany these smells make it even more wonderful. Bring that atmosphere inside your home by generously decorating with fresh cut flowers. This time of year, favorites include tulips, hydrangeas, greens, and lavender; anything that is probably already popping up in your garden!
Freshen up with a spring decluttering: Winter means heavy coats, gloves, hats, and all sorts of other accouterments to handle the bad weather. Spend a day focused on finding all those various winter remnants, package them up, and store them in your garage, basement, or wherever makes the most sense for your home. Having them out of sight will go a long way in putting you in a spring mindset!
Thanks to Jennifer for sharing her top tips on how to make a home spring-weather-ready. We hope these inspire you to do a spring overhaul!
We want to help you design the home of your dreams this spring; get in touch to talk about the possibilities!
About Wayne Homes
Wayne Homes is a custom homebuilder in Ohio, Pennsylvania, Indiana, Michigan, and West Virginia (see all Model Home Centers). We offer nearly 50 fully customizable floorplans and a team dedicated to providing the best experience in the home building industry. For more information, Ask Julie by Live Chat or call us at (866) 253-6807.