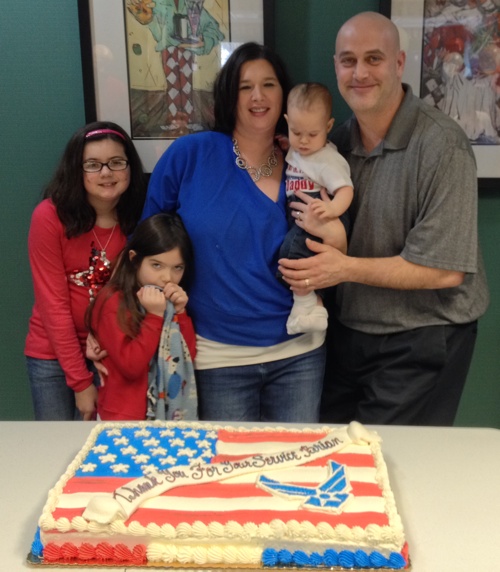 Wayne Homes Celebrates Its Own Local Hero
*This blog was originally published in 2014. The Hometown Heroes policy has changed since this blog was published. 
Wayne Homes is always looking for new ways to give back to our communities. One program we are especially proud of is Homes For Heroes, which grants a gift card to local heroes such as firefighters, police officers, teachers, nurses and our brave military men and women when they choose to build with Wayne Homes.
Recipients can choose a $3,000 gift card to one of four retailers to enhance their Wayne home. A new couch from Pottery Barn. Kitchen essentials from Target. The perfect outdoor furniture from Lowe's. A new television from Best Buy. These incredibly courageous individuals deserve a free upgrade to their new home.
This special program hits especially close to home these days as a member of the Wayne Homes family prepares to deploy overseas with the Air Force Reserves. After actively serving for four years in the U.S. Air Force, Brian Phillips decided that he would continue to serve for as long as he was able. "As long as I can mentor, train and develop the next generation to have those core values of Integrity First, Service Before Self and Excellence In All That We Do, we will be safer here at home," Brian explained. Nearly 16 years later, it is clear that Brian is still making a difference to protect our country.
As he prepares to be away for approximately five months, we asked Brian how he planned to keep in touch with his family. "I use email and Skype when I can. I always prepare my family so that they understand that I may only get to talk to them once a week and not to get upset if they do not hear from me for a longer period of time." He added that the locations he travels to do not always have solid infrastructure, which can make communication inconsistent.
Brian's wife and three children joined us for a heroes send off earlier this month. We thank Brian whole heartedly for his continued service and look forward to having him home safely.
Local heroes come in all shapes and sizes. We will continue to look for ways to honor and reward heroes that serve us locally and abroad. Know a local hero in search of a new home? Be sure to tell them about our Homes for Heroes program.
About Wayne Homes
Wayne Homes is a custom home builder in Ohio, Pennsylvania, Indiana, Michigan, and West Virginia (see all Model Home Centers). We offer over 40 fully customizable floor plans and a team dedicated to providing the best experience in the home building industry. For more information, Ask Julie by Live Chat or call us at (866) 253-6807.