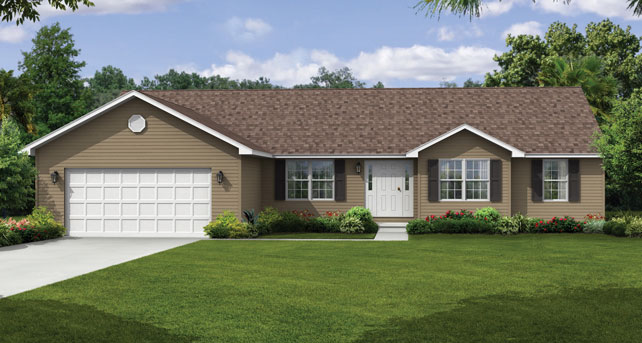 Wayne Homes Customer Testimonial: The Eldreds
Ever wonder what it's really like to build your own custom designed dream home with Wayne Homes? Just ask a customer! We're proud to say that 9 out of 10 customers would recommend Wayne Homes to a family member or friend.
Customers Kathy and David Eldred, who recently wrote to tell us about their experience. Here's what they had to say:
I spent approximately 28 years dreaming and planning for the day we could finally build our dream home. I spent the last 2 years gathering every scrap of information I could on every builder of modulars, double wides, and stick built homes in the area. I was so very confident that the best way to go was modular that I really focused on them. Having spent years running a multi-million sales department I am very good at gathering info and making spreadsheets. I had everything broken down. Cost per square foot, cost of extras, response time to queries, staff personalities, materials used, warranties, time to complete. If it was listed, I had it on a spreadsheet.

By January of 2012 we had the lot and were down to 2 different modular home builders. Then I got the email. It was for an open house in our area for Wayne Homes. I had looked at your site in the beginning and was convinced there was no way we could afford it but my husband and I thought worst case is we could get some ideas. So we went. Thirty minutes into the tour and we were convinced. The house was a home. And the sales people were terrific. Not pushy. Just eager and informative. Talking with Rod gave us hope that we had found the right company.

So we headed to Sandusky. We spent a couple of hours with Tom and knew this was it for us. The bottom line was the bottom line. Going back to those spreadsheets. We could get more home for less money. Lots less money. Lots more home. In the end, we spent approximately $30,000 less for approximately 500 square feet more home. The fact that all of the people we worked with, every single one, was truly special and helpful was a wonderful bonus.

Tom spent hours going over options and helping us to prioritize. Lisa spent hours going over some of our more unique needs (The kitty bench & window and transforming the closet into an office were just two.) even when she probably thought we were nuts. Pam spent hours helping me gain confidence in my color choices, making sure the details were right, and helping us to make the Montgomery Home the Eldred Home. Rod was with us from walking the lot to handing us the key. Debby and Lisa helped through the nightmare that was our bank. (Hint: If your sales team is leery of a bank: LISTEN!)

I know that there were many more people that we spoke with and worked with over the months of planning and construction. Every single one of them was wonderful. They went out of their way to be helpful. To encourage us and give us hope when the bank had us confused and frustrated. To answer questions and explain processes. Every contractor on site was polite. Every phone call was answered. Emails responded to. Your team made this process so easy for us.

We, like everyone, had heard how stressful building a home can be. We've worked with contractors before and knew that it is often difficult. We had prepared ourselves for problems and drama and frustration and having to fight to get it right. We expected having to be on site every day to be sure that things were done and that there was minimal screwing off. And none of that happened. Every concern was addressed. If we said that wasn't what we expected, (which was rare) we were given clear explanations or remedies. We knew that if we weren't here it was okay because these guys were busting their behinds to get it done and done right.

Our home was completed early and is so much more than we hoped and expected. Every day we talk about how much we love it and appreciate the work that went into it. We love finding the little quirks and "bonuses" that someone, somewhere planned and we knew nothing about but love. Like someone was thoughtful enough to put a register vent under the kitchen sink so if you are washing up you get warm toes. And another under the toilet paper dispenser so you get warm tissue. Not a big deal but wonderful little ones. It worked out that there's a cubby hole in the kitchen for the cats to hide in, the middle kitchen light has to be off to watch TV, and the hot & cold water is backwards in the master shower. (This actually works out great for me.)

To us, these are people and these extras are part of what makes this house our home. Customized. It's not a box that came off a factory line. It was built to fit us, to make our lives easier and happier, by people who took that seriously.

The only problem I have had with Wayne Homes is that I am driving the people around me crazy telling them that they have to check you out. Dave's coworkers. Grocery store. Hardware store. Doctors' offices. Family gatherings. Friends. They have all heard, until their ears probably bleed, how very happy we are with our home and your company. We not only would recommend you, we have recommended you.

Dave came home in December to me excited about being down to 2 boxes let to unpack. He wasn't so happy. He had just found out that we might have to move to either Michigan or Tennessee for his job. I just stared at him for a few minutes and then got online. I came back with the decision that it would have to be Michigan because Wayne Homes builds in Michigan but not Tennessee. He looked around the room and said he agreed. While we didn't end up having to move (Thank you God!) I think it confirms how happy we are with this house. We not only recommend you to others, including our son, we would definitely choose you again.

One of the other negatives people told us to watch for was that warranties would not be enforced and if they were we would have long delays. That's not what we have found. Having been home owners before we knew that stuff happens. There is no way to prevent it all. So we weren't shocked when, with all the electrical we have, we have had two light switches go bad. We just called the number provided and talked to a very nice lady. Both times we had someone here to fix it the very next day. To me, that's extremely good service and extremely good warranty protection.

So, late though this letter is, we want to say THANK YOU to all of you. Every member of the Wayne Homes team made this dream come true for us and in a positive and memorable way.

Sincerely,

Kathy & David Eldred
 At Wayne Homes, we know that every family has a story. Begin your own story today. Visit one of our Model Home Centers or simply Ask Julie by Live Chat to get started. Or, like the Eldreds, visit one of our upcoming Open House events and discover what's possible for your own dream home.
About Wayne Homes
Wayne Homes is a custom home builder in Ohio, Pennsylvania, Indiana, Michigan, and West Virginia (see all Model Home Centers). We offer more than 40 fully customizable floor plans and a team dedicated to providing the best experience in the home building industry. For more information, Ask Julie by Live Chat or call us at (866) 253-6807.