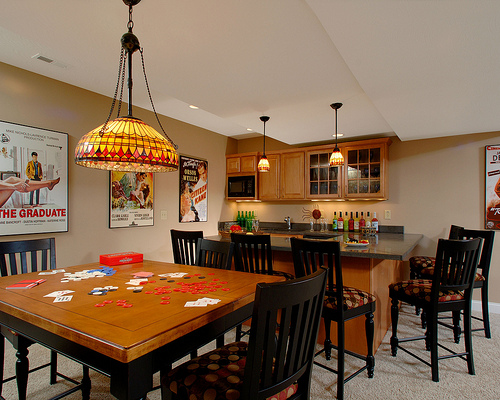 Wayne Homes Now Offers Even More Value for Custom Homes
At Wayne Homes, we believe in one basic rule of doing business: give buyers a great experience, a great home, and a great value. As the real estate market continues to strengthen and sales are stronger than they have been in years, we decided it was time to take that commitment to the next level.
As of May 1, all Wayne Homes now include an expanded full, unfinished basement at no additional charge! We're providing more value by upgrading each home from a partial basement to a full size basement to add more value for your family. Why basements?
Flexible Family Space
We've been building homes for families for generations, and we know how important it is to have open, flexible spaces for everything from home theater systems to playrooms to home gyms. Today the needs for more flexible space are more important than ever as more people work from home, have in-laws or adult children living at home, or just need some extra storage.
By expanding to full, unfinished basements at no additional charge to every Wayne Home (as of May 1, 2012), we believe that our homes will provide even more your value for your family.
How Will You Use It?
When planning your Michigan, West Virginia, Ohio, Indiana or Pennsylvania custom home, you can choose to customize your full, unfinished basement based on your lifestyle, your family and your budget. Maybe you'd like to build a hobby room, or perhaps having friends over for a game of pool is more your style. Our New Home Consultants will work with you to help you create a space that you and your family will love.
Visit a Sales Center
Of course, basements are just part of the story. We offer 40 floor plans that are your blank canvas to customize almost any way you wish. As always, our energetic and dedicated team is here to help you through every step of the process.
Find out more about how we help families build dream homes of all shapes and sizes. Visit one of our Model Centers for more information, or Ask Julie by Live Chat. You can also call us at (866) 253-6807.
Wayne Homes is a custom home builder in Ohio, Pennsylvania, Indiana, Michigan, and West Virginia (see Model Center locations). We offer 40 fully customizable floor plans and a team dedicated to providing the best experience in the home building industry. For more information, Ask Julie by Live Chat or call us at (866) 253-6807.