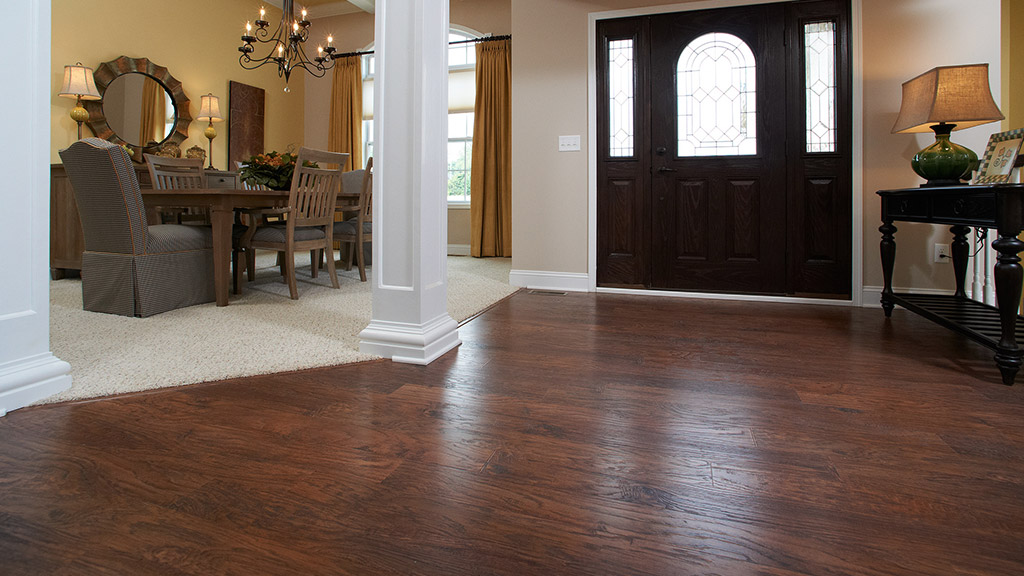 Wayne Homes Offers Custom Laminate Flooring That Wows
One of the noteworthy talents the award-winning team at Wayne Homes possesses is the drive to build exceptional homes. From the shingles we use to cover your roof down to the flooring we install, we're dedicated to choosing the best materials—in both quality and value. Wayne Homes stands behind our decision to offer Mohawk laminate flooring as an option in our homes because of our shared appreciation for excellence. With the majority of Mohawk's laminate floors manufactured in the United States, abiding by the strictest guidelines, it's easy to see why we've chosen them to use for custom home flooring, and we're excited to share the reasons why.
Benefits of laminate flooring
Laminate flooring has come a long way since it was first introduced over 40 years ago. Gone are the days of cheap, tacky linoleum and the asbestos associated with this type of flooring. Today the printing capabilities allow laminate flooring to mimic beautifully polished woods, natural stone, brick, rustic reclaimed wood, even leather, newsprint and other textured fabrics. Moreover, the contemporary finishes and technologies allow for laminate floors to withstand the test of time, proving that affordability and aesthetics can go hand-in-hand.
Created from safe, eco-friendly materials
All of Mohawk's laminate flooring have been tested and abide by the strictest environmentally friendly U.S. guidelines and standards. Wayne Homes has chosen them as their preferred provider because their products do not release any harmful volatile organic compounds (VOCs) such as benzene and formaldehyde into the home.
Made for easy cleanup
Here is another reason you'll love Mohawk laminate flooring: It's easy to clean. Never worry about spills staining your beautiful custom floor. Forget the tedious process of waxing and buffing hardwoods. All you'll need is a broom or vacuum and a damp mop, and best of all Mohawk has developed technologies that keep dirt and grime out of the grooves.
Designed to be visually appealing
Laminate flooring may have earned the reputation in the past for looking cheap or warping over time, but it's time to let bygones be bygones. Today, Mohawk has perfected the look and texture of laminate flooring, giving homeowners the option to personalize every room. Choose a traditional deep hued hardwood or go for a contemporary stone look for your custom home flooring.
Built to last
Mohawk laminate flooring looks amazing and is equally as durable. Their patented ScratchGuard Advanced Finish Protection relies on aluminum crystals in the top layer to create a barrier between you and the under layers of the flooring. Hardwood flooring can easily scratch and dent, but laminate flooring stands up to heavy foot traffic even in the busiest households.
From frame to floor, Wayne Homes looks forward to building your custom dream home. Our decision to use Mohawk laminate flooring is a direct reflection of our dedication to quality. As a homeowner, you won't have to concern yourself with whether or not the materials used are toxic or harmful. When you're ready to get started on building your new home, visit the Wayne Homes Model Center nearest you.
About Wayne Homes
Wayne Homes is a custom homebuilder in Ohio, Pennsylvania, Indiana, Michigan, and West Virginia (see all Model Home Centers). We offer more than 40 fully customizable floorplans and a team dedicated to providing the best experience in the home building industry. For more information, Ask Julie by Live Chat or call us at (866) 253-6807.