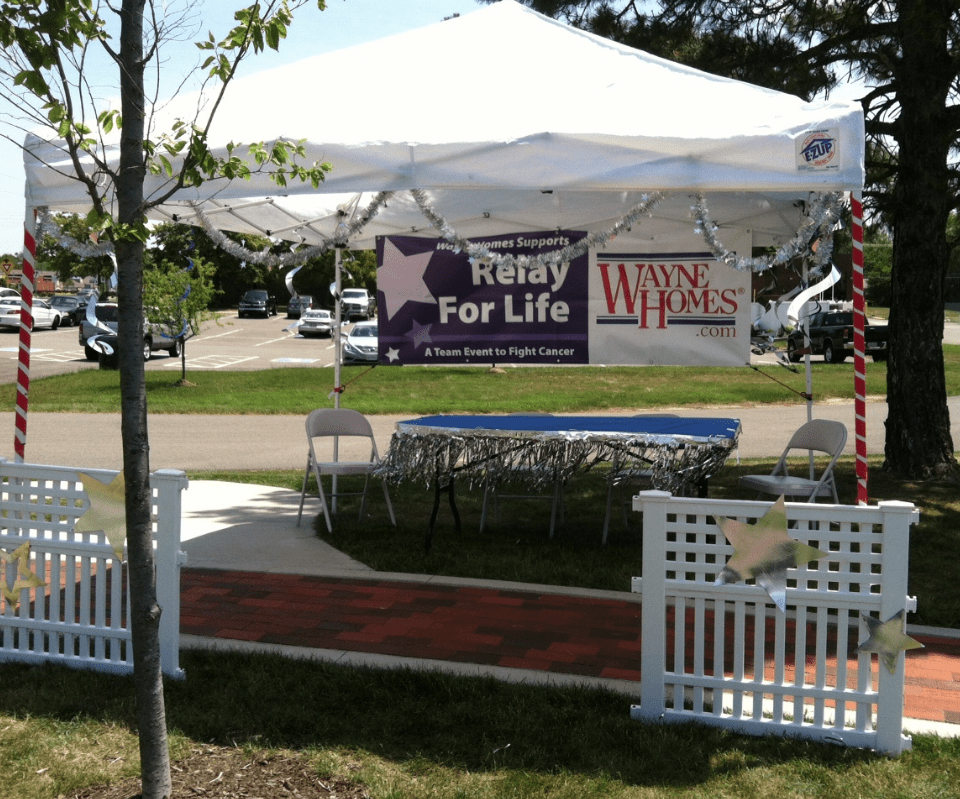 Wayne Homes Participates in Relay for Life to Honor a Friend
We believe that one of the greatest Midwest values is the ability to come together as a community in times of sadness to create a sense of hope and purpose. So when we lost our dear friend JoAnn McClaskey to cancer last November, we knew we had an opportunity to take a stand. JoAnn was a member of the Wayne Homes family for two decades, and during that time she brought a spirit of joy and hope to the office everyday (read more about JoAnn).
To celebrate her life, Wayne Homes recently participated in the American Cancer Society Relay for Life Event in Green, Ohio. The event, which was held on June 15-16 at the John Torok Community Center, was a chance to honor the lives of those who have battled cancer, remember loved ones lost, and take a stand for cancer prevention and a cure. The event featured a Survivor's Lap, a Luminaria Ceremony, and a Fight Back Ceremony.
The overnight-relay event was something JoAnn believed in and championed for several years as team captain, always inspiring those around her to get involved. Participating in this year's event seemed like the perfect way to honor our friend: hard work, lots of fun, a great cause and a fundraising success! Our team has raised $1,600 so far in the fight against cancer.
Thanks to all of the Wayne Homes team members that participated in this event:
Maurie Jones – VP of Marketing
Julie Martinson – Executive Assistant
Teresa Whipkey – Sales System Administrator
Dave Whipkey – CAD Manager
Julie McKelley – Closing Coordinator
Cheryl Chamberlin – Onbase Administrator
Laurie Kyser – Customer Care Representative
Josh Huskins – CAD Draftsperson
Julie Engelman – Online Sales Consultant
Keith Drollinger – VP Construction Services
John Leach – Regional Construction Manager
Deborah Osborne – Insurance Specialist
Stephanie Lowe – Receptionist/Operations Assistant
Kim Hamrick – Executive Assistant
Megan Keeper – Marketing Assistant
A special thanks, too, to Terry McClaskey and the entire McClaskey family for their support and raising additional funds through the sales of sterling silver necklaces with purple ribbons and a hand made bracelet.
We're so proud of our happy (and exhausted!) team members, who demonstrate to us everyday the values of working hard, lending a hand, giving back, and to always put people first.
To make a donation to the 2012 Relay for Life of Green, OH, visit the American Cancer Society website between now and the end of August 2012.
Wayne Homes is a custom home builder in Ohio, Pennsylvania, Indiana, Michigan, and West Virginia (see all Model Home Centers). We offer 40 fully customizable floor plans and a team dedicated to providing the best experience in the home building industry. For more information, Ask Julie by Live Chat or call us at (866) 253-6807.