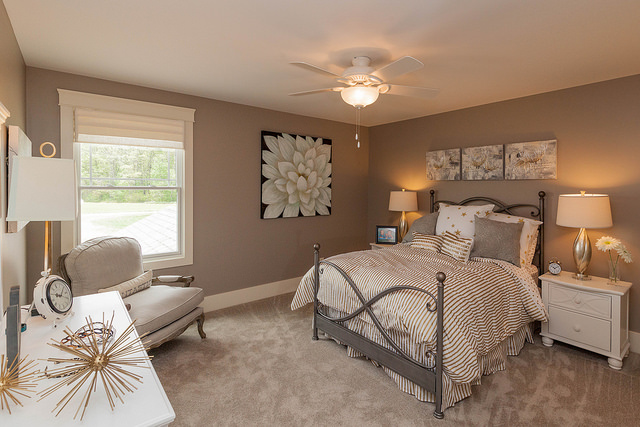 Welcome guests with the perfect guest room
It's exciting to picture yourself in your dream home. Envisioning what your rooms, common spaces, kitchen and yard could look like is fun and inspiring. We like to help our customers create their own unique vision by sharing some inspiration to get the wheels turning. In the past, we've shared ideas for a sports-themed boy's bedroom, and a fun or whimsical girl's room. Today we want to give you some ideas for the perfect guest room.
Many of our custom floor plans feature a flexible space that can be used for a variety of needs, from an office or den to a nursery or guest room. With the holidays approaching, it's a great time to create a welcoming space for incoming guests. Here are some ways to create a beautiful guest room that makes your guests feel comfortable and welcome in your dream home.
Keep it simple
Giving your guest room a theme may seem fun, but that's probably not the best idea. It's better to create a space that will be appealing to any guest, whether your child's best friend, a visiting in-law, or a longtime high school buddy stopping by for a visit. Think neutral colors, non-gender-specific bedding and simple artwork.
Make it fresh and inviting
When it comes to making a space inviting for guests, it's the little things that count. A bouquet of fresh flowers (ones that don't have a really strong smell, in case your guest has a sensitive nose) brings a freshness to the room that shows your guest you care.
Make it a bit luxurious
Your guest will feel appreciated and cared for sleeping on high-quality cotton sheets. Provide plenty of layering options, and consider a super-soft, luxurious throw blanket to add a homey and elegant touch.
Give them a chance to wind down
A simple nightstand with a low-light lamp, alarm clock, water glass and some books and magazines will go a long way in helping your guest relax. They might be weary after a long day of travel; give them an excuse to take a load off by providing a variety of reading options.
Remember the little things
Pick up a simple woven basket at a nearby Target or Home Goods and stock it with fresh towels, a simple robe and some fresh bars of lightly-scented soap. You can even add in some necessities like toothpaste and shampoo, in case they forgot. Your guest will feel the love through this simple but thoughtful gesture.
Be practical
As you design and outfit your guest room, keep in mind the dual use this space could offer. A daybed may be sufficient for your guests, especially if it includes luxurious bedding, and will give you more room to add a desk and create an office space. If you usually welcome more than one guest, consider equipping the room with two twin beds rather than a full or queen.
Check out our Pinterest board, and our Flickr gallery, for more inspiration. We would love to hear about what you create, or your ideas, so contact us soon to talk about your dream home.
About Wayne Homes
Wayne Homes is a custom homebuilder in Ohio, Pennsylvania, Indiana, Michigan, and West Virginia (see all Model Home Centers). We offer more than 40 fully customizable floorplans and a team dedicated to providing the best experience in the home building industry. For more information, Ask Julie by Live Chat or call us at (866) 253-6807.