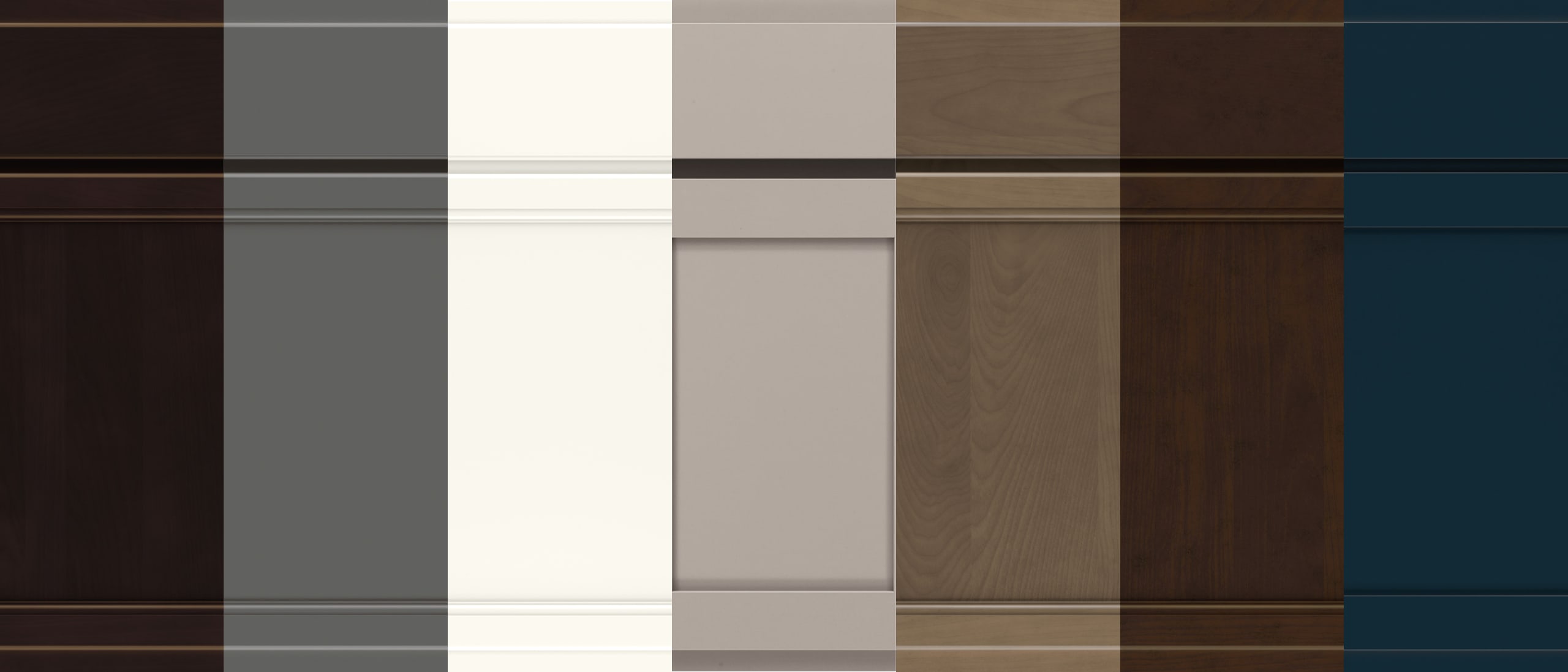 Which Cabinet Finish Is Your Favorite?
Cabinets make a huge impact in your home.
In the kitchen, they're often the first thing that grabs your attention. And in bathrooms, they can set the tone for the space. At Wayne Homes, we are proud to offer a range of styles and finishes from the Aristokraft line of cabinets.

When you build a home with us, you'll have access to our expert design team, who will walk you through each design selection, so you never have to wonder if you're making the right choice. However, if you're not quite ready to start building your Wayne home just yet or you'd just like to learn more about the cabinet options available to you, then this cabinet finish primer is for you.
We are going to break down each of the included door styles of our cabinets, then each of the finish options.
Our included Aristokraft cabinets come in these two different door styles:
Sinclair Birch–Sinclair Birch cabinet doors feature a narrow rail, flat center panel, and tight wood grain that combine to deliver a clean, current look.
Ellis PureStyle–Simple shaker styling in a partial overlay door, Ellis laminate cabinet doors are an ideal choice for a multitude of design styles. The PureStyle™ laminate finish is durable and easy to clean.
Our included cabinet finish options are:
So, what to choose? Stained or painted? That is the question.
It really depends on the look that the customer is going for. Stained cabinets have been a popular choice for decades whereas painted cabinets have become a favorite in the past few years. Not sure which one you prefer? You can have both! The Wayne Homes design team says, " Mixing the two finishes has become very popular lately and really adds a personal touch to a kitchen or bath." So, for example, you could have a stained kitchen island with white painted cabinets.
Which door style/finish should you choose? Well, painted cabinets can show more wear than the laminate PureStyle cabinets, so if durability is a concern, then you would want to choose PureStyle. Our design team says, "PureStyle will definitely be easier to take care of and will show less wear over time."
Included cabinet options (as of 2/2022)
Sinclair Birch Stain (8 stain colors – sarsparilla, flagstone, burlap, umber, café, saddle, quill, and natural)
Sinclair Birch Paint (4 paint colors – white, colada, stone gray, and greyhound)
Ellis PureStyle (5 available colors – white, colada, stone gray, greyhound, and admiral)
The included Ellis Purestyle cabinet offers one additional color option that's not available in our painted cabinets – Admiral (navy blue). This is a great way to have a custom look and the durability of PureStyle! Having navy blue cabinets in a kitchen has become very stylish, and brings a lot of visual drama to your kitchen, which is often one of the most utilized rooms in the home. Why not take it up a notch?

No matter your style, we have a cabinet to match. If you have questions about any of our Aristokraft cabinet styles or finishes, please reach out! We love talking about these great cabinets and how they can help you achieve your dream style in your Wayne home.
So, which is your favorite? Drop us a line and let us know! We can't wait to hear about your vision for your kitchen.
---
About Wayne Homes
Wayne Homes is a custom homebuilder in Ohio, Pennsylvania, Michigan, and West Virginia (see all Model Home Centers). We offer over 50 fully customizable floorplans and a team dedicated to providing the best experience in the home building industry. For more information, Ask Julie by Live Chat or call us at (866) 253-6807.
The details of this blog are accurate as of the publish date, but are subject to change.