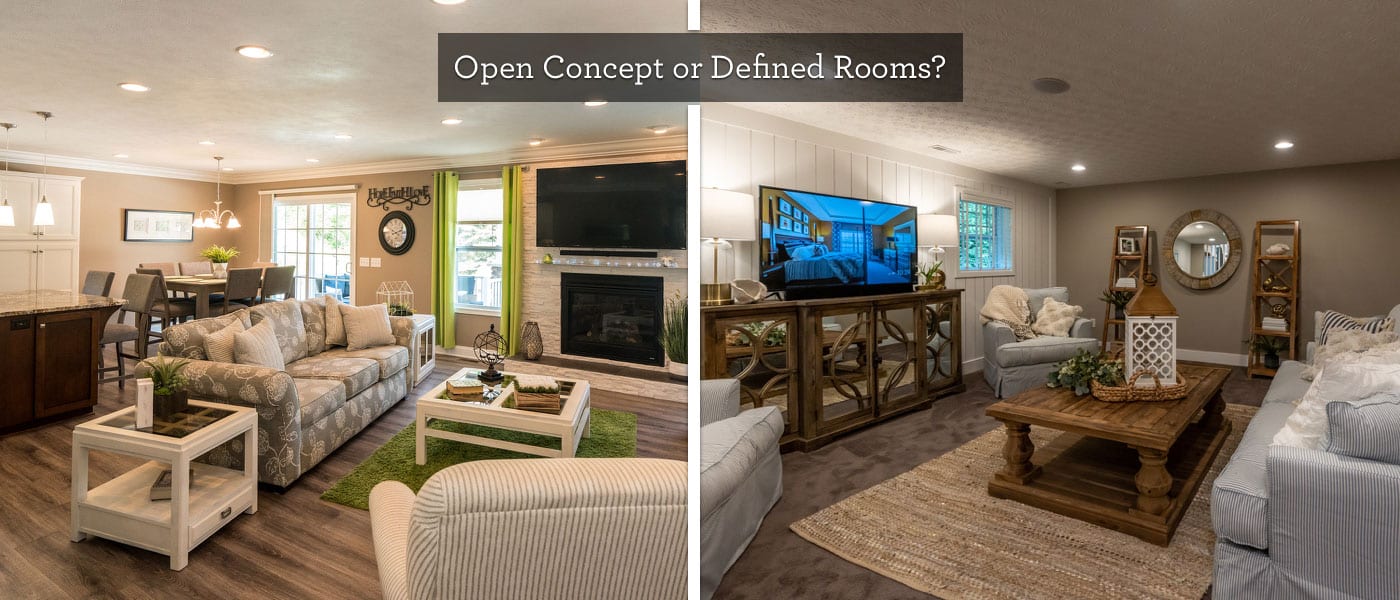 The Great Debate: Open Concept vs. Defined Rooms
Open concept floor plans have risen in popularity, but some are advocating for a return to more traditional layouts with defined rooms. Where do you stand on this Great Debate?
Open floor plans can be great to keep everyone in the conversation or to keep an eye on young kids. Many of our homes have open concepts where the kitchen and great room are one room. Some of our floor plans even have the kitchen, great room and dining room/breakfast room all together. Kids can sit at the kitchen island and do homework while other family members relax and watch TV or make dinner. The same is true for entertaining–you can have a lot of people in different areas, but all together.
On the other hand, a more defined layout creates separate spaces for eating and living. Many Wayne Homes have defined spaces, such as formal living rooms and dining rooms, in addition to open rooms. Private office nooks create a separate space for studying or working at home. Some of our floor plans have the kitchen and great room separated, which has a big bonus–your guests won't see the mess in the kitchen if you don't want them to!
Let's break down the pros and cons of each:
Open Concept Floor Plans
Pros:
Better traffic flow
Great for entertaining
Shared light throughout the rooms
Increases your home's value to prospective buyers due to current popularity
Easier to watch kids
Layout flexibility–easier to reconfigure furnishings
Spaces can be multifunctional
Cons:
Large, open rooms with high ceilings can be costly to heat or cool
Poor sound control–no walls to block noise
Lack of privacy
Popular Open Concept Floor Plans:
---
Defined Spaces
Pros:
Easier to heat and cool due to lower ceilings and confined spaces
Good for formal entertaining
Better sound control–room walls can block noise
More privacy
Cons:
Harder to direct traffic–have to state which room for guests to go to
Less shared light throughout the house
Can be harder to watch young kids or connect with guests
Less flexibility within the layout–each room has a designated purpose
Popular Floor Plans with Defined Spaces:
---
What's your favorite? Here are some popular Wayne floor plans for some that feature both!
Whether you prefer an open concept or more traditional defined spaces, Wayne Homes has a floor plan that has exactly what you are looking for. Browse all of our floor plans or contact us with questions.
About Wayne Homes
Wayne Homes is a custom homebuilder in Ohio, Pennsylvania, Indiana, Michigan, and West Virginia (see all Model Home Centers). We offer 50 fully customizable floor plans and a team dedicated to providing the best experience in the home building industry. For more information, Ask Julie by Live Chat or call us at (866) 253-6807.