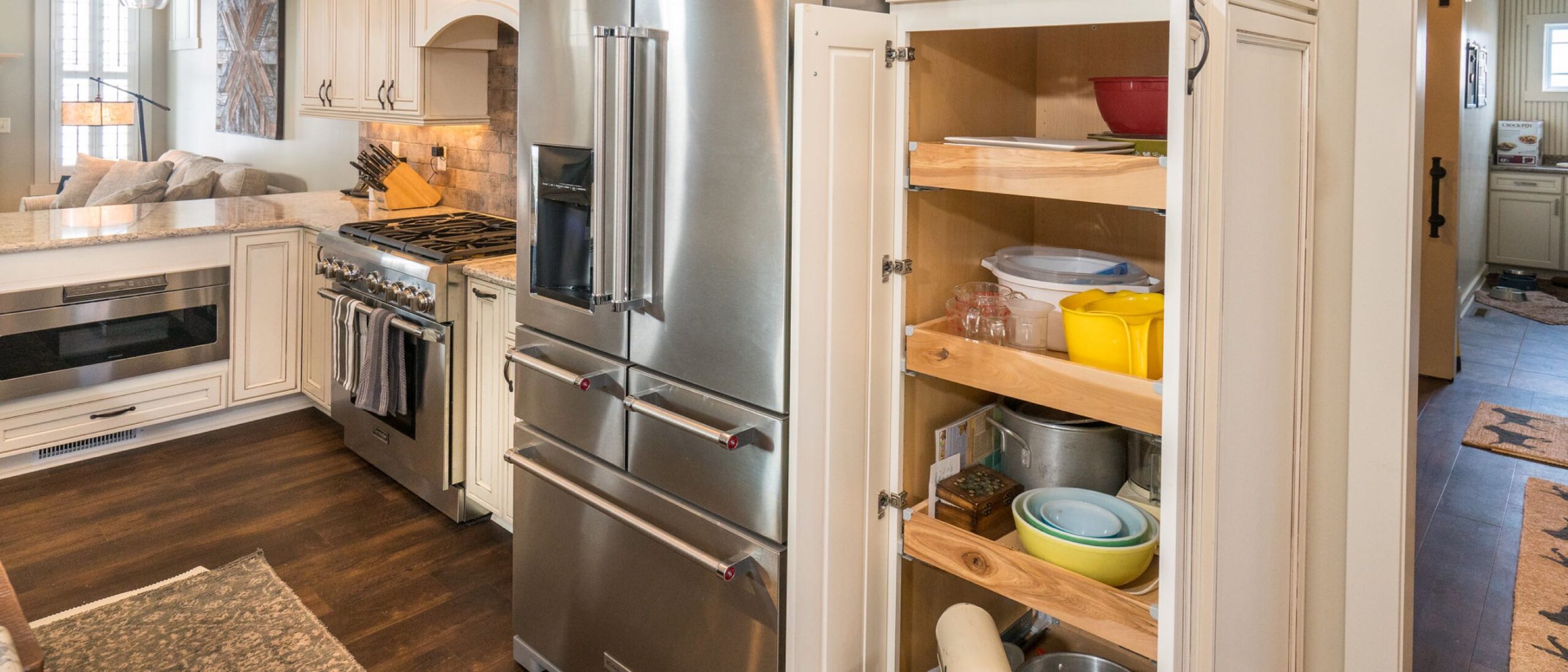 Top Tips for Kitchen Organization
A beautiful kitchen is on everyone's wish list, but perhaps even more important is an organized kitchen. When everything has a place, it makes it easier to keep the busiest room in the house clean.
Here are our Top Tips for Kitchen Organization:
Prioritize a Good Pantry: There's a reason why a great pantry receives oohs and ahhs from homebuyers. Good storage is hard to come by, and an amazing pantry puts it all in one spot. When you are planning your new kitchen, or updating an existing one, consider a walk-in pantry for a fantastic use of space.
Drawers vs. Cabinets: For easy access to storage, drawers win hands down. Use rolling drawers in cabinets instead of traditional cabinet doors, so you can benefit from both easy access and better use of the space.
Using Separators and Organizers: We can agree that drawers are superior to base cabinets, but not when they're unorganized. Use separators and drawer organizers to make a space for everything. No one likes to open a drawer that's a big mess inside. For example: Utensils can be stored in pullouts with bins rather than loose in a drawer for easy access and tidy storage.
Put Pans in their Place: Are your pans all stacked one on top of the other? Are you afraid they will all fall down when you rummage inside? Then, it's time to put pans in their place with organizational shelving. When every pan has a place, cooking will become less of a chore and more joyful.
ABC Order Spice Drawer: The alphabetized spice drawer is a thing of beauty. Re-do a large drawer in your kitchen to house all of your spices, so you can say goodbye to that old spice rack and hello to an organized life.
Hidden Trash and Recycling: A pullout drawer for trash and recycling bins is truly a thing of beauty. The most unsightly items in your kitchen will be hidden away, including any smells.
A Drawer for Fido: Consider also having a pullout drawer for pet needs. There will be a bin for food, a separator for treats…you get the idea. Everything your pet could need, all in one organized spot. What more could you ask for?
Once your kitchen is completely organized, you'll have to put in a little bit of work to keep it that way. Here is your kitchen organization schedule:
Once a day: Throw away anything cluttering the countertops that you don't need. Empty trash and recycle bins. Clean out the sink.
Once a week: Refill any storage containers you have on the counter. Check pantry and drawer organization, including quantities of items used. Make a list of anything you need to restock.
Once a month: Get rid of anything that is stale, expired, or not being used. Sweep the pantry and empty/clean out drawers. Clean the bottom of the trash pullout drawer.
Ready to create the organized kitchen of your dreams? We're ready to help! Contact us today.
---
About Wayne Homes
Wayne Homes is a custom homebuilder in Ohio, Pennsylvania, Michigan, and West Virginia (see all Model Home Centers). We offer more than 50 fully customizable floor plans and a team dedicated to providing the best experience in the home building industry. For more information, Ask Julie by Live Chat or call us at (866) 253-6807.
Disclaimer: The details of this blog are accurate as of the publish date, but are subject to change.