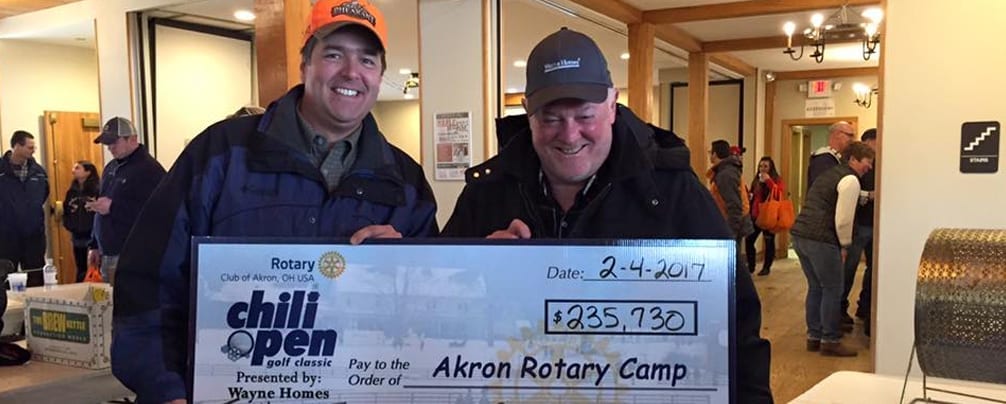 Celebrating a successful 2017 Chili Open
Does launching a golf ball across a frozen tundra sound like a blast to you? It did to us, which is why we were excited to be the title sponsor (again) at the 2017 Chili Open earlier this month, on Feb. 4! The fact the event was such a resounding success, well – that was just a bonus!
What is the Chili Open, you ask? Well, it brings about 500 hearty golfers together on the scene at Hale Farm and Village in Bath, Ohio, where the grounds are transformed into five golf courses with nine holes each. The hole distances range from 65 to 125 yards, and participants challenge themselves to drive shots across the tundra and putt balls coated in ice.
The Rotary Camp for Children with Special Needs has been the primary project of the Rotary Club of Akron since 1924, and donations to the Chili Open Golf Classic help to provide financial assistance for children and adults with special needs to attend camp. This year, participants gathered on a stunning sunny day and raised more than $230,000 dollars for the club and other worthwhile beneficiaries! Now THAT's impressive!
Participants received awards for closest-to-the-pin, and any hole in ones they landed. Guests seemed to enjoy the makeshift "golf course," and of course the epic amount of chili that was available for the taking! We also had a blast with games like corn hole, and enjoyed the silent auction, drinks, and raffles too. Plus, Fox Sports was there with Jenson Louis doing Beer Money trivia — who doesn't love that?!
All in all, this year's event was a resounding success, and one we were extremely proud to sponsor and be a part of. Cheers to this year's golfers and chili-eaters, and we look forward to doing it again next year with our extended Wayne Homes family!
Wayne Homes is serious about being part of our community. If you'd like to learn more about what it means to be part of the Wayne Homes family, give us a call anytime!
About Wayne Homes
Wayne Homes is a custom homebuilder in Ohio, Pennsylvania, Indiana, Michigan, and West Virginia (see all Model Home Centers). We offer more than 40 fully customizable floorplans and a team dedicated to providing the best experience in the home building industry. For more information, Ask Julie by Live Chat or call us at (866) 253-6807.