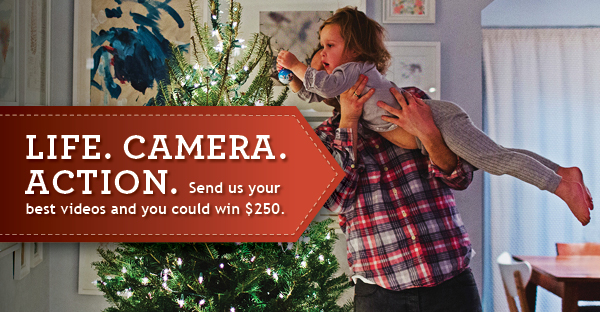 Enter the Slice of Life Video Contest!
Every day, we witness and experience moments that we'd probably like to set aside and revisit from time to time. These slices of life could be anything from a shared laugh with a loved one to a profound moment with a child, a grand accomplishment or a small but meaningful success. Together, they form the fabric of our lives.
Smart phones have made it easier than ever to actually capture these moments — you probably have quite a few family photos, pet videos, and the like on your smart phone right now! Given that, why not enter our Slice of Life Contest? It's easy, and you could win a $100 gift card, or even a $250 one!
Go to WeTransfer.com and send your videos to SliceofLife@WayneHomes.com to enter. In the message, include your name and your town. The clips will be shared on our Facebook page for viewers to vote on. Not sure what kind of video to share? Here are some ideas:
-A holiday gathering with your family and friends
-A snowball fight with the kids
-Friends and family celebrating your team's win
-Your pets doing what they do best
-Everyday moments; doing homework, Dad falling asleep in his favorite chair, etc.
Keep in mind that if it makes you smile, it'll probably make us smile too! Here are some guidelines for making your video the best it can be:
-Short and sweet is best
-Don't worry about editing; raw footage is what we're looking for
-The age of your clip doesn't matter; last week or last year, we want to see it all
-We'd love to see your Wayne home space as part of the clip
-And of course, family friendly content please!
We cannot wait to see what slices of life you'll share with us! We've gotten some amazingly heartwarming content in the past, and look forward to this year's entries. Send us your best!
Building and moving into your own custom Wayne Homes home is a pretty big slice of life that we want to help you create! Get in touch with our team today and we'll get started!
About Wayne Homes
Wayne Homes is a custom homebuilder in Ohio, Pennsylvania, Indiana, Michigan, and West Virginia (see all Model Home Centers). We offer more than 40 fully customizable floorplans and a team dedicated to providing the best experience in the home building industry. For more information, Ask Julie by Live Chat or call us at (866) 253-6807.